BU Satellite Team Gets Big Boost from NASA
Wireless sensors developed by BUSAT to be launched into space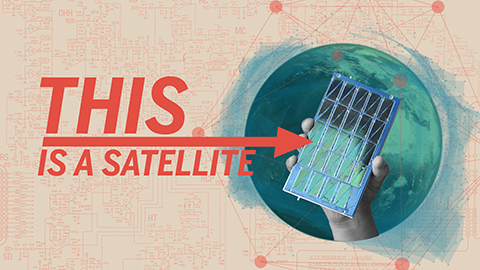 In the video above, BU Small Satellite Program students discuss and demonstrate their mini-satellites, which NASA will launch.
On March 10, 1989, a solar eruption blasted plasma toward Earth. Canadian utility Hydro-Quebec noticed a hop-skip-and-jump in the voltage on its grid two days later. On March 13, with plasma sweeping Earth's magnetic field and causing electric currents in the outer atmosphere, the grid shut down, plunging the province into darkness for nine hours.
Such bolts from the blue (or black) of space rarely wreak such havoc. But less severe irritants—interrupted radio transmissions, disrupted GPS devices, even rusting of pipelines—can result when electric currents course through the magnetic field, says Joshua Semeter, who'd like to know more about this phenomenon (largely because the magnetic field may be an essential ingredient for life on Earth). So would the federal government, which is why NASA has agreed to launch a network of wireless sensors named ANDESITE, developed by Semeter's College of Engineering students to study changes in Earth's magnetic field caused by space weather.
It is the final frontier, finally crossed: the first space launch for eight-year-old BU Student-satellite for Applications and Training, overseen by Semeter (ENG'92,'97), an ENG professor of electrical and computer engineering. Colloquially known as BUSAT, the program engages students in designing and operating small satellites. Earlier this year, the BUSAT group was one of the teams from a half dozen universities that beat out nine competitors to continue receiving support from the Air Force, which has contributed more than $500,000 to BUSAT projects. (BU also provided funding.) NASA will set a date for the launch late this year, Semeter says, assuming the agency's review shows that ANDESITE's ejecting sensors "won't blow up their vehicle."
ANDESITE sensors are DVD-sized boxes packed with electronics boards, and eight of them will hitch a ride on a NASA spacecraft that will spit them out roughly 280 miles above the Earth. Each sensor, traveling at a speed of approximately six miles per second, will complete an orbit of the Earth in roughly 90 minutes. The sensors will measure variations in electrical currents flowing in and out of the upper atmosphere along Earth's magnetic field. "From this we will learn about how turbulence forms in space plasmas and what the eventual effects of this will be" on things like radio signals, allowing for better modeling of those effects, Semeter says.
ANDESITE's success has already led to one terrestrial development, he adds. ENG has hired Brian Walsh (GRS'09,'12) as an associate professor of mechanical engineering. Walsh researches small satellites and space technology.
"This whole idea of taking any kind of spacecraft and spitting out small sub-payloads is really experimental," says Semeter.
"This whole idea of taking any kind of spacecraft and spitting out small sub-payloads is really experimental," says Semeter, although ANDESITE employs "technology that's very well established here on Earth. They use it for self-driving cars and finding cabs in a city; Uber uses this kind of thing. This is wireless mesh network technology.…Our innovation was, why can't we use that in space? What science could you do?"
In July, government representatives visited the students' lab at the Engineering Product Innovation Center for a demonstration of how the sensors would deploy during an upcoming zero-gravity test flight, a nausea-inducing trial that previous BUSAT students have experienced firsthand. The students rigged a contraption to gently fire sensors into a mesh net, a form of soccer-meets-space.
"Looks like a good setup," Zane Singleton of the Defense Department's Space Test Program and tech company MEI Technologies said at the demonstration.
Earlier in the history of miniaturized satellites, "NASA didn't give a rat's ass" about them, Semeter says, with one official harrumphing, "Why would somebody who drives a Ferrari care about Matchboxes?" Then the National Science Foundation convinced NASA that solid science research could be done by mini-satellites. Today, ANDESITE is but one government effort to study space weather. Last February, a National Oceanic and Atmospheric Administration satellite was launched to record data about solar wind.
Cody Nabong (ENG'15), ANDESITE's project manager, joined BUSAT on a buddy's recommendation after being stymied in his search for an internship. (A picture of his friend on a zero-gravity flight was a grabber.) "I've been interested in aerospace since I came here, so it wasn't a hard decision," says Nabong, who appreciates the hands-on practice of the classroom concepts he's studied that the team has provided. "The computer program that you use to make your 3-D models—I got a lot of practice with that. And then I learned a bunch about communications stuff that I wouldn't have been exposed to if I had just had courses.…The biggest thing I've learned is how you meet requirements for an engineering project," he says, referring to the government competitions and reviews the ANDESITE project has hurdled.
If the foregoing sounds uber-Star Trek-y, BUSAT's members include some liberal arts disciplines majors who came for graduate engineering study through BU's LEAP (Late Entry Accelerated Program) initiative. One BUSAT alumnus was a building contractor from San Francisco, who was "perfectly suited for this job," says Semeter. "He's used to going to the project site, telling people what to do. That's all we needed. And he was technically competent."
Author, Rich Barlow can be reached at barlowr@bu.edu.
Videographer, Joe Chan can be reached at joechan@bu.edu.