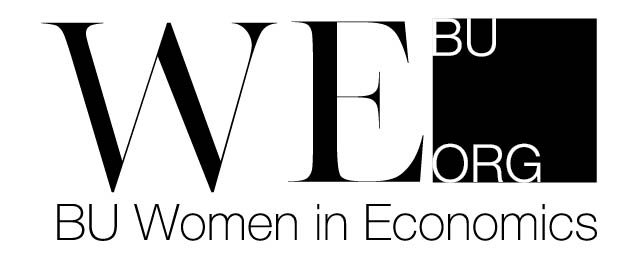 Founded in 2016, the BU Women in Economics Organization (WEorg) is a PhD student-led organization dedicated to the advancement of women in economic research.
To advance our mission, we are committed to developing a sense of community and mentorship within the department through the following activities:
Presentation Workshops for Job Market Candidates
All of our activities are targeted at female PhD students in the department, but some of the events are open to a broader audience. We invite you to browse through the site to learn more about each event.
If you have any questions, please contact us at weorg@bu.edu.
Past Events
Distinguished Women in Economics Series: Prof. Sandra Black (Fall 2020)
Mentoring Workshop for 3rd and 4th year PhD students (Fall 2020)
Women in Economics: Research, Ideas, Solutions, Executions (WERISE) Conference (Summer 2019)
Panel of Women Economists
Current Leadership
Chairs: Corinne Stephenson, Na Yeon Lim, and Lei Ma
Faculty advisor: Natalia Ramondo
CO-founders and former Chairs: Chelsea Carter, Petra Niedermayerova, Silvia Vannutelli, Vittoria Dicandia, and Sophie Li.
Former faculty advisers: Stefania Garetto, Chiara Margaria