2019: Gina Ortiz Jones
A proud first-generation Filipino-American, Jones was raised in San Antonio, Texas, and attended Boston University on a four-year Air Force ROTC scholarship. She graduated from BU in 2003 with a B.A. in East Asian Studies and a B.A. and M.A. in Economics. She entered the Air Force as an intelligence officer and deployed to Iraq. Upon separating from the Air Force, Jones returned to Texas in 2006 and served with U.S. Army South advising on operations in Latin America. In 2008, Jones was invited to serve as an inaugural member of U.S. Africa Command. Notably, Jones advised on operations surrounding the referendum for independence in South Sudan, and served in the Libya Crisis Cell during Operation Odyssey Dawn in 2011. Immediately following, she attended the U.S. Army Command & General Staff College, and the U.S. Army School of Advanced Military Studies, receiving her second and third master's degrees. In 2013, she was assigned to the Defense Intelligence Agency headquarters and ultimately served as the Special Advisor to the Deputy Director. In 2016, she was detailed to the Executive Office of the President to serve as the Intelligence Community's Senior Advisor for Trade Enforcement. She formally joined the Office of the U.S. Trade Representative as a Director for Investment leading the Committee on Foreign Investment in the United States (CFIUS) portfolio. Jones left government in 2017, and announced her candidacy for Congress in Texas' 23rd Congressional District. In one of the most competitive races in the country, Jones lost the general election by 926 votes out of over 210,000 cast.
2019: Alexandria Ocasio-Cortez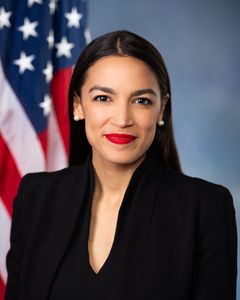 Born in the Bronx in 1989, Ocasio-Cortez's first passion was science. When she was a senior in high school, the International Astronomical Union named a small asteroid after her, 23238 Ocasio-Cortez, in honor of her second-place finish in the 2007 International Science and Engineering Fair in Microbiology. Ocasio-Cortez graduated from Boston University in 2011 with a BA in International Relations and Economics. During her time at BU, she was an intern in the immigration office of US Senator Ted Kennedy. After college, Ocasio-Cortez moved back to the Bronx, working as a bartender and a waitress. She launched Brook Avenue Press, a publishing firm for books that portray the Bronx in a positive light, and worked as lead educational strategist at GAGEis, Inc., and for the nonprofit National Hispanic Institute. In May 2017, she announced her candidacy for the Democratic nomination for Congress in New York's District 14, a seat long held by Democratic Caucus Chair, Joe Crowley, who had not been challenged for the nomination since 2004. Despite being outspent $194,000 versus $3.4 million, Ocasio-Cortez won the primary with 57.1% of the vote. She won the general election easily, receiving 78% of the vote.
Gina Ortiz Jones will accept her award at this year's department commencement ceremony; Representative Ocasio-Cortez will not be able to attend.