As a result of the pandemic, higher education underwent a sweeping digital transformation. The use of technology in the classroom became a lifeline, connecting students with faculty/staff and content.  New technologies continue to ignite the teaching and learning experience, and new apps and edtech tools will continue to emerge and support. However, another wave of transformation is in our midst: a need to get back to basics and reimagine community on the residential campus.

"Relationships matter immensely." This sentiment, shared by author and  Faculty Forum 2022 keynote speaker Dr. Peter Felten, succinctly defined the event theme: Connections matter. Community matters. 
Dr. Felten's presentation, Relationship-Rich Education: Community and Learning on the Residential Campus, was rich in research and audience participation. Drawing on over 400 interviews with students, faculty, and staff across the United States, Dr. Felten shared powerful examples of how relationships between faculty/staff and students, and student-to-student relationships directly impact student success. View the presentation video here.
Meaningful connections matter.
The presentation was engaging and thoughtful, and Dr. Felten effectively brought the audience into his research. During the address, he called upon several attendees to recite student quotes and I was one of several quote readers:
"When I moved into my dorm, I was thrilled to be at UW. But I kept thinking that as a wait-listed student I'm probably on the lower end academically here. Sitting in these large classrooms – Chemistry 142 had 500 students – I convinced myself that they're all more successful than me. I was comparing myself to others and imagining all of their accomplishments. I was freaking out, to be honest."  – (Gigi Gaultier, University of Washington)
This quote resonated with me as I have heard similar words shared by students. This engaging participatory lecture style is an exercise that I now plan to introduce into my future presentations .
Equity, well-being, and belonging matter.
The conversations around community building continued beyond the keynote. I attended the DEI-Based Strategies for Innovative Community Building breakout session hosted by CAS colleagues Gwen Kordonowy, Heather Barrett, Christina Michaud, Swati Rani, and Max White. The session provided excellent evidence-based information and covered a range of important topics including defining trauma-sensitive pedagogy, strategies to normalize multilingualism and global Englishes in the classroom, and more. The conversation was insightful and I plan to incorporate many of these strategies in my upcoming fall course—specifically using the social change ecosystem map highlighted during the presentation.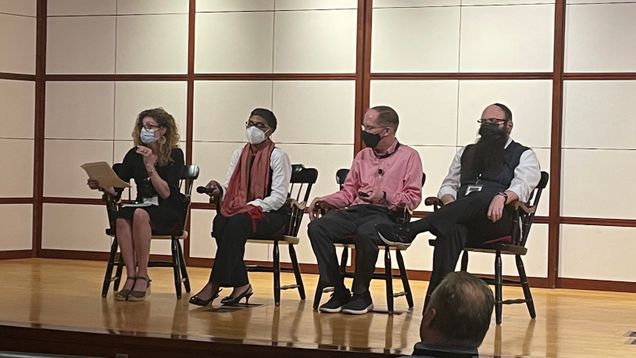 Inclusivity matters.
Metcalf awardees BU School of Medicine's Fadie Coleman, and CAS' Binyomin Abrams, Marisa Milanese and Dave Sullivan shared their best practices for building community  in the classroom. They discussed a variety of approaches: ways to foster an inclusive learning environment and how to encourage collaboration by eliminating competition and by facilitating access to  instructional support. They challenged us to think about what we could  bring to our own classrooms. View the presentation video here.
Collaboration matters.
Community was further elevated and experienced during the digital poster session and reception. In this forum (and as a presenter), I had the opportunity to connect/reconnect with colleagues and engage with attendees. One outcome from our e-poster on the Interprofessional Leadership in Healthcare using an Alumni Mentoring Approach Shipley Center-supported project was the potential collaboration with another college who may be interested in us providing guidance on their planning of certificates.
Inspiration matters.
I left the  Faculty Forum 2022 with a  renewed spirit of excitement for planning the fall semester with evidence-based strategies for building community in my classrooms both on-campus and online. "It only takes meeting that one person who ignites a fire within you" (Tianna Guerra, Oakton Community College) is the perfect quote to conclude the Faculty Forum 2022.
---
About the Author: Karen Jacobs is a Clinical Professor, and Associate Dean for Digital Learning & Innovation and Program Director, on-line post-professional doctorate in occupational therapy (PP-OTD) program with Boston University's Sargent College.