Cataldo Leone
Dean ad interim; Associate Dean of Academic Affairs; Professor of Periodontology; Professor of Molecular & Cell Biology
Title

Dean ad interim;
Associate Dean of Academic Affairs;
Professor of Periodontology;
Professor of Molecular & Cell Biology

Office

Robinson

Email

cleone@bu.edu

Phone

617-358-5195

Education

DMD, University of Pittsburgh; DSc, CAGS, Harvard University
Research goals
Salivary biochemistry. Saliva is a multifunctional and complex body fluid that exerts host-protective effects. I am interested in how specific salivary proteins can protect individuals from oral infectious diseases. Studies are ongoing attempting to quantify protein levels among subjects and correlate them with salivary microbial profiles.
Epithelial cell biology. One of the consequences of periodontal disease is an altered gingival epithelium. I am interested in how inflammation alters epithelial cell behavior, in particular the cell-cell and cell-substrate attachment mechanisms.
Clinical diagnosis and treatment of oral diseases. I am interested in understanding the risk factors associated with oral conditions as well as evaluating the results of clinical treatments.
Publications
Leone CW and Oppenheim FG. Physical and Chemical aspects of saliva as indicators of risk for dental caries in humans [Evidence report for the NIH/NIDCR Consensus Development Conference on Caries, March 2001. J Dent Education.
Leone C, Keen J, Morin S, Grogan J, Flora B, Troxler R, and Oppenheim F. Intra- and intersubject variability in histatins measured by capillary electrophoresis. J Dent Res 2001. 80:520abst.
Maurer S, Hayes C, and Leone C. Width of keratinized tissue after gingivoplasty of healed subepithelial connective tissue grafts. J Periodontology 2000. 71:1729-1736.
Carro O, Evans S, and Leone C. Age-related expression of ICAM-1 in confluent epithelial cell cultures. J Dent Res 1998. 77:899abst.
Nelson E, Evans S, and Leone C. Inhibition of human gingival fibroblast proliferation by sodium perborate. J Dent Res 1998. 77:1087abst.
Recent Grants
Short-term Training for Minority and Women Dental Students, 5/00 to 4/05, NIH-T35
Biology of Gingival Epithelial Cell Heparan Sulfate, 5/93-4/99, NIH-R29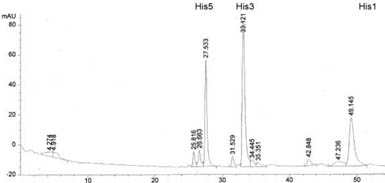 Separation of salivary histatins by capillary electrophoresis. Human parotid saliva sample was acidified, heated, centrifuged and the resulting supernatant analyzed at 20 kV and 24oC on a Hewlett Packard CE apparatus (model HP-G1600/AX) in 0.05 M sodium phosphate buffer, pH 2.5. Sample was injected 5 sec under pressure into a 50 µm x 75 cm silica capillary with protein detection at 214 nm. Purified histatins were used as standards to identify and quantify the CE peaks corresponding to the major Histatins 1, 3 & 5 Leone C, et al, J Dent Res 80:520 abst 2001.
Offices

Departments

Divisions

Affiliations