6-Year MD-Integrated Program
Richard D'Innocenzo, DMD, MD, Program Director
Andrew Henry, DMD, MD , Associate Program Director
Overview
6-year MD-Integrated Oral & Maxillofacial Surgery Program
This 6-year integrated curriculum includes graduation from medical school and clinical surgical training, basic science study, and research in hospital and dental school environments. The program is ONLY open to graduates of CODA-accredited US and Canadian dental schools accredited by the Council on Dental Education of the American Dental Association. The admission criteria for the 6-year track is similar to the 4-year CAGS program with the exception being that all applicants must also have a US or Canadian undergraduate college degree. The MD-integrated track includes sponsorship for USMLE examinations. The requirements for medical licensure differ from state to state. Applicants are encouraged to review each state's requirement for medical licensure. The Federation of State Medical Boards (http://www.fsmb.org/) has a complete listing of medical boards within the continental United States. Completion of the OMFS-MD program does not guarantee licensure in any state. All applicants MUST forward official results from the National Dental Boards Part I to the postdoctoral admissions office as part of their application.  It is required that applicants also forward scores from the AAOMS-sponsored National Board of Medical Examiners® (NBME®) Comprehensive Basic Science Examination (CBSE) as part of their application. Selection into the program is extremely competitive and preference is given to applicants with high academic achievement and an aptitude for oral and maxillofacial surgery.
The program is designed to provide the resident with sufficient didactic and clinical education to meet the requirements of the American Board of Oral and Maxillofacial Surgery and to become a proficient practitioner. All residents are extremely well prepared for careers in clinical practice, both in academic and private practice settings. Residents are encouraged to develop skills in teaching and clinical research in preparation for an academic career.
Graduates of non-US or -Canadian accredited schools are NOT eligible to apply for the 6-year OMFS-MD residency program. They may apply for the one-year Oral and Maxillofacial Surgery Internship program.
Goals
Nationally, there has been a long-standing trend for US OMFS residency programs to offer a concurrent MD degree through an affiliated medical school. The addition of the MD component to traditional OMFS programs provides select residents additional education, training and credentials commensurate with the expanding range and complexity of their surgical repertoire.
The goals of both the 4-year and 6-year oral and maxillofacial surgery residency programs are to provide residents with excellent didactic and clinical experience. On completion of either program, graduates will possess sufficient professional knowledge, skills, and ability to practice competently and independently. Residents are extremely well-prepared to meet the requirement of the American Board of Oral and Maxillofacial Surgery.
Curriculum and Rotations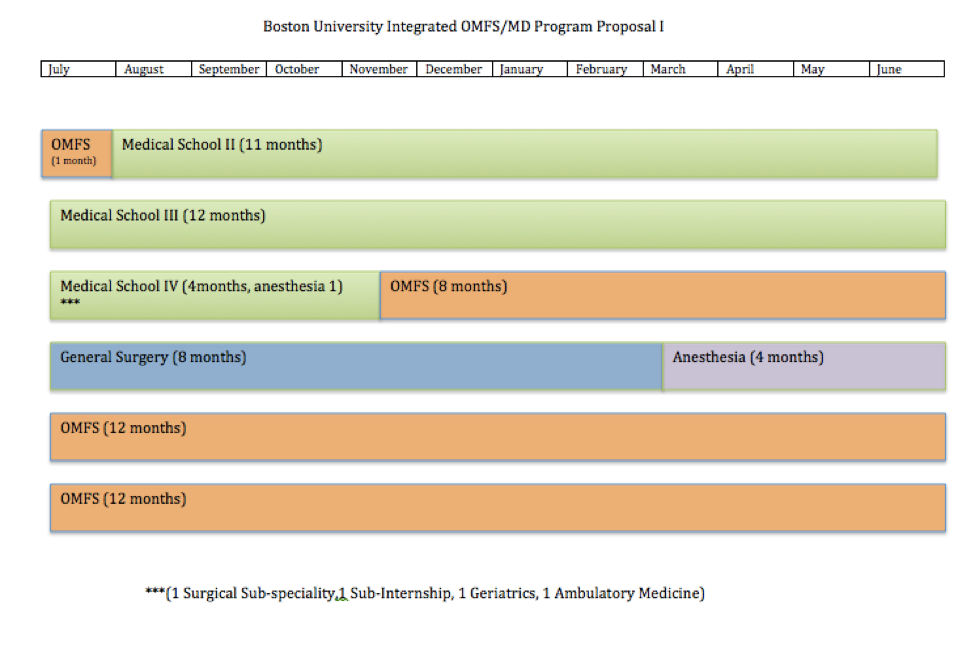 Click image to enlarge.
In the 6-year track, matriculated residents spend the first month on the OMFS service along with the 4-year track PGY-1 residents. This time is spent being oriented to the hospital, to resident life, and a significant amount of time is devoted to gaining an introduction to clinical medicine (learning to take a history and perform full body physical examination). At the end of this month, the 6-year track residents enter in to the 2nd year of medical school (advanced standing). They spend the remainder of this year and the next year fully integrated in the medical school (Years 1 and 2 of the program). The two full years in medical school are at the level of 2nd year (aimed to augment basic and clinical science didactic knowledge and physical diagnosis skills) and 3rd year (required clinical rotations required for MD-degree). The third year of the MD-integrated program is a "hybrid year"; enrolled residents complete 4 months of medical rotations (required for the MD degree), spend 4 months on anesthesia which is followed by 8 months on the OMFS service. In May of this third year, the resident will have completed requirements of the MD-degree. The 4th year of the program fulfills the requirements of general surgery and the remaining anesthesia requirements besides providing additional time on the OMFS service as a junior resident During the 5th and 6th years of training, residents are fully on the OMFS service (24 months on-service) concurrent with the final 2 years of the 4-year track residents. This gives a total of 33 months on the OMFS service in the 6-year track (1 in the 1st year, 4 in the 3rd year, 4 in the 4th year, 24 in the 5th and 6th years) compared to 34 months in the 4-year track (10 in 1st year, 24 months in 3rd and 4th year) assuring a comparable experience.
Oral & Maxillofacial Surgery Training Curriculum
Besides the medical school curriculum, residents in the 6-year MD integrated program will participate in all didactic activities and education of the Oral and Maxillofacial Surgery department. This includes the following specific courses and seminars which they will receive during their on-service (OMFS) ROTATIONS:
Year 1:
Physical Diagnosis, Dr. Worcester
Basic Life Support
Advanced Cardiac Life Support
YEARS 3, 4, 5, AND 6:
Orthognathic Surgery Conference, Drs. Chigurupati and Henry
Surgical Implantology, Dr. Batal
Journal Club, Dr. Bhagania
Anesthesia Seminars, Dr. D'Innocenzo
Grand Rounds, Dr. D'Innocenzo and Henry
Principles of Surgery, Dr. D'Innocenzo
Surgical Anatomy Seminars, Dr. Couey
External Courses, Dr. Mehra
Maxillofacial Trauma Conference, Dr. Henry
Combined BU-Tufts-Harvard Grand Rounds, Dr. Sayre
Quarterly Case review/M & M, Lectures within Grand Rounds, Dr. Chigurupati
Head and Neck Cancer Pathology conference, Dr Sayre and Couey
Surgical Airway Conference, Dr. Sayre and Couey
Courses
SDM OS 770, 772, 773 Journal Club
An ongoing review of the classic and current literature in oral and maxillofacial surgery and related disciplines. This conference is held every month and is an interactive discussion forum. Dr. Bhagania and faculty
SDM OS 825, 826, 827 Anesthesia Seminars
A lecture and discussion series for residents in years 1, 3, and 4 of the program covering the physiology, anatomy, and practical aspects of the administration of general anesthesia as well as inhalational and intravenous sedation techniques for adult and pediatric patients. Dr. D'Innocenzo and faculty
The implantology curriculum plan is a comprehensive approach to educating Oral and Maxillofacial Surgeons in the appropriate surgical and prosthetic treatment planning of the implant patient. The course is designed to serve as a didactic foundation to supplement the clinical experience provided at Boston University, Boston Medical Center, and the VA hospital. Dr. Batal and faculty
SDM OS 860, 862, 863 Principles of Surgery
The entire spectrum of oral and maxillofacial surgery, emphasizing proper diagnosis and treatment. Management of the medically compromised patient is included with proper respect for the application of basic science knowledge to patient care. Includes lectures by attending and guest faculty from the departments of Plastic Surgery, ENT, Ophthalmology, and OMFS. Dr. D'Innocenzo and faculty
SDM OS 812, 813, 814 Surgical Anatomy
A series of seminars and/or dissection of human specimens with demonstrations of surgical and clinical approaches and surgical techniques presented by the residents and/or attendings. Dr. Couey.
SDM OS 864 Physical Diagnosis
An extensive course in the principles and practice of physical diagnosis and laboratory diagnosis. Consists of short lectures, discussion seminars, and clinical patient evaluation including lectures, discussions, and in-patient rounds. Dr. Worcester
SDM OS 866, 868, 869 Orthodontics-Orthognathic Surgery Conference
Combined conference between orthodontic and OMFS departments designed to familiarize residents with the problems associated with the diagnosis and treatment of dentofacial deformities. Stresses orthodontic principles and surgical techniques, and team evaluation. Drs. Chigurupati, Henry and Will
SDM OS 873 General Surgery
The second year of the program consists of didactic teachings and clinical rotations on the general surgery service of Boston Medical Center Surgical Residency Program. Examples of rotations include: Emergency Room, Critical Care Unit, Neurosurgery, Cardiothoracic Surgery, Surgical Oncology, Plastic Surgery, ENT, and Orthopedic Surgery. There is also a rotation in the Anesthesiology service of Boston Medical Center. Dr. Hess and faculty
SDM OS 876 Advanced Cardiac Life Support
This is the standardized course in advanced cardiac life support. Includes diagnosis and advanced management of cardiovascular emergencies, ECG interpretation, management algorithms, and megacode management. ACLS staff
SDM OS 877 Advanced Trauma Life Support
This is the standardized course in advanced trauma life support. Includes diagnosis and acute management of the trauma victim. ATLS staff
SDM OS Pediatric Advanced Life Support
This is the standardized course in pediatric advanced cardiac life support. Includes diagnosis and advanced management of cardiovascular emergencies, ECG interpretation, management algorithms, and megacode management. PALS staff
SDM OS 881, 883, 884 Clinical Oral Maxillofacial Surgery
A four-year continuum consisting of clinical rotations on the oral and maxillofacial surgery services of Boston Medical Center and its affiliated training sites including the Boston Veterans Administration Hospital and the Beth Israel Deaconess Medical Center. Oral and Maxillofacial Surgery Faculty
SDM OS 890, 891 Mock Board Examinations
This course is designed to prepare the resident for the certification examination of the American Board of Oral and Maxillofacial Surgery. Dr. D'Innocenzo
SDM OS 991, 992, 993, 994 Research: Oral and Maxillofacial Surgery
The OMFS program requires at least one research project be completed during the training program. The research is guided by faculty and entails a critical review of the literature, developing a hypothesis, statistical analysis, and interpretation of data. A written research paper and oral presentation are mandatory requirements for graduation. Dr. Rivera
SDM OS BMC Maxillofacial Trauma Conference
Combined conference between the Departments of OMFS and OTO/HNS to discuss recent developments in the management of facial trauma patients. Includes case presentations and discussions. Dr. Henry
SDM OS Combined BU-Tufts-Harvard OMFS Grand Rounds
Inter-university conferences held 3 times a year. These lectures and presentations include local and/or guest speakers presenting clinical and research developments in OMFS and its related disciplines. Dr. Sayre
SDM OS 774, 776, 777 Grand Rounds, Morbidity and Mortality Conference
This course include a review of surgical cases, treatment outcomes and discussions on diagnosis and treatment planning. Additionally, there is a detailed review on one selected medical or surgical topics. Dr. Henry and Chigurupati
SDM OS Oral and Maxillofacial Surgery In-Service Training Examination (OMSITE)
OMFS residents are required to take this annual, nationwide examination sponsored by the American Board of Oral & Maxillofacial Surgery three times during their four year training program. OMSITE is an assessment tool developed to permit residents, interns, and practicing surgeons an opportunity to assess their knowledge of the breadth and scope of the oral and maxillofacial surgery specialty.
SDM OS External Continuing Education Courses
These courses are aimed to send OMFS residents to national continuing education courses and meetings once annually for presentation of scientific material. Dr. Mehra
SDM OS Clinical Cleft Lip/Palate and Craniofacial Surgery
Each resident is given the opportunity to travel internationally with selected faculty to gain experience in cleft lip/palate and craniofacial surgery. Participation in this program is optional. These trips are sponsored by missionary and social organizations with the intent of providing surgical treatment in under-served countries. Dr. Rivera
Case Material
An adequate volume and diversity of clinical exposure is available to provide a complete and effective educational experience. This includes an appropriate number of cases in the following areas:
Facial trauma surgery
Orthognathic surgery
TMJ surgery
Dental implant surgery
Head and neck pathology
Complex maxillofacial reconstructive surgery
Outpatient anesthesia
Facial Cosmetic surgery
Sleep apnea surgery
Preprosthetic surgery
Dentoalveolar surgery
Nerve repair
Cleft lip/palate and craniofacial surgery
Head & neck cancer surgery
Patient Care Experience
Residents participate in the entire process of patient care from initial visit to final discharge and are involved in the decision making process under appropriate faculty supervision. Supervision and instruction at all levels of the surgical graduate training program are provided by full- and part-time members of the surgical attending staff. Supervision includes problem-oriented conferences on surgical floors, bedside rounds, and direct assistance in the operating room. Although independent decision-making is encouraged, no operation is performed without faculty participation.
Cleft Lip/Palate and Craniofacial Surgery Programs
Each year, the Department of Oral and Maxillofacial Surgery sponsors a cleft lip and palate surgical team that provides care to patients in South America. Working through an organization called "Healing the Children", third year oral and maxillofacial surgery residents and faculty accompany a group of health care professionals to South America. The BUSDM Department of Oral and Maxillofacial Surgery covers all professional trip expenses.
Additionally, Boston University periodically works with the "Smiles International Foundation" . Smiles International Foundation was formed in 1987 to provide surgical care to patients with dentofacial deformities, clefts, and craniofacial deformities all around the world. Some of the areas served by the Foundation include Mexico, the Ukraine, and Costa Rica. The Foundation has been the subject of articles in many national and international publications as well as book chapters and journal articles in our professional literature.
Annual Openings
Oral & Maxillofacial Surgery MD-Integrated Residency: two (2) annual openings
Housestaff Benefits and Perks
Boston Medical Center provides a comprehensive benefits package to all of its employees. Information regarding the benefits, perks and financial and wellness programs available to Housestaff officers can be found here. Boston Medical Center Housestaff are part of the SEIU Union; information on the benefits provided by the SEIU for our Housestaff officers can be found here.
All Housestaff officers of Boston Medical Center are eligible for an annual educational stipend to be used towards educational expenses.
We strongly encourage all applicants to the residency program to review the Boston Medical Center "Information for Applicants" page which can be found here. This page not only reiterates the benefits, not limited to salary, parking, life insurance, flexible spending accounts and many more, but also provides you with a sample contract and sample offer of appointment for your review.
Hospital and Associated Facilities
Boston Medical Center (BMC)
Boston Medical Center is a multispecialty referral institution that is the principal teaching hospital of the Boston University School of Medicine and the Goldman School of Dental Medicine. The hospital has two separate campuses and receives approximately 420,000 patient visits annually. BMC is the region's busiest Level I trauma center and the emergency department capably meets the demands of 84,000 visits per year. Boston Medical Center is a founder of Boston HealthNet, which is a partnership between the medical center, Boston University School of Medicine, School of Dental Medicine, and 13 community health centers in neighborhoods throughout the greater Boston area. BMC is committed to excellence in patient care, advanced clinical research, and health care education. Although the hospital's primary service area includes greater Boston and eastern Massachusetts, it receives referrals from throughout New England and the world. The Oral & Maxillofacial Surgery Clinic at Boston Medical Center's Menino Pavilion is a five-operatory, state-of-the-art clinic. It is one of the busiest clinics in the hospital, and treats 17,000 patients annually.
Beth Israel Deaconess Medical Center (BIDMC)
The Boston University Oral & Maxillofacial Surgery Service is responsible for providing the full range of Oral and Maxillofacial Surgery Services at the Beth Israel Deaconess Medical Center (BIDMC). The BIDMC is a 621-bed hospital and a Harvard Medical School Teaching Hospital. The BIDMC has a state-of-the-art trauma center, as well as innovative training and technology to ensure the highest level of patient safety and quality of care and is the official hospital of the Boston Red Sox.
Veterans Affairs Medical Center (VAMC)
The Veterans Affairs HealthCare System, Boston (VA) is a tertiary referral center and one of the largest Veterans Affairs hospitals in the United States. It is the only VAHS in northern New England that provides oral and maxillofacial surgery services. The Boston VAHS receives referrals from all the regional VA facilities. Great emphasis is placed on diagnosis and treatment planning of dental implants , bone grafting, and treatment of medically compromised patients. Inpatient facilities are provided at VA Boston Hospital in West Roxbury, while the outpatient clinics and day surgery are located at the VA Hospital (Boston) in Jamaica Plain.
Franciscan Hospital for Children
The Franciscan Hospital for Children is a specialty pediatric hospital that is nationally and internationally known as a leader in the care of children with special needs. There are a variety of inpatient and outpatient programs dedicated to the total health of children and adolescents. The oral and maxillofacial surgery residents, along with members of the faculty occasionally provide oral and maxillofacial surgery care to their patients. The children treated at Franciscan Hospital may include those with autism, ADHD, cerebral palsy, mental retardation and craniofacial syndromes. The oral surgery residents rotate here for Pediatric Anesthesia..
Lemuel Shattuck Hospital
The Lemuel Shattuck Hospital is the primary provider for ambulatory and inpatient services for the Massachusetts Department of Public Health in the metro Boston area. They provide services and medical to those patients who are truly disadvantaged and needy. The oral and maxillofacial surgery interns, along with faculty, treat patients on a weekly basis. Our participation at the facility is a unique melding of public and private resources in the Boston area.