CURA Colloquium
Call for Fellows
Religion and World Affairs Fellowship 2023-2024
Boston University
"Religion & Empire"
The colloquium sessions are open to the general public, with the expectation that all attendees read the papers in advance and that the sessions focus on providing feedback and suggestions to the authors. Fellows will also be included in events with visiting scholars and a Spring 2024 workshop. Planned visitors include some of the world's leading scholars of religion and empire including Melani McAlister (George Washington University), Cemil Aydin (University of Carolina at Chapel Hill), and Alejandro Colás (Birbeck University), among others.
20 years after the U.S. invasion of Iraq, scholars of religion are again examining the place of empire in history and international relations. We also live in an age of public religion, with American evangelical Christians and transnational Islamic movements being key international power brokers. What is the relationship between religion and empire? How do religious ideas, and ideas about religion, sustain projects of imperialism? What resources might these traditions offer in surviving and resisting imperial projects? How are religious nationalisms and internationalisms challenging imperial domination?
This year-long conversation will bring together an interdisciplinary community of scholars of religion and empire. Past fellows have come from anthropology, international relations, political science, religion, sociology, theology, and other area institutions including the University of Massachusetts Boston. Those selected as fellows will be asked to prepare a working paper of 5,000-8,000 words that will be scheduled for presentation next year.  The papers will be made available a week in advance of their scheduled discussion. Fellows will be expected to attend all sessions and the Spring 2024 workshop, read papers in advance, and provide feedback for other participants. Colloquium sessions will be held on Fridays, 12:00-1:30pm. Fellows will receive a $1,000 stipend for successful participation in the colloquium.
Founded in 1985, CURA was the first interdisciplinary research center in the United States focused on religion and world affairs, and has long served as a important hub for scholars from BU and beyond.
Contact Jeremy Menchik (menchik@bu.edu) with any questions and related inquiries.
Fall Calendar 2023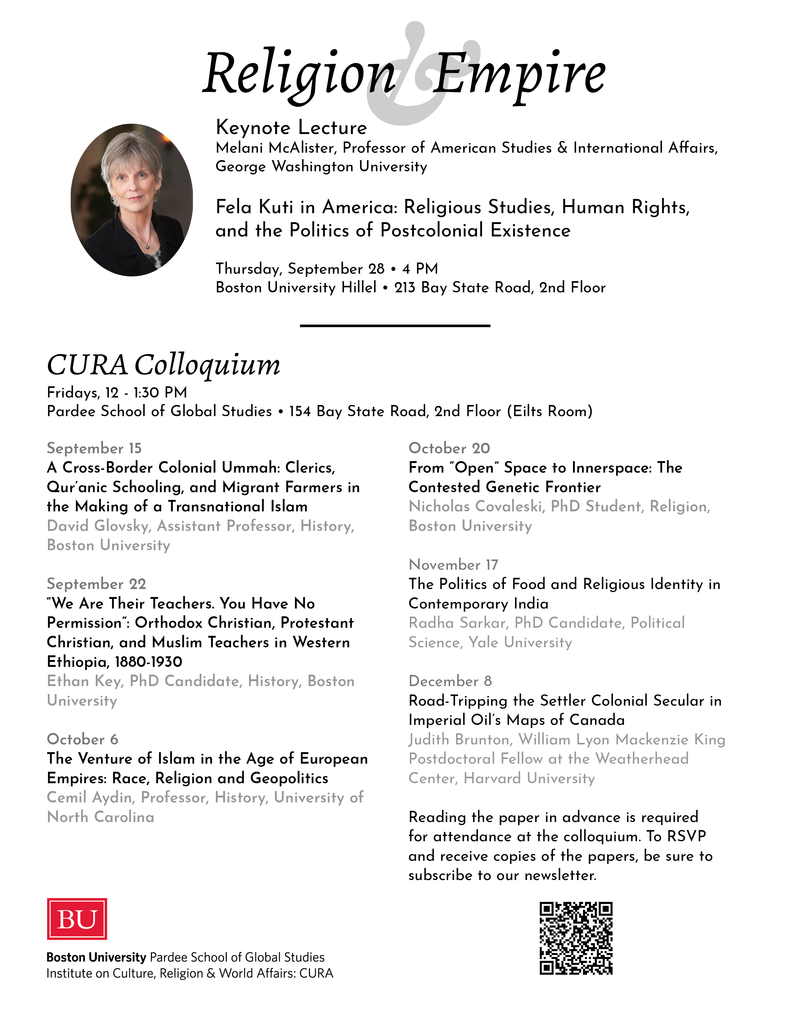 To register for one or more of the Fall 2023 colloquium sessions,  please visit this page.
Profiles of 2023-24 CURA Fellows
---
Archive of Colloquium Activities
2022-23
Profiles of 2022-2023 CURA Fellows
2021-22
Profiles for the 2021-2022 CURA Fellows
2020-21
Profiles of 2020-2021 CURA Fellows
2019-20
Profiles of 2019-2020 CURA Fellows
2018-19
Profiles of 2018-2019 CURA Fellows
2017-18
Profiles of 2017-2018 CURA Fellows