Boston University's General Clinical Research Unit (GCRU) Clinical Research and Operations Services and Structure
The BU CTSI General Clinical Research Unit (GCRU) has provided critical support to clinical studies across the campus since its inception. Most recently, services have been added including pivoting operations and staffing to support COVID-19 related trials. As we continue to face the pandemic, and in concert with greater CTSI visioning, we believe that providing a clear scope of services and roles for the GCRU in the future will be beneficial. Specifically, our hope is that this vision will provide a forward looking plan for continuing to support all investigators, and establishing and clarifying how CTSI efforts can work in concert with BMC, such that the research services are synergistic and allow for expansion of high-quality, rigorous research for in-patients and COVID-related studies in the GCRU.
Located on the 8th floor of the Evans Building on the Medical Campus, the GCRU provides study implementation services within the unit and beyond through its additional outreach services "GCRU Without Walls". Services are provided across all BU schools, including the CRC and BMC.
Under the leadership of George O'Connor, MD, BU CTSI Director of Clinical Research and  Ridiane Denis, BS, RN, MD, GCRU Director of Clinical Research and Operations, the GCRU provides implementation and facilitation support to study teams and valuable services to a diverse population of research participants. Additional services, such as research coordinator support, protocol review, and study feasibility are available through the RNT. To learn more about all the services provided by the CTSI or to request a service, please visit the Research Navigator Team Webpage.
For studies implemented through the GCRU, staff will work closely with Study Teams to provide clear information regarding the budget and specific protocol implementation procedures required to complete the studies. Requests to use the RNT in the facilitation of clinical studies will be reviewed and approved by the Senior Research Navigator and the Director of Clinical Research Operations prior to the start of each study. An agreement will be created that will outline the services to be provided by the RNT that will include a timeline, specific services that will be provided, a budget and scope of work. Each request will be assessed separately and actual services provided are determined based on specific study needs, budgets and available resources.
The GCRU has been organized into eight (8) clusters with each cluster providing specific services or resources to optimize and provide functional  support for clinical research across Boston University and Boston Medical Center.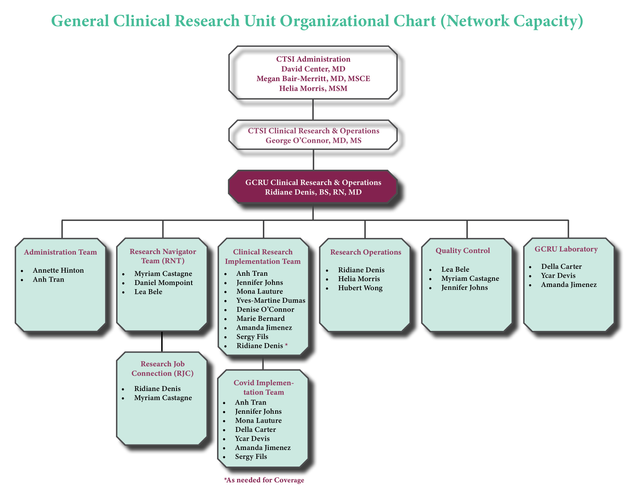 ---
Apply to Use the GCRU & Scheduling
GCRU Rates
Administration
Research Navigator Team & Research Job Connection
Standard Operating Procedures for Research Studies
Clinical Implementation Team
Research Operations
GCRU Laboratory
COVID Implementation Team
Quality Control
GCRU Trainings
Contacts
Facilities
GCRU Newsletters