Reimagining the Grading Paradigm
In Spring 2022, the Center for Teaching & Learning created several events and programming that focused on questions about grading. This programming was inspired by, and in partnership with, colleagues from the College of General Studies, Kilachand Honors College, and the College of Arts Writing Program.
Why grading? We chose this focus because of the many conversations around campus about the purpose and practices of grading and how we might develop alternatives that serve students and faculty better. Some of these conversations about alternatives have been happening for years while others emerged throughout the pandemic as instructors grappled with assessing student work in the new context of pandemic pedagogy. Still other conversations have developed over the complexities of academic integrity within the virtual environment. 
These conversations share the same theme but are not necessarily congruent with each other. On this page, we hope to continue the conversations in ways that faculty and students will find productive. We hope to generate more discussion, more ideas about alternatives to grading, and research into the many experiments with grading and assessment tasks that are happening around campus.
This page on our site highlights the work that has been done this semester. It will also be updated on an ongoing basis with resources and news of learning communities focused on approaches to grading. 
Lightning Talks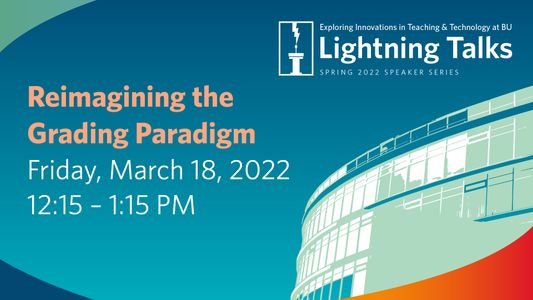 In March, we partnered with Digital Learning & Innovation to bring five presenters together to discuss their approaches to different forms of grading across various disciplines. See the recording of the presentations, moderated by Prof. Carrie Preston, here. The following talks are included in the presentations:
Marie McDonough (CAS Writing Program): Rethinking Grading Using DEI Frameworks
Debbie Borkovitz (CAS Math & Statistics; WED Math Education): From Wheelock to BU: Perspectives on Grading and Gatekeeping in Math
Muhamad Zaman (ENG): Rethinking Grading in STEM: Equity, Access and Opportunity
Chris Schmitt (CAS Anthropology and Biology): Reducing Coding Anxiety through Self-Assessment (and Drag Queens): Ungrading CAS AN/BI 588
Molly Monet-Viera (CAS Romance Studies): Three Different Ways to Ungrade: Contract Grading, Completion Grading, and Self Grading
Presentation by Prof. Susan D. Blum
In April, we hosted Professor Susan D. Blum, contributing editor of Ungrading Why Rating Students Undermines Learning (and What to Do Instead). The recording of the talk, "Alternative Grading Practices for Learning and Equity," is available here with a BU log in.
Reading Group
CTL also hosted a reading group, whose participants read Ungrading over several months, discussed strategies and shared assignment ideas, and hope to continue their discussions and ideas for research projects in Fall 2022.