Kilachand Hall Phase 2 – Construction Update – 11/23/22
General Project Information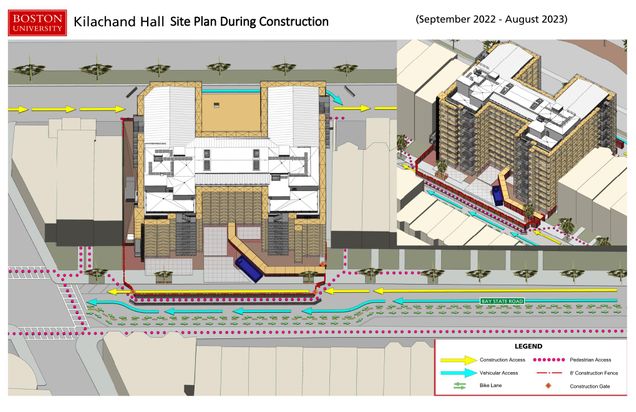 Daily Work Hours from 7 am – 3:30 pm.
The Traffic Management Plan for the project has been approved by the Boston Transportation Department and is in place.
Relocated accessible parking spaces posted for use on 6/29 (in front of 81 and 83 Bay State Road).
Jersey barrier site containment in place, pedestrian walkway also in place and operational. City sidewalk in front of Kilachand Hall is permitted to be used as part of the construction site limits.
Bike lane is fully functional in front of Kilachand Hall
BU parking spots directly behind Kilachand Hall on Back Street remain a "no parking zone". This will continue for the duration of the project to maintain an adequate drive lane for local traffic on Back Street and allowing for the construction team to safely contain a work area north of the dormitory
During the week of November 28th
Due to some unforeseen conditions that must be addressed before winter, some of the noisier work has progressed further into November than expected. The team is hoping to be off the exterior of occupied floors after next week. Any one-off activities that come up will continue to be communicated to the occupants affected.
Badd Bros steel erectors have a crane mobilization scheduled for Wednesday, November 30, or Thursday, December 1. This will be for the level 9 steel delivery and pick.
Titan Roofing's work installing roofing and parapet caps at the small roofs on the level 7 south elevation (see photo showing above for locations) has been delayed. We will provide an update when the work is rescheduled.

Suites in close proximity are 708 and 709.

Riggs masonry (see photo above for locations of work):

Masons continue with masonry backup repairs on the level 8 façade in preparation for brick rebuild. The 8th level is unoccupied.
The team will continue the last exterior corner rebuild. The brickwork is up to the 4th floor and should be completed up to level 8 by the end of November. 10 of 11 corners have been finished.

The -19 suites will be the most affected by noise on the remaining floors, 5 through 7.

The masonry crew continues with the construction of the concrete parapet wall on level 9. Completion is expected by next week.

Mass Acoustics to continue framing in contained renovation areas on all floors.
Royal Steam Plumbing and HVAC continue with rough in work on all floors.
Cogswell fire sprinkler working on rough piping on all floors in the contained work areas.
Murphy Electric continues with rough electric work in all areas.
Riggs Contracting carpenters and laborers continue with temporary winter protections throughout the 9th floor as needed.
Consigli/Riggs team on site for cleaning support and supervision.