Center for Computing & Data Sciences – Construction Update – 11/23/22
During the weekend of November 26th
On Saturday, crews will continue the installation of the finishes around the atrium's monumental stair. Ceiling installation will continue in the corridors on the upper floors of the tower. A final coat pf paint and touchups continue. Startup, testing, and commissioning of the building's mechanical systems continue. At the terraces, green roof materials will continue to be installed.
On the exterior of the building, installation of landscape site features, curbing, and sidewalks continue.
On Sunday, crews will return to the site to continue to install finishes in high-traffic areas, such as the ground floor, elevator lobbies, and stairways.
Also on Sunday, a mobile crane will be set up on Commonwealth Avenue, adjacent to Sargent College, to assist in setting sections of the bike shelter in place.
Deliveries for miscellaneous materials will also occur throughout the day.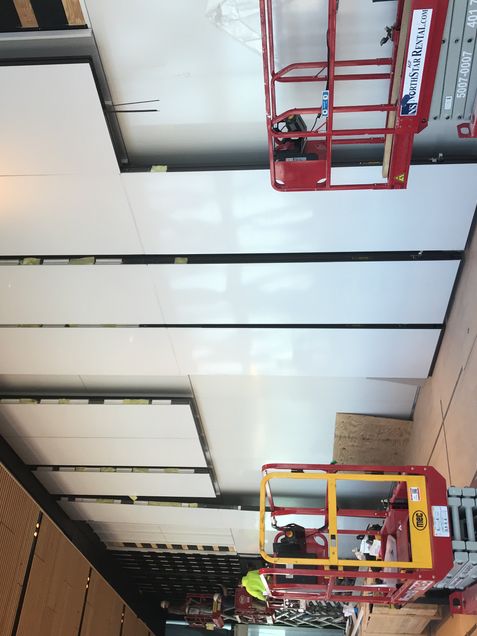 During the week of November 28th
Crews continue installing finish wall panels and the finish ceiling system around the atrium. Finish material at the stair guardrails continues to be installed.
Installation of finishes will continue throughout, including whiteboards, corner guards, cabinetry, wood and acoustical ceilings, interior glass walls, doors, and final paint.
On the terraces, the installation of green roof material continues.
On the 17th floor, crews will continue installing the modular partition.
Start-up, testing, and commissioning of the building's systems continues.
Exterior site work continues with the retaining wall, ramp, stair, planter, and tree installation at the laneway between the building and the rear of the Bay State Road brownstones.
Deliveries and assembly of office furniture will continue, working up the building.
The project will continue utilizing a second shift, from 3 pm to 11 pm, Monday through Friday to advance interior work, accommodate off-hour deliveries, material loading, and debris removal. Select subcontractors will continue working on a third shift from 11 pm to 7 am to advance the startup and testing of building systems while the workforce is less than during normal business hours.
Please be aware in addition to daily deliveries, trucks with large trailers will be staged adjacent to and moving around the site. Pedestrians should be aware of all safety and directional signage in the areas as pedestrian and vehicle travel paths may be altered.