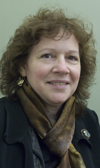 Head of Italian Section Professor of Italian
Professor Harrowitz' research and teaching interests include nineteenth- and twentieth-century Italian literature, and Holocaust Studies. She is a specialist in Primo Levi and has recently published a book entitled, Primo Levi and the Identity of a Survivor. She has also published Antisemitism, Misogyny and the Logic of Cultural Difference: Matilde Serao and Cesare Lombroso (1995), has edited Tainted Greatness: Antisemitism and Cultural Heroes (1995), and co- edited with Barbara Hyams Jews and Gender: Responses to Otto Weininger(1996). Her work includes articles on Primo Levi, Giorgio Bassani, Carlo Levi, and Margherita Sarfatti among others.
She teaches courses on modern Italian literature and on fascism and the Holocaust in Italy, often including film as part of the curriculum. She also teaches courses on Holocaust literature and film, and on Primo Levi and  Holocaust literature. She is directing the new Holocaust and Genocide Studies minor, as well as co-chairing the Conversations on Race Initiative.