BU Global Music Festival Returns Louder and Poppier Than Ever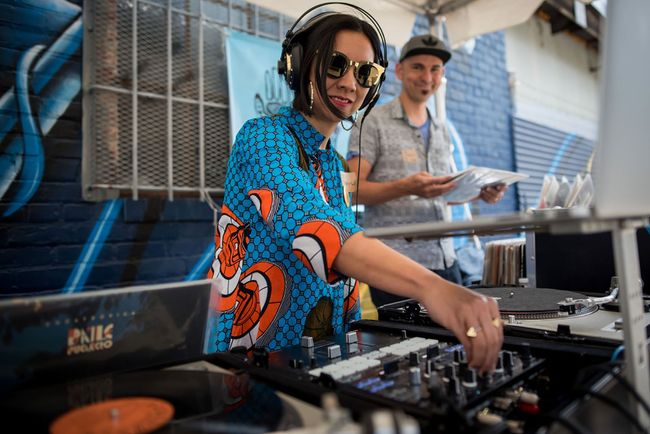 This article was first published in BU Today on September 16, 2021. By Joel Brown
EXCERPT
Saturday's fourth annual BU Global Music Festival will feature more fresh air and poppier sounds than usual.
"The silver lining of having to plan this in the second year of COVID is that it's happening outdoors," says festival artistic director Marié Abe. "So we'll have a big sonic presence reverberating across campus to get all the students who might hear it to come and join us!"
Highlights of this year's event, centered at the BU Beach, include multiple sets by the La Pelanga DJ collective from Oakland, Calif., East African retro-pop from Alsarah and the Nubatones, and what the Boston Globe calls "the ecstatic Sufi singing of Riyaaz Qawwali." The festival, which runs from noon to 9 pm, is open to the public and free for all ages; just register here or when you arrive.
Abe, a College of Fine Arts associate professor of music, musicology, and ethnomusicology, says she always tries to strike a balance between folkloric, traditional acts and more modern sounds, and she leaned a little more to the latter this year.
"I don't want people's understanding of global music, or so-called world music, to be all traditional, stuck in the past," she says. "There are so many exciting, experimental pop acts that are rooted in traditional sounds, and we have a lot of those."
Abe also tried to showcase female voices this year, including several all-female acts: "It's so easy, if you look at festivals across the United States, to find they're still almost always male-dominated, so we tried to consciously look for women's voices and women's presence."
The big difference, though, "is being on BU Beach," says Ty Furman, managing director of the BU Arts Initiative, which produces the event with Abe's CFA department. "We made the decision because of safety, but now there's just a lot of excitement about it."
COVID-19 made last year's Global Music Festival online-only; the event had been held in the George Sherman Union for the first two years. COVID travel restrictions mean all of this year's acts are based in the United States, although the lineup includes natives of many countries.
"Marie and Brian Keigher [an independent producer who works with the festival] really worked hard to find these artists, musicians, and bands who are global and represent their heritage, but are rooted in the United States," Furman says. "They found some phenomenal artists, and as usual, they have some really good local representation."
…..