Boston Globe feature: Missy Mazzoli is having a moment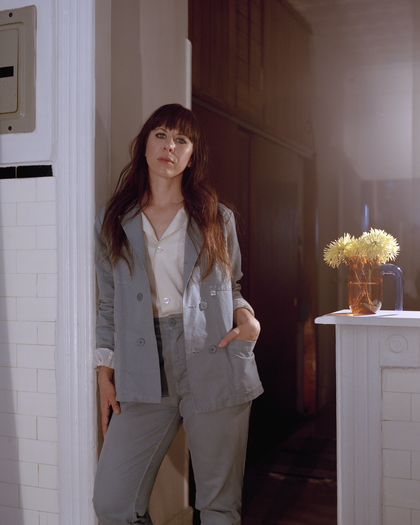 Grammy-nominated composer and CFA alum, Missy Mazzoli (BUTI'98, CFA'02), was featured in the Boston Globe on October 20, 2021 discusses her operas including her third opera, "Proving Up," being staged at CFA's Fringe Festival 2021. By David Weininger
Excerpt
There's something like a mini-festival of Missy Mazzoli's music taking place in Boston this weekend. Her third opera, "Proving Up," is being staged during this year's Fringe Festival at Boston University, Mazzoli's undergraduate alma mater. Almost simultaneously with the opera's Saturday performance, local orchestras will play two of her symphonic works: "These Worlds In Us" (Boston Conservatory Orchestra) and "Violent, Violent Sea" (Brookline Symphony Orchestra).
The convergence wasn't planned — a case, instead, of three local performing organizations programming the same composer. But it is a sign of the extent to which Mazzoli has established herself as a composer with a deeply original voice; it's also evidence of the breadth of the audience that wants to hear her music.
"Missy's impact on the modern classical world is profound," Matthew Marist, chair of instrumental studies at Boston Conservatory at Berklee, wrote in an email. "Her music speaks to the conditions in which we are living today, and, I believe, resonates in a special way with younger generations." He described "These Worlds In Us" as "a hauntingly beautiful work that easily finds [a] home on any contemporary classical orchestral program."
"Proving Up," is based on Karen Russell's story of a poor 19th-century Midwestern family desperate to own the deed to their land. The youngest son sets out on a quest for a glass window, a legal requirement for land ownership under the Homestead Act. He finds himself traveling through an eerie, haunted landscape, where ghosts and other threatening figures disrupt his path. The ending is both ambiguous and tragic. It's a harrowing piece, as much for the action that happens onstage as for its unspoken yet trenchant commentary about contemporary American society.
"My goal was to express the sort of dual nature of the American dream," she explained. "This sort of inspiring idea that anyone can do whatever they want, no matter where they come from, and the harsh reality that that isn't true, and we do not live in a society that actually supports that. That myth endures so strongly, despite all the evidence to the contrary."
Fringe Festival Tickets
PROVING UP Opera by Missy Mazzoli and Royce Vavrek. At: Joan & Edgar Booth Theatre, Oct. 22-24. General Admission Tickets: $15. Free for BU students, faculty, and staff with BU ID (subject to availability) www.bu.edu/cfa/opera/news/fringe/