'Visual Conversation Piece' at 808 Comm Ave Documents Student Voices
Two-Part Installation Shares Words of Inspiration
By Alex Ross (COM'22)
Welcome Orientation. The first chance for incoming College of Fine Arts students of all ages to shed their former personas and begin growing into newly minted versions of their true selves.
For this year's incoming CFA undergraduate and graduate students, the shedding and growing was relegated to the world of all things virtual. Still, Mary Yang, Assistant Professor of Graphic Design, knew this was a critical time to capture the voices of CFA's future. She teamed up with Kính T. Vũ , Assistant Professor of Music & Dissertation Progress Coordinator of Music Education, to create what she calls a "visual conversation space."
"It's so vital for artists to reflect on how our work can emerge from our own experiences," said Yang. "It's critical for us to consider how our own experiences can equip and inform the work we make and share. Although [Kính and I] come from different fields, I found that both our working processes started with simply listening and having an open dialogue."
The result of their collaborative efforts? "What Inspires You", a two-part installation named for the question first posed by Vũ during Orientation and composed of a selection of quotes typeset on colorful vinyl graphics and a projection of a website (buartsinspire.com) that displays all the responses. The art display is being featured in the Howard Thurman Center's 808 Gallery through the end of September and into early October.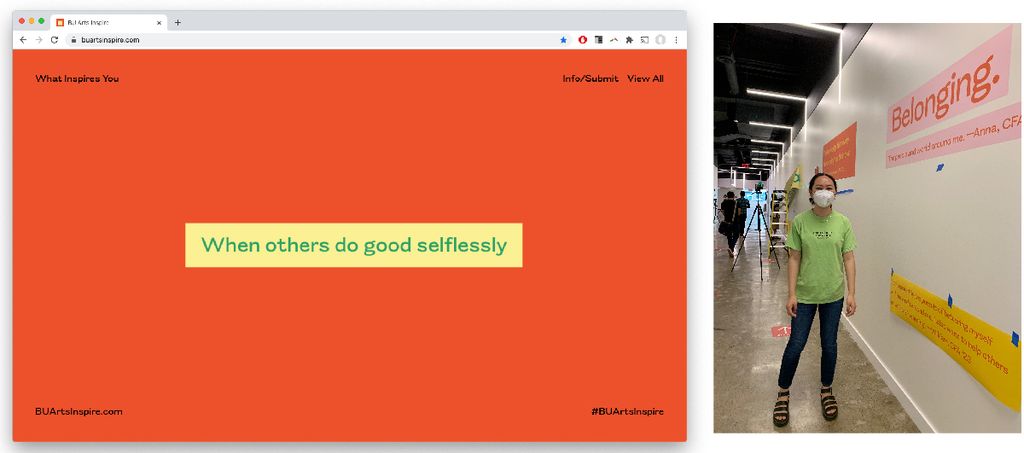 One of the main goals of the project from its inception over the summer included fostering a sense of community among the new students, said Yang. That meant the installation would need to be two-part: something available and accessible to every student, no matter if they were taking classes on-campus or remotely.
"The students' quotes on the wall become a typographic portrait that captures the thoughts, hopes, dreams, and concerns during these confusing and uncertain times," said Yang. "The quotes that were selected are not necessarily more important, but perhaps more urgent and echoed among multiple students."
The website, currently boasting more than 200 submissions, features all of the responses from students of various ages. And, while some students find inspiration in something quite specific: "A perfectly poached egg," said Eric of CFA Class of 2023, others are motivated by things more abstract, like "Searching for what is true," said an anonymous member of the Class of 2022.
The whole point of the project, after all, is to allow the responses of the students to be both the voice of the project and the project itself. And, just because she was the creative brains behind the operation doesn't mean Yang didn't connect with the content, too.
As a teacher, she was drawn to Lena's (CFA'22) submission: "Altering the canon to include voices that have been historically ignored, but should finally be heard." And, as an immigrant, Yang connected with Grecia (CFA'23) who said she was inspired by "[Her] Mexican culture, [her] family and their stories, their hardships, and how they have gotten to where they are right now."
"It was important to me that the responses were honest and unedited," said Yang. "My hope is that the incoming students will find shared purpose among each other to discover their voice as artists, musicians, performers, designers, and makers while here at CFA."
Thomas and Kendall of CFA's newest Class of 2024 may have captured Yang's ultimate vision best. When asked what inspires them, they had but one thing to say.
"The feeling of empowering people through our art."