BU Graphic Designers Build Collaborative Virtual Studio Space

May 2020 | By Alex Ross (COM'22)
With campus facilities, including art studios and exhibition spaces, closed for the second half of spring semester, CFA Assistant Professor of Graphic Design Mary Yang needed to get that much more creative when it came time for her sophomore graphic design students to collaborate and share all of their hard work and research.
When Ken Rudolph (CFA'22, Questrom'22) recreated their Graphic Design studio in Sims, complete with avatars for his fellow classmates, the group was inspired to build a collaborative virtual exhibition to share process, inspiration, and works in progress.
The result? Studio355.desktop, a website designed by her students to showcase their art in all its forms from the Sophomore Graphic Design Studio.
"The process of creating this actually worked out really well for remote learning," says Yang. "The concept was to create a collaborative working space where students could honestly share their ideas, research, and work from their sophomore year in-studio. Since we were no longer able to have the exhibition on campus, we thought the website could also function as a form of exhibition."
Yang's students explained the purpose of the website in their own words in a "Letter to the Visitor." Their work is located in the blue folders on the website.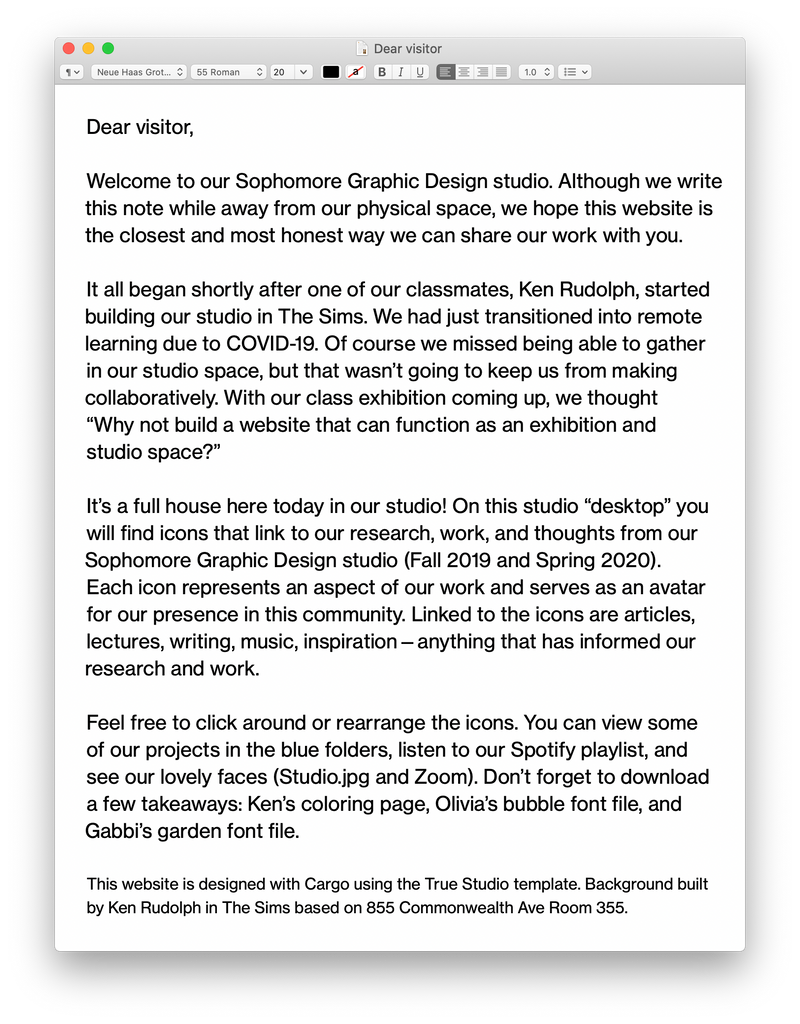 "This project was also a great way for us to maintain a sense of community during this time," says Yang.
Visitors can learn more about Studio355.desktop at studio355desktop.cargo.site, surf through additional images of the students and their remote work, or check out their Instagram page @studio355.desktop.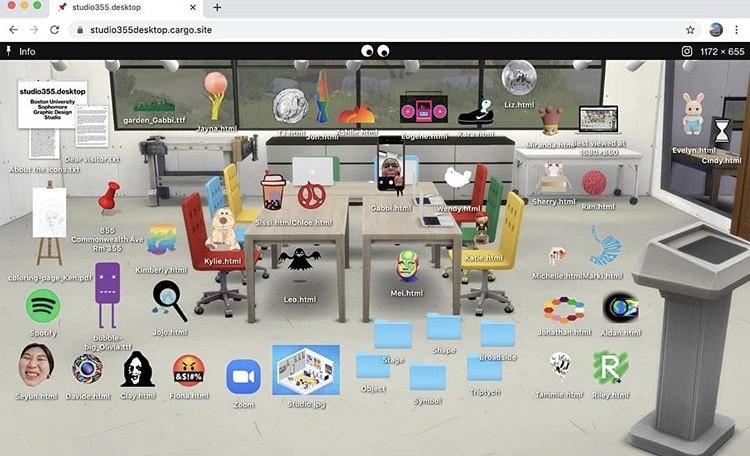 Learn More about the Graphic Design program