2019 Distinguished Alumni Awards
The entire CFA and BU community was invited to celebrate remarkable alumni Brooke Karzen (CFA'84), Morris Robinson (CFA'01), and Joe Wardwell (CFA'99) at the 2019 Distinguished Alumni Awards!
CFA's Distinguished Alumni Awards are the most prestigious awards conferred by the College of Fine Arts at Boston University. Since 1986, awards have been presented to individuals who have distinguished themselves with outstanding achievements in their careers, communities, and in service to the arts.
Thursday, September 19, 2019
5:00pm
Boston University Joan & Edgar Booth Theatre
Luo Yan Lobby
820 Commonwealth Avenue, Boston
BROOKE KARZEN
EVP & HEAD, WARNER HORIZON UNSCRIPTED TELEVISION
Brooke Karzen (CFA'84) is the Executive Vice President & Head of Warner Horizon Unscripted Television (WHUTV). As WHUTV's top executive since 2008, Karzen has grown the company's series slate from its initial series: "The Bachelor," "The Bachelorette" and "America's Best Dance Crew" to a studio-record number of shows including such mega hits as, "The Voice," "Ellen's Game of Games," and "Little Big Shots" with Melissa McCarthy.
Karzen's tenure at the company is most closely associated with "The Bachelor," having overseen the long-running franchise since its inception in 2002. The series, heading into its 24th season on ABC, airs in 31 countries around the world. In addition to the flagship series, Karzen also oversees the highly successful brand extensions: "The Bachelorette," "Bachelor in Paradise," for the ABC Television Network and, is the driving force behind the recently announced nationwide stage show, The Bachelor Live on Stage and digital venture, Bachelornation.com.
For NBC, Karzen and her team were instrumental in the development and production of recent breakout hits "Ellen's Game of Games," hosted and executive produced by Ellen DeGeneres, and the all-new "Little Big Shots" which is going into its 4th season starring Melissa McCarthy, and executive produced by McCarthy and DeGeneres. Karzen was also responsible for bringing the Emmy® Award-winning, venerable music competition series "The Voice" to the network.
Under Karzen's leadership, Warner Horizon Unscripted series have garnered multiple Emmy® wins and nominations. This year, "The Voice" received seven nominations, and "Ellen's Game of Games" host Ellen DeGeneres and "The World's Best" host James Corden are both nominated. In addition, this year MTV awarded "The Bachelor" the Golden Popcorn trophy for Most Meme-Able Moment for the now-iconic Colton fence-jump.
She joined Warner Bros. in 2000 as Vice President, Programming, Telepictures Productions, supervising development and production for a number of titles, including "The Bachelor," "The Bachelorette," "Trista and Ryan's Wedding," and "High School Reunion," among others.
Prior to coming to Warner Bros., Karzen was Vice President, Development, at The Walt Disney Company's Buena Vista Television, where she developed first-run series for syndication, cable and network television. At Buena Vista, Karzen helped launch "Who Wants to Be a Millionaire?" on ABC.
Karzen is a member of the Producers Guild of America and participated in the Women in Entertainment/Big Brother Big Sister mentorship program in 2014. She received a BFA in Theatre Arts from Boston University and is honored to receive this year's College of Fine Arts Distinguished Alumni Award. Karzen lives in Los Angeles with her wife, Leslye. Their daughter, Annabelle is a junior at Emerson College.
Follow Brooke on Twitter @brookekarzen and Instagram @brookekarzen!
MORRIS ROBINSON
OPERA SINGER, BASS
Morris Robinson (CFA'01) is considered one the most interesting and sought-after basses performing today.
Mr. Robinson regularly appears at the Metropolitan Opera, where he is a graduate of the Lindemann Young Artist Program. He debuted there in a production of Fidelio and has since appeared as Sarastro in Die Zauberflöte (both in the original production and in the children's English version), Ferrando in Il Trovatore, the King in Aida, and in roles in Nabucco, Tannhäuser, and the new productions of Les Troyens and Salome. He has also appeared at the San Francisco Opera, Lyric Opera of Chicago, Dallas Opera, Houston Grand Opera, Boston Lyric Opera, Pittsburgh Opera, Opera Philadelphia, Seattle Opera, Los Angeles Opera, Cincinnati Opera, Boston Lyric Opera, Opera Theater of St. Louis, Teatro alla Scala, Volksoper Wien, Opera Australia, and the Aix-en-Provence Festival. His many roles include the title role in Porgy and Bess, Sarastro in Die Zauberflöte, Osmin in Die Entführung aus dem Serail, Ramfis in Aida, Zaccaria in Nabucco, Sparafucile in Rigoletto, Commendatore in Don Giovanni, Grand Inquisitor in Don Carlos, Timur in Turandot, the Bonze in Madama Butterfly, Padre Guardiano in La Forza del Destino, Ferrando in Il Trovatore, and Fasolt in Das Rheingold.
Also a prolific concert singer, Mr. Robinson's many concert engagements have included appearances with the New York Philharmonic, Chicago Symphony Orchestra, Boston Symphony Orchestra, Philadelphia Orchestra, Los Angeles Philharmonic Orchestra, Atlanta Symphony Orchestra (where he was the 2015-2016 Artist in Residence), San Francisco Symphony Orchestra, Baltimore Symphony, National Symphony Orchestra, Houston Symphony, L'Orchestre Symphonique de Montreal, Met Chamber Orchestra, Nashville Symphony Orchestra, São Paulo Symphony Orchestra, New England String Ensemble, and at the BBC Proms and the Ravinia, Mostly Mozart, Tanglewood, Cincinnati May, Verbier, and Aspen Music Festivals. He also appeared in Carnegie Hall as part of Jessye Norman's HONOR! Festival. In recital he has been presented by Spivey Hall in Atlanta, the Savannah Music Festival, the National Academy of Sciences in Washington, DC, the Philadelphia Chamber Music Society, and the Metropolitan Museum of Art in New York City.
Mr. Robinson's solo album, Going Home, was released on the Decca label. He also appears as Joe in the DVD of the San Francisco Opera production of Show Boat, and in the DVDs of the Metropolitan Opera's production of Salome and the Aix-en-Provence Festival's production of Mozart's Zaide.
This season, Mr. Robinson returns to the Metropolitan Opera for The Magic Flute, makes his role debut as Phillip II in Don Carlo and sings Sarastro at the Dallas Opera, returns to the Atlanta Opera for Porgy and Bess, and returns to the Cincinnati Opera for Aida. He also makes his debut with the City of Birmingham Symphony Orchestra in performances of the Mahler Symphony No. 8 with its music director, Mirga Gražinytė-Tyla, and sings the same piece with the Atlanta Symphony.
An Atlanta native, Mr. Robinson is a graduate of The Citadel and received his musical training from the Boston University Opera Institute. He was recently named Artistic Advisor to the Cincinnati Opera
Follow Morris on Facebook: Morris Robinson, Bass, Twitter: @MorrisDRobinson, Instagram: @mdrbass, and YouTube: Morris Robinson.
JOE WARDWELL
PAINTER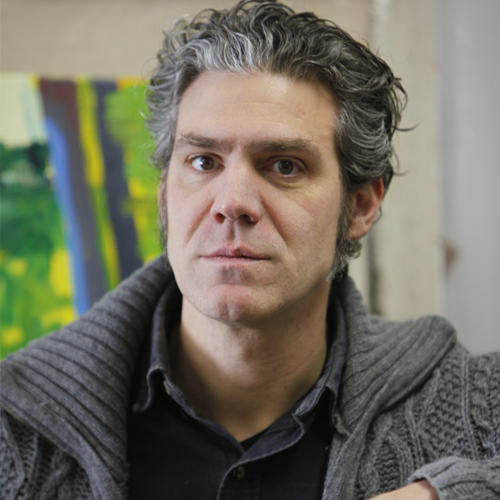 Artist Joe Wardwell (CFA'99) lives and works in Jamaica Plain, Massachusetts, where he is currently an Associate Professor of Fine Arts at Brandeis University and founder of the Brandeis-in-Siena program. He received a Bachelor of Arts in Art History and a Bachelor of Fine Arts in Painting in 1996 from the University of Washington. Wardwell received a Master of Fine Arts in Painting from Boston University College of Fine Arts in 1999.
On view through 2022, Wardwell has a large scale wall drawing commissioned for the new renovation at MASS MoCA, Hello America: 40 Hits from the 50 States (2017), in North Adams, MA. He has exhibited at the Museum of Fine Arts, Boston (When Will it End, 2011), and the DeCordova Sculpture Park and Museum in Lincoln, MA (Untied We Stand, 2011) and has work in each collection.
In 2012, Wardwell was a recipient of the Massachusetts Cultural Council Grant. In addition to numerous group exhibitions, he has had solo exhibitions in New York, New Haven, Boston, and Seattle. He has several upcoming public art projects, exhibiting in New York in 2020 with the Frosch and Portmann gallery in the Lower East Side.  Wardwell's work is represented by LaMontagne Gallery (Boston, MA).
Follow Joe on Instagram: joe_wardwell.
For more information on this year's Alumni Weekend celebrations visit bu.edu/cfa/alumniweekend2019.