CFA Printmaking professor to show work at solo exhibition in Poland
Eclipse and Deluge: Accidental Powers and Oblique Contingencies
International-award-winning work of Deborah Cornell will be featured at Krakow, Poland's International Culture Center (July 5 – August 5, 2018)
The exhibition "Eclipse and Deluge: Accidental Powers and Oblique Contingencies" features the award-winning work of Deborah Cornell, Associate Professor and Head of Printmaking at the School of Visual Arts and winner of two Grand Prizes in the 2015 Krakow Print Triennial. The exhibition will be on display at the International Culture Center in Krakow, Poland from July 5 through August 5 2018.
The exhibition comprises large format digital prints, and an immersive collaborative installation with print, video, and sound. The prints present a comprehensive view of environmental change with an emphasis on deluge and flood. They imply both the slow and silent environmental impact on sectors such as migrating birds, and the devastating impacts of violent storms and flooding on human culture and well-being. Sources for imagery include NASA-based records of solar flares, archaeological images from the Australian outback and Central South America, texts from Old English and Babylonia, lunar phasing, medieval prints, and computer animations.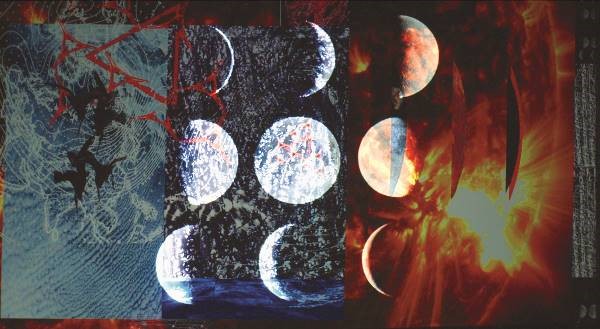 The installation Eclipse Phase is a collaboration between Deborah Cornell and Richard Cornell, composer and Professor of Composition in the School of Music, and represents the Cornells' fifth cross-media work. It comprises a 256 cm digital mural, over which is projected an 8-minute single-channel video, with 5 speaker surround sound. The visual environment is echoed in digital sound that enhances the sense of spatial immersion and aural connection to immensity. The references are from water and voices, solar flares, the Van Allen radiation belt, celestial and climate diagramming, and the wings of birds in migration.
Cornell's suite Deluge is based on Leonardo's drawings of vortices. It is a triptych, involving variations of systems of flow. The printed transparent films engage not only image, but also dimension, and light. The verticality of the Deluge suite implies a spiraling deep flow, water with gravitational pull, falling rain exacerbated by an alarming severity. The expansiveness of a hybrid, electronically-enabled language points to the changes in human perception as the result of technology.
This exhibition is the Grand Prize exhibition from the 2015 International Print Triennial, and is co-sponsored by the International Cultural Center and the Krakow print Triennial. A historical catalog accompanies the exhibition.
Deborah Cornell is Head of Printmaking at the School of Visual Arts and Richard Cornell is Professor of Composition and former Director ad Interim of the School of Music. For additional information, please contact Deborah Cornell dcornell@bu.edu or Marta Anna Raczek, SMTG Krakow smtg@triennial.cracow.pl