New Rep Stages Brecht on Brecht
This article was originally published by BU Today
A pastiche of dramatic scenes and musical numbers by the prolific and politically brazen 20th-century German playwright and poet Bertolt Brecht, Brecht on Brecht was conceived by Jim Petosa in the 1980s for a theater company in Washington, D.C. The BU School of Theatre director has updated the revue for "these turbulent times," as he puts it, in a production at the New Repertory Theatre. (The performance, with musical arrangement by the late George Tabori, opens with a seconds-long circular march, where the four-member cast cries, "Nasty pussy" and "No wall.")
Petosa, a College of Fine Arts professor, is staging Brecht on Brecht, a School of Theatre and Boston Center for American Performance (BCAP) coproduction, at New Rep's Black Box Theater at the Mosesian Center for the Arts in Watertown, where he is artistic director, through March 5. The production highlights the talents of CFA alumni and faculty in provocative performances reflecting the sensibility of the versatile and timeless writer who gave us such classics as The Threepenny Opera, Mother Courage and Her Children, and Happy End.
In New Rep's cabaret-style production, each vignette and musical number spills seamlessly and speedily into the next with no intermission, and on opening night—with one or two fleeting exceptions—the audience palpably stifled any mid-performance applause. Theatergoers who consider themselves Brecht novices will hear inspired performances of familiar, widely interpreted classics such as "Mack the Knife" and "Whiskey Bar," deftly accompanied on piano by musical director Matthew Stern (CFA'16), a CFA lecturer.
Brecht's writing was dominated by his criticism of "blockhead bureaucrats" and by impatient ridicule of the passivity of bystanders (the happy man, he wrote, is "the one who hasn't heard the bad news"). Born in 1898, he began writing plays while working at an army hospital during World War I, which set the stage, so to speak, for his fearless antibourgeois, antiwar outlook. A Marxist, Brecht fled his native country in 1933 as the Nazis tightened their lethal grip on a nation in economic chaos. He eventually settled in the United States, returning to Berlin after World War II.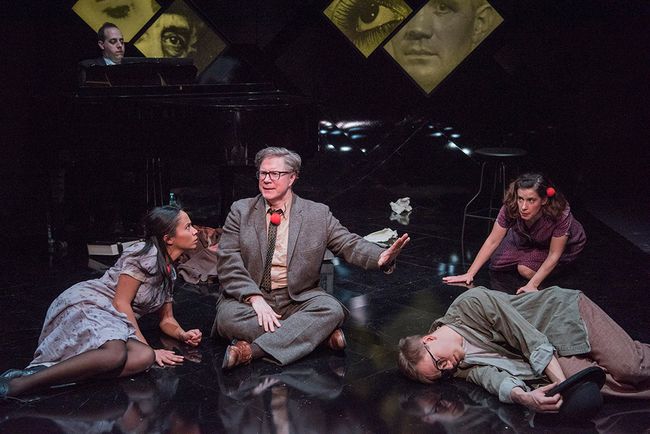 To Petosa, who points to Brecht's "potent combination of political and social activism" as an inspiration to future generations, the New Rep production reflects his favorite quote from the playwright: "Art is not a mirror held up to reality, but a hammer with which to shape it." He says Brecht on Brecht wields that hammer anew, taking aim with poignancy and humor as well as rage. "It's a 90-minute phantasmagoria of Brechtian ideas," and a primer for the uninitiated, he says. Noting the playwright's legendary collaborations with Kurt Weill and Hanns Eisler, Petosa says that "Brecht left a powerful legacy. His works are as vital now as they ever have been."
The New Rep cast, clad in shabby, Weimar-era costumes and wearing clown noses that migrate to hats and lapels, includes Christine Hamel (CFA'05) as "mature woman," and Brad Daniel Peloquin as "mature man." Carla Martinez makes her New Rep debut as "young woman," and Jake Murphy (CFA'15) portrays "young man."
An accomplished voice and dialect coach as well as an actor, Hamel, a CFA assistant professor of voice and speech and of acting, is the director of Femina Shakes, CFA's all-female troupe that experiments with aspects of sex and gender in Shakespeare's works.
Peloquin, who has been a CFA voice faculty member, has performed musical theater throughout the Northeast, including with the Huntington Theatre Company, and has sung at Marsh Chapel. He croons a haunting, slow-cooker version of "Mack the Knife," and Hamel delivers a stirring turn on the magical "Pirate Jenny" (both written by Brecht and Weill for The Threepenny Opera) from atop the grand piano, becoming a dark freighter's figurehead as the cast lifts her up for the finale.
The delicately framed Martinez throws her entire body into her interpretation of "Surabaya Johnny," from Happy End, navigating its wrenching range of emotions. Several of the songs are sung in German, their meanings made clear by soft voice-overs.
The nonmusical skits veer from heartbreaking to hilarious and pithy. In one of the evening's longer sketches, "mature woman" Hamel, a Jewish woman preparing to flee Nazi Berlin—and her gentile husband—for Amsterdam, makes a series of farewell phone calls, her attempts at breezy levity in the one-way conversations growing increasingly futile, and her intentions and reasons for fleeing increasingly clear. She addresses her emotionally distant spouse—first in soliloquy, then in person—and the audience realizes with the help of a single prosaic prop that she is not likely to return. In another segment, a poet who believes himself to be a truth-teller excoriates an unnamed regime that did not include his work on a banned book list. "Burn me!" he bellows.