Announcing the 2017 Distinguished Alumni Awards
Event on Friday, Sept. 15, 2017 recognizes Missy Mazzoli ('02), Brian McLean ('99), Kim Raver ('91)
 The College of Fine Arts at Boston University is pleased to announce the recipients of the 2017 Distinguished Alumni Awards, the most prestigious awards conferred by the College. The 2017 award recipients will be honored for their outstanding achievements in their careers and communities, and in service to the arts and society. Emceed by Joel Christian Gill (CFA'04) – Chair of Foundations at the New Hampshire Institute of Art and author of graphic novel Strange Fruit, Volume 1: Uncelebrated Narratives from Black History – the Awards will be held at 6pm on September 15th at the 808 Gallery in conjunction with Boston University Alumni Weekend. There will be a cocktail reception at 5pm.
This year's award recipients are Missy Mazzoli (CFA'02) – trailblazing composer; Brian McLean (CFA'99) – Director of Rapid Prototype, LAIKA; and Kim Raver (CFA'91) – television and film actor.
---
About the Recipients
Missy Mazzoli (CFA'02) was recently deemed "one of the more consistently inventive, surprising composers now working in New York" (New York Times) and "Brooklyn's post-millennial Mozart" (Time Out New York). She has had her music performed globally by the Kronos Quartet, eighth blackbird, violinist Jennifer Koh, LA Opera, New York City Opera, the Minnesota Orchestra, Cincinnati Opera and many others. Missy has been Composer-in-Residence with Opera Philadelphia, Gotham Chamber Opera, Music Theatre-Group, and the Albany Symphony. Her 2016 opera Breaking the Waves premiered in September of 2016 and was called "one of the best 21st-century American operas yet" by Opera News, "powerful… dark and daring" by the New York Times, and "savage, heartbreaking and thoroughly original" by the Wall Street Journal.
In February 2012 Beth Morrison Projects presented Song from the Uproar, Missy's first multimedia chamber opera, which had a sold-out run. Recent months included the premiere of an extended work for her ensemble Victoire and Wilco drummer Glenn Kotche, commissioned by Carnegie Hall, and new works performed by pianist Emanuel Ax, the BBC Symphony, the LA Philharmonic and the Detroit Symphony. Upcoming commissions include new works for Opera Philadelphia, the National Ballet of Canada, Washington National Opera, Opera Omaha, and New York's Miller Theatre.  Missy is the recipient of a Fulbright Grant, a 2015 Music grant from the Foundation for Contemporary Arts, and four ASCAP young composer awards. She recently founded Luna Lab, a mentorship program for young female composers in collaboration with the Kaufman Music Center in New York.  Missy recently joined the faculty at Mannes College of Music, and her works are published by G. Schirmer.
---
The recipient of a Scientific and Engineering Award (Academy Plaque) from the Academy of Motion Picture Arts and Sciences, Brian McLean(CFA'99) serves as the Oscar nominated Director of Rapid Prototype at LAIKA.  His department unites the complex technological elements of 3D printing with animation at the studio.  In 2009, Brian won an Annie Award for Special Achievement in Animation for his work on Coraline and, following the release of ParaNorman, was named by Variety as one of 2012's "Animation Elite." Last year he was nominated for an Academy Award for Best Visual Effects for the film Kubo and the Two Strings.  In 2005, while working as a classically trained sculptor and model-maker in San Francisco, Brian was exposed to 3D printing. Shortly thereafter, he initiated the introduction of 3D printing on LAIKA Studio's inaugural film Coraline. Brian continues to be instrumental in the further groundbreaking developments and refinements of 3D printer technology for stop-motion at LAIKA and around the world.
Each of LAIKA's four films: Coraline (2009), ParaNorman (2012), The Boxtrolls (2014) and Kubo and the Two Strings (2016) were nominated for an Academy Award for Best Animated Feature.  Winner of the BAFTA for Best Animated Film, Kubo and the Two Strings received a rare second Oscar nomination for Best Visual Effects, which also recognized the ingenuity within Brian's department.
---
Film and television star Kim Raver (CFA'91) has amassed an impressive resume of television and film credits over the course of her career, including recurring roles in ABC's GREY'S ANATOMY and Showtime's RAY DONOVAN. Raver recently recurred on Fox's APB and BONES and reprised her series regular role in the Emmy-nominated 24: LIVE ANOTHER DAY. Other credits include NBC's REVOLUTION NBC's LIPSTICK JUNGLE, THIRD WATCH, SESAME STREET, THE NINE, TRINITY, THE PRACTICE, SPIN CITY, LAW & ORDER, and CENTRAL PARK WEST. In 2006, Raver appeared in the feature-film comedy hit NIGHT AT THE MUSEUM, and other film credits include PRISONER, CITY HALL, MIND THE GAP, KEEP YOUR DISTANCE, and Lifetime movies BOND OF SILENCE and HAUNTING SARAH.
Her big break came with her Broadway debut in the play "Holiday", in which she co-starred with Laura Linney and Tony Goldwyn.  In addition, Raver co-starred with David Schwimmer and John Spencer in the Williamstown production of "The Glimmer Brothers," written by Warren Leight. As a child, she was a member of off-Broadway's first all-children's theater. Raver continues to study theater in New York with teacher and mentor Wynn Handman.
---
About the Emcee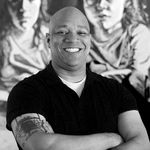 Master of Ceremonies Joel Christian Gill (CFA'04) is the Chair of Foundations at the New Hampshire Institute of Art and author of Strange Fruit, Volume I: Uncelebrated Narratives from Black History and Bass Reeves: Tales of the Talented Tenth, a graphic novel that brings to light nine little-known African American stories.  With words and pictures by Gill, Strange Fruit offers not superheroes but what Henry Louis Gates Jr. calls "extra-ordinary black folks making 'a way out of no way'" In a recent review, the New York Times said, "At a moment when racial inequities have ignited this nation, Mr. Gill offers direction for the road ahead from the road behind." Gill received his MFA from Boston University and a BA from Roanoke College. Visit his website at joelchristiangill.wordpress.com.
---
RECENT RECIPIENTS OF DISTINGUISHED ALUMNI AWARDS 
SCHOOL OF MUSIC: 2016 – Beth Morrison (BM'94), 2015 – Uzo Aduba (BM'05) *Inspiring Young Alumni Award
SCHOOL OF THEATRE: 2016 – Peter Paige (BFA'91), 2015 – Greg Hildreth (BFA'05) *Inspiring Young Alumni Award
SCHOOL OF VISUAL ARTS: 2016 Joel Christian Gill (MFA'04), 2015 David Delmar (BFA'06) *Inspiring Young Alumni Award