Opera 2.0
BU alums are supporting experimental works and diversifying talent and staff to make opera more relevant and inclusive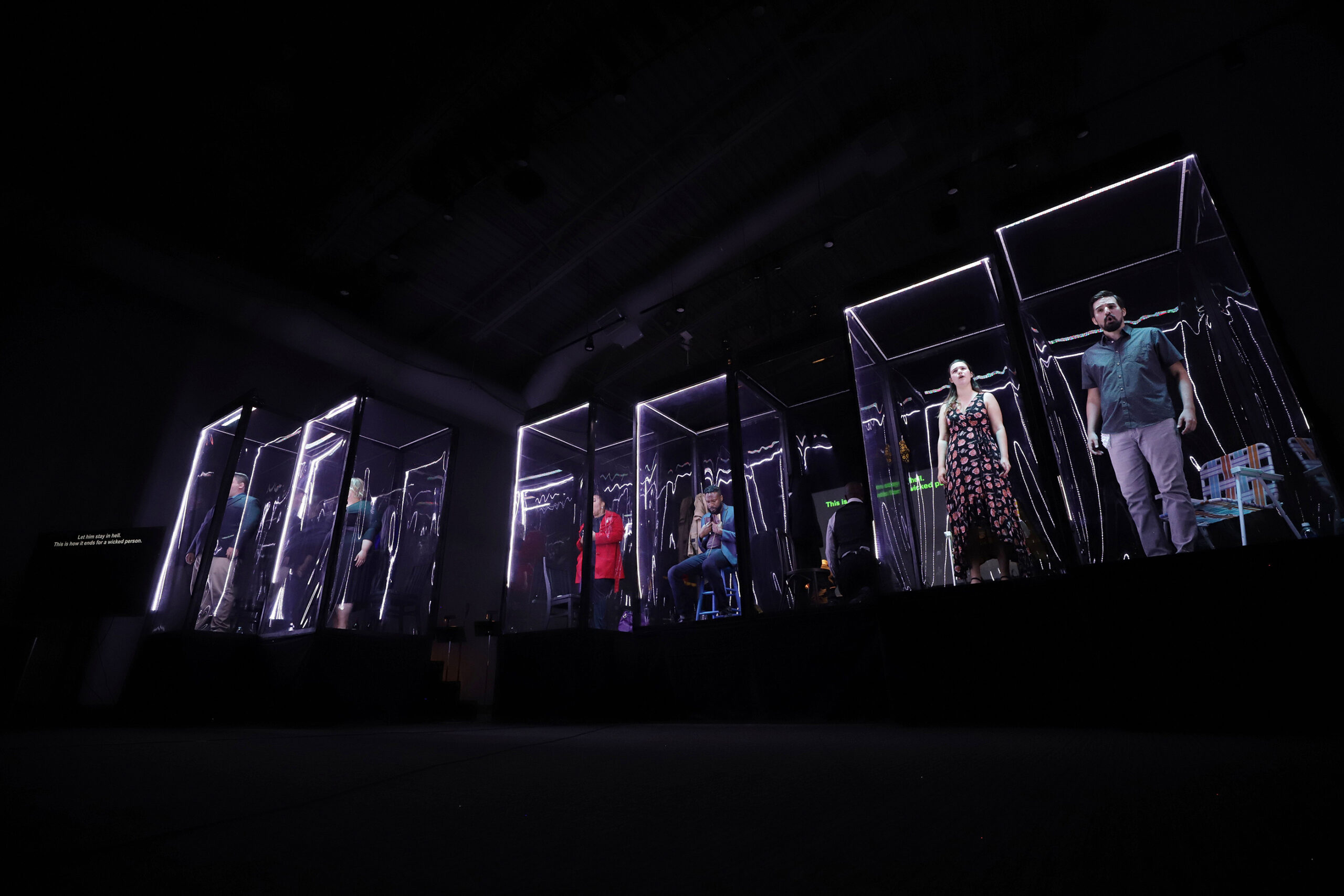 CFA Alumni
Opera 2.0
BU alums are supporting experimental works and diversifying talent and staff to make opera more relevant and inclusive
Opera companies come in all sizes. The largest present grand opera, with enormous casts, expenses, and ambitions. The smallest—still involving dozens of artists—present one-off stagings, or seasonal productions.
No matter the size of the company, all are experiencing a moment of reckoning and change. The pandemic stopped performances everywhere and social upheaval forced arts organizations to examine their own shortcomings, including a glaring lack of diversity, onstage and off. And they need to bring in broader audiences to survive.
Those who work in the field, in every capacity—singers, executives, directors, board members—feel the urgency to transform and revitalize the art form.
In June 2022, the trade organization OPERA America published its 2021 Field-Wide Opera Demographic Report, which surveyed administrators and board members of 97 US and Canadian opera companies to learn the current demographic landscape of the opera field (they plan to publish a survey of soloists, choristers, and instrumentalists in 2023). They found that of all staff members at the senior leadership level surveyed, only 18 percent identify as BIPOC (Black, Indigenous, and people of color) compared to 80.5 percent who identify as white. Still, they pointed out, there is hope. The findings, they said, "show that the younger generations of administrators and trustees are more diverse than their older colleagues."
Many BU graduates are at the forefront of this rapidly shifting opera world. They are supporting experimental works, trying to attract broader audiences, and diversifying talent and staff. Beth Morrison (BUTI'89, CFA'94), a creative producer, is founder and CEO of Beth Morrison Projects (BMP), which nurtures composers and production teams through their first works. Morrison says that she initially "felt disconnected from opera. In Boston, I saw experiments in theater, and I wanted to make opera more relevant to younger audiences."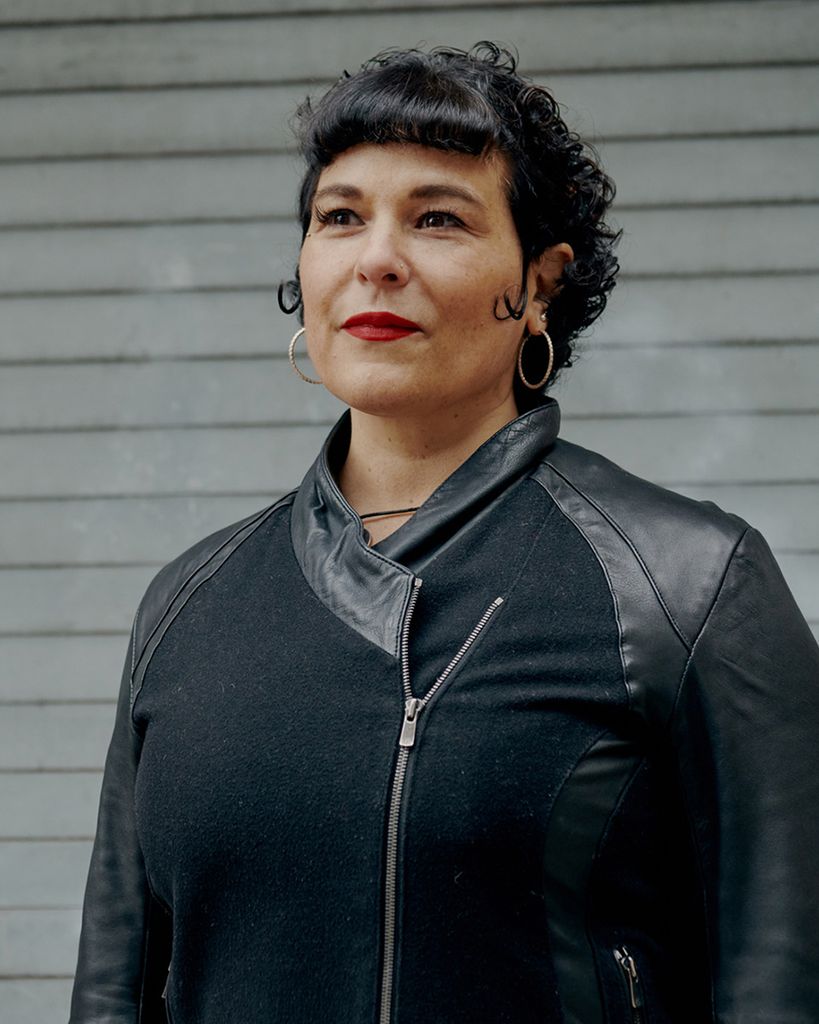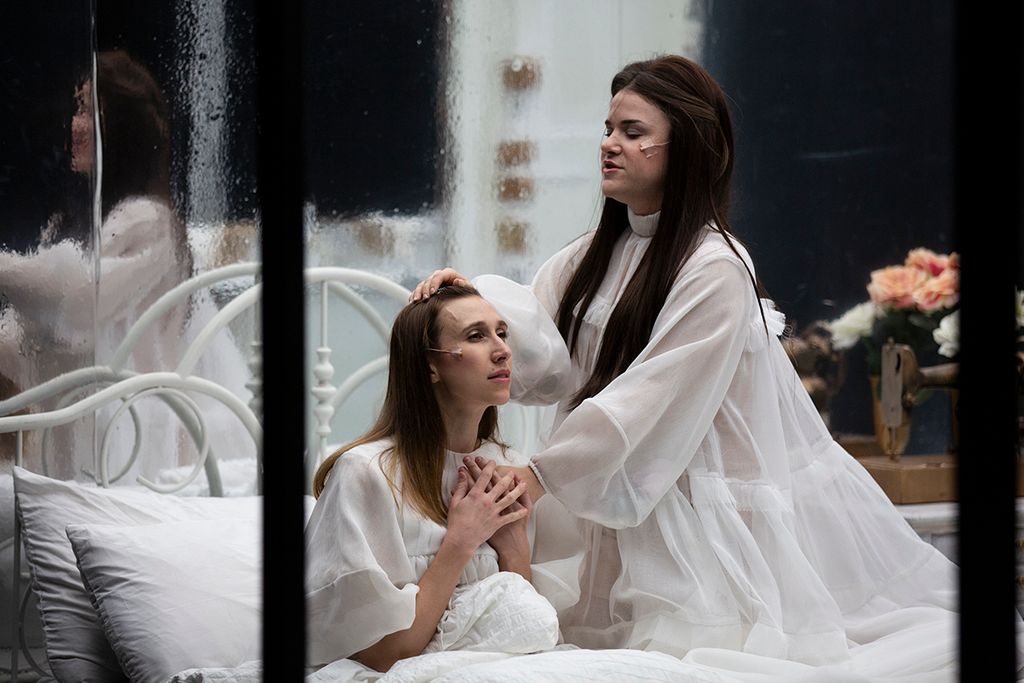 Left, Beth Morrison, CEO of Beth Morrison Projects, which nurtures composers and production teams through their first works. Photo by Vincent Tullo/PrototypeOpera; Right, BMP commissioned Ellen Reid's p r i s m, winner of a 2019 Pulitzer Prize for music. Photo by Maria Baranova/Courtesy of BMP
Her company has done just that, championing dozens of new productions in the past two decades, like Ellen Reid's p r i s m, winner of a 2019 Pulitzer Prize for music. It has also shown dedication to supporting opera innovation and embracing up-and-coming talent through its programming, such as the PROTOTYPE Festival, which Morrison cofounded in 2013. PROTOTYPE showcases nontraditional operas and experimental theater works and is now a model for festivals around the world. Morrison's BMP Next Generation program has also committed to future productions from new composers and directors. In all, BMP has developed and staged more than five dozen productions since its founding in 2006.
Morrison grew up in Maine and dreamed of working in musical theater, on Broadway. A summer in high school at the BU Tanglewood Institute left her rethinking those plans. "It was a world of classical music that I didn't know existed," she says. "Battle, Hampson, Bonney, Ozawa—that changed my direction."
She studied voice performance as an undergraduate at BU, but "just singing was not what I wanted," she says. "The ability to think big—that was the turning point. That was germane to who I am. I thought it would be interesting to create an opera company with an avant-garde theater aesthetic."
She went on to receive her master's degree in music from Arizona State University and an MFA from the Yale School of Drama, and eventually became chief administrator at BUTI.
Beth Morrison Projects has offices in New York and Los Angeles, but doesn't operate rehearsal spaces. Instead, each opera production has its own home.
"We are a project-based company," Morrison says. "We don't manage artists, we do projects. What drives me is creating the next generation of artists in the field, and pushing the boundaries of the art form."
Although her company presents new work exclusively, Morrison is keenly aware of the crisis facing those trying to make standard operas—the Aidas, the Ring Cycles, and the Il Trovatores—appeal to contemporary audiences.
"Finding a way to make the traditional repertoire relevant," she says, "that mandate is challenging."
David Kneuss knows that well.
Kneuss ('70) was the executive stage director of the Metropolitan Opera for 25 years. Staging grand opera productions for decades at the Met—and around the globe—gives him a unique perspective on the massive undertaking.
"I felt that my experience at the Met grew every day," says Kneuss, who has maintained a long-running tenure as artistic advisor to the Ozawa Music Academy, through which he produced an experimental outdoor production of La Damnation de Faust at Matsumoto Castle, a few hours from Tokyo. He has also staged works for opera companies in Chicago, Houston, San Francisco, London, and Florence. "I ended up directing more than 100 productions. There were always complications and challenges. The job grew exponentially—you're really running things."
Kneuss retired from the Met in 2017—"It was 15 hours a day, 6 days a week," he says, "you couldn't do the job otherwise"—but still directs productions around the world. His view of the future of grand opera is sobering.
"There is an enormous audience who couldn't care less about opera," he says. "I studied opera in seventh grade—nobody does that now. If you're a manager, how do you sell tickets?
"The trend is toward more opera in the Mozart tradition—a good comedy or drama, with a small orchestra and cast. You have to do something controversial, any tag that could help you latch on to a segment of the population. People are scrambling to make opera sellable.
"Students are going to have to be equipped to learn new music and act in contemporary theater," he adds.
Attracting New Talent—And New Audiences
There are companies trying to meet the demand for new works that represent diverse concepts, stories, and execution. One troupe working vigorously toward that mission is Opera Columbus, a 40-year-old regional company in central Ohio.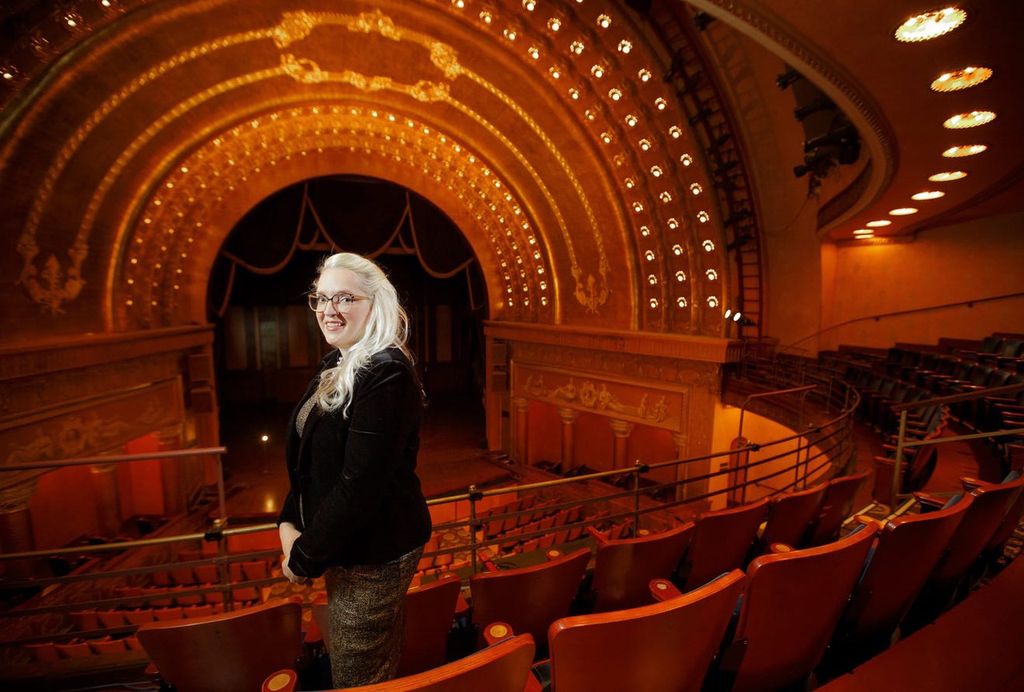 Julia Noulin-Mérat, general director and CEO of Opera Columbus, promotes experimental works in an effort to bring in first-time operagoers. Photo by Adam Cairns
Julia Noulin-Mérat, the general director and CEO since 2021, says the work they are doing is experimental, which in turn is bringing in first-time operagoers. "We're doing Don Giovanni in the science museum and La Bohème in an old warehouse, with 200 other artists-in-residence," says Noulin-Mérat (MET'06, CFA'08). Not every presentation that broadens the audience has to be a full-scale opera. "Our Drinks and Drag drag show events opened doors to an incredibly interesting LGBTQIA+ community. Thirty percent of our audience has never seen an opera before.
"When I moved to Boston, I fell in love with BU, and the city—incredibly rich in arts. I was drawn by the Opera Institute, not just to learn the business, but to have close proximity to business," says Noulin-Mérat, who studied set design as an undergraduate at Concordia University in her native Canada. She received two masters at BU—in arts administration and in set design. She went on to work at Boston's Guerilla Opera and the Boston Lyric Opera. Now, she thinks of herself as an impresario.
---


Thirty percent of our audience has never seen an opera before.

---
"At Opera Columbus I lead a company, and can make a change," she says. "The board is supportive, the energy is very young. And all the arts organizations here are collaborative—they want to produce great work together."
Many arts groups also want new audiences. Countertenor Patrick Dailey is finding ways to reach them.
"I tell people I'm an opera singer, a voice professor, an art curator, a choral conductor, and a community arts advocate. I specialize in Black concert music, and the civil rights era," says Dailey ('14). He teaches voice at Tennessee State University, where he founded the Big Blue Opera Initiatives, a performance, outreach, and fundraising program designed for Tennessee State University vocal performance students, for students at other historically Black colleges and universities, and for underserved communities. He also created the Wakanda Chorale, Tennessee State's resident ensemble. "With the Big Blue Opera Initiatives, my goal is to reposition what opera is, and who it's for. The best thing an educator can do is be active in the field, and teach from an informed place. To stand in the gap for young people who are not aware of these options."
Patrick Dailey founded the Big Blue Opera Initiatives at Tennessee State University (TSU), a program for students at TSU and other historically Black colleges and universities. Photo courtesy of Patrick Dailey
Reimagining opera is Boston-based Guerilla Opera's mission. Unlike traditional opera companies, the women-run company's ensemble performs without a conductor. Guerilla Opera has performed exclusively new work—more than 40 world premieres since its founding in 2007. That means everything is experimental—the music, the staging, the concept, the setting, and the audience.
The stage for composer Ken Ueno's Gallo was covered in Cheerios to signify sand on a beach and to represent childhood memories, drawing from Ueno's ('97) own recollection of growing up eating the cereal. Hannah Lash's Beowulf transformed the protagonist into a nursing home doctor.
The company has also committed to having its programming reflect at least 50 percent women and BIPOC creators, including composers, librettists, guest artists, designers, and administrators.
Sarah Schneider ('17) is Guerilla Opera's artistic projects and production manager.
"We work as an ensemble, with nontraditional music and design." Host venues, she says, are more welcoming to experimentation—much more so than a rented hall. "We dropped 25 pounds of aquarium sand at the Museum of Science."
Schneider says Guerilla Opera expanded to more livestream video since the pandemic, as well as "more combinations of film and opera. Not just a camera at the back of the theater—film in conversation with opera. Not everyone comes from an opera background at Guerilla. Our main projectionist was a sculpture major at RISD."
Schneider says at Guerilla Opera, she has experienced the energy that comes from diverse backgrounds. "It's the variety of artistic backgrounds that makes it a special place," she says. "We think critically and carefully about why we are producing a given work, whose voices we are bringing in, and whose we are excluding."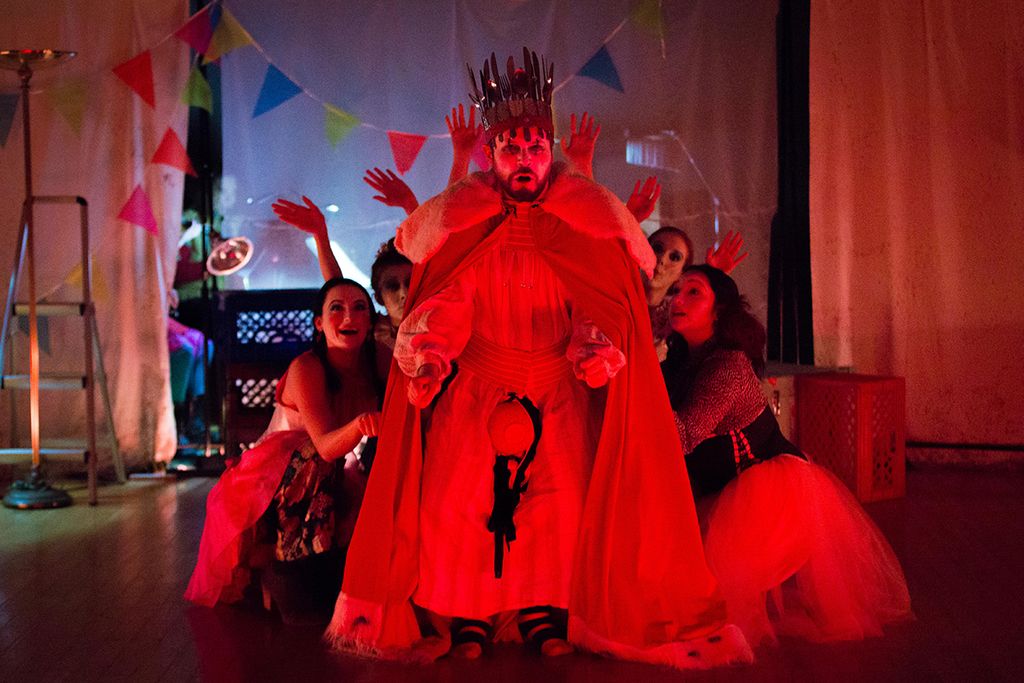 Left, Guerilla Opera's production of Gallo featured a stage covered in Cheerios. Photo by Liz Linder/Courtesy of Guerilla Opera; Right, Guerilla Opera's world premiere of Chronohotonthologos. Photo courtesy of Guerilla Opera
Modernizing Opera
Making a traditional art form relevant to new audiences is no easy task. "In terms of modernizing, you have to think of the whole package," Noulin-Mérat says. "That's very important. Some people think you have to throw jeans on opera singers. That's just not truthful."
Part of modernizing opera means improving representation both on and off the stage, she says. Opera Columbus recently started an immersion program for BIPOC producers. "They are always assisting," she says, "then eventually move on to Broadway or to the dance world, because there is space for them there."
Morrison acknowledges the entire field must become more inclusive and supportive. "The next generation of creative producers must be trained—with a focus on BIPOC producers and administrators—to show them the whole process of what it takes to create an opera."
Dailey agrees. "The pandemic provided a push to make changes on stages and in the infrastructure. We need to rethink who we have onstage, to create space for people to lead, to give artists the agency to try a number of things."