Una Voz/One Voice
Mario Arévalo realized his dream of becoming an opera singer. Now he's focused on helping the next generation of Latin American musical talent.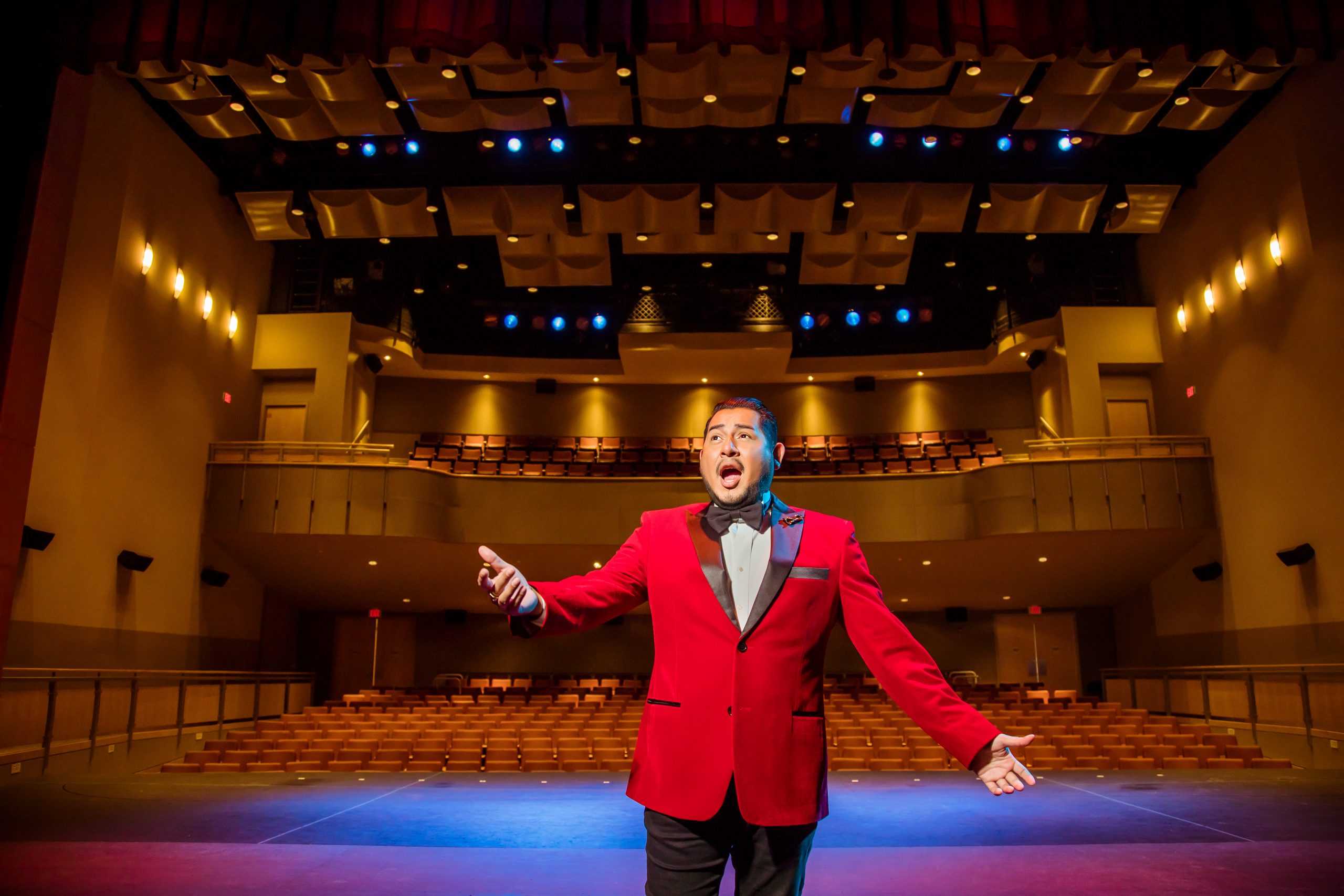 CFA Alumni
Una Voz/One Voice
Mario Arévalo realized his dream of becoming an opera singer. Now he's focused on helping the next generation of Latin American musical talent.
When opera tenor Mario Arévalo was a young child, the thought of leaving his El Salvador hometown—let alone pursuing a career in music—was unfathomable.
"I was from a poor family, living in a very poor area," he says. "My options were limited."
The son of a single mother, Arévalo ('09) was a natural performer growing up, always dancing and singing for friends and extended family in his small town of San Vicente. "I just did it for fun. It wasn't something I ever thought I could develop beyond a hobby."
Arévalo has come a long way from those impromptu recitals he put on as a child. He's performed in operas around the world—from Canada to Austria to Italy, founded an arts organization in 2016 that elevates the work of Latin American musicians and artists, and is now working to help build a theater and arts center to nurture the next generation of musical talent in his hometown. "I can't believe what this small project I started five years ago has become," says Arévalo. "I'm excited to see where I can go with it next."
A Dream Forms
In 1991, when Arévalo was eight, his mother left him and San Vicente for the United States, determined to make a better life for the two of them. He went to live with his grandmother for the next six years, before he finally was reunited with his mother on Long Island, New York.
"[My mother] came to the US without papers, then obtained residency when she got married and brought me [here]. At first, as a child, I didn't understand anything, but now I tell her that I understand her sacrifices," he told Noticias Telemundo in an interview.
Arévalo began high school in New York knowing only a few words of English. The transition was jarring. He was taking ESL classes and trying to catch up on his credits in order to graduate on time. When he was told he needed to take an arts class, he joined his high school's choir.
It was there he met a teacher who would change the trajectory of his life.
"I'd say that's where my opera dreams began," Arévalo says. "It's all thanks to my choir teacher, Ms. Robin Hall." She provided Arévalo a safe haven as he adjusted to life in the US and eventually encouraged him to pursue a degree in vocal performance at the Conservatory of Music at SUNY Purchase. "She really spent time getting to know me, and helped me to achieve what I wanted to do with my singing. She went beyond teaching. She protected me, she cared about me."
At college, Arévalo began to see music as a possible career, particularly after working with an opera company that performed with the American Symphony Orchestra. "It was my first paid gig and I was just like, 'Oh my God, I now know I am totally made for this.' I thought one day I could be doing what the principals in the opera are doing if I work hard enough. But I also thought I still needed to learn some more to succeed."
Arévalo, photographed at the Rose and Alfred Miniaci Performing Arts Center in Fort Lauderdale, Fla., credits his high school choir teacher for encouraging him to pursue a career in music.
A master's program felt like the right next step. Arévalo auditioned at CFA and credits instructors like Penelope Bitzas, an associate professor of music, voice, and Shiela Kibbe, an associate professor of music, piano, with helping him find the confidence to embark on his opera career.
"They both helped me discover myself as a singer and become a real musician. They pushed me—I don't think I would be where I am today if it weren't for what I learned at BU."
Opera and Beyond
As his graduation from CFA approached, Arévalo received a call from the International Opera Theater, a company that brings singers and instrumentalists from all around the world together to perform on one stage. They offered him an audition for a new play, Jago, by Italian composer Carlo Pedini, which tells the story of Iago (Jago in Italian), the villain in Othello. He snagged the role of Hassan/Guardiano. "They found me on Myspace of all places," he says. "It was an amazing production to be a part of."
From there, Arévalo moved to New York. Auditions began opening up for him, and he went on to perform in productions with the New York City Opera, Virginia Opera, Florida Grand Opera, and Boston Lyric Opera. But gradually, he started to notice something missing from the performance opportunities he encountered. "There were chances to sing Italian, French, German, Russian repertoire, all these different languages. But I didn't see anything from the Latin American repertoire. And I thought, 'What is going on with that? Why are people not performing it?'" he says. "There are so many incredible Latin American composers and musicians, like [Argentinian composers] [Carlos] Guastavino and [Alberto] Ginastera. And not a lot of people perform or even know about their work."
Arévalo wanted to change that.
In 2016, he founded the organization Una Voz, Un Mundo—One Voice, One World—dedicated to amplifying the work of Latin American musicians and composers. His first effort was organizing a show at a New York City church, which featured seven performers. "The church was absolutely filled with people. It was so great to see. I was just trying to create a platform for Latin American musicians to have a stage, but I realized there was so much I could do with the organization."
---

I didn't see anything from the Latin American repertoire. And I thought, 'What is going on with that? Why are people not performing it?'

---
As Una Voz, Un Mundo grew, offering master classes and more performances around New York, it caught the attention of Carlos García, the secretary general of the United Nations Association of El Salvador, which in 2018 named Arévalo its goodwill ambassador for fine arts and culture. Since stepping into that role, Arévalo has broadened the focus of Una Voz, Un Mundo to also work on elevating the arts in his home country. He started setting aside portions of proceeds from shows and recitals to purchase instruments to donate to schools in El Salvador.
"We've already donated more than 100 instruments to various schools, and now my goal is to expand our efforts and help other small schools around Latin America," he says. "This role has shown me I'm not only a singer, I'm not only a performer, but I also have a voice to impact new generations of musicians. There is so much potential out there, and all these younger generations need are opportunities. That's why I see Una Voz, Un Mundo being a voice for so many things—it can be a voice for power, a voice for help, a voice for beautiful music, a voice for unity."
Back to San Vicente
A few months before the pandemic broke out, Arévalo moved to Miami, Fla., to begin rehearsals for the world premiere of a new musical called Always Remember. The show was canceled as theaters closed, and since then Arévalo has been participating in only virtual productions. In the meantime, he has focused on growing Una Voz, Un Mundo. The organization recently attained nonprofit status, and Arévalo has partnered with an organization in San Vicente called SanviPuede to help get a theater and arts center built in the town (the town's previous theater was destroyed in an earthquake in 2001 and has remained in ruins since).
"They reached out to me because they've been working to get this theater built for 20 years. I wanted to be that voice to help them, to give back to my community."
Arévalo appealed to local politicians for help. They've now secured the $1.5 million needed to build the facilities—which will include music, art, and ballet studios, a computer lab, and a library, in addition to the new theater—but have been navigating changes in the local government and pandemic-related construction delays before ground can finally be broken. "It's already been designed, and it's incredible," he says. "It'll be a place where kids can come to develop themselves artistically. This will be so important for everybody, but especially for the children of San Vicente."