Visual Arts
Design Diversity
Traveling exhibition, As, Not For: Dethroning Our Absolutes, highlights work of African American artists
Frustrated by the underrepresentation of Black artists in his field, Richmond, Va.–based graphic designer and educator Jerome Harris decided to launch an extensive research project on African American figures in the history of the practice.
"I was mostly seeing white men as the faces of graphic design. I wanted to prove to myself that folks who looked like me had been here all along," he says.
That body of research became a traveling exhibition, As, Not For: Dethroning Our Absolutes, which came to BU's recently renovated Faye G., Jo, and James Stone Gallery for a three-month run this past winter.
Harris says the title is derived from the writings of Alain Locke, a leader of the Harlem Renaissance. The first part, As, Not For, comes from a passage in Locke's 1925 anthology, The New Negro, which Harris says "calls for the expression of Blackness as it exists, and not for anyone's approval." The second half is from Locke's later essay, "Values and Imperatives." "In the context of the show, it is a direct way to invite patrons to challenge what they have already accepted as 'design history'—'dethroning our absolutes.'"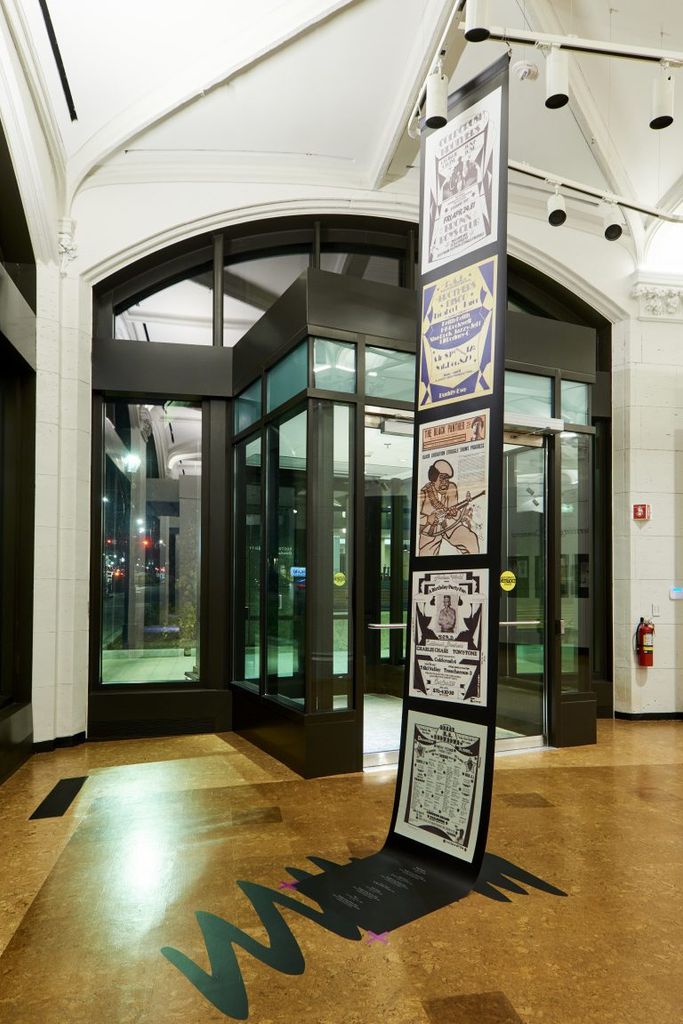 The exhibition includes work by African American graphic designers over the past century, such as Buddy Esquire, well known for creating early hip-hop concert flyers; Laini (Sylvia) Abernathy, who designed jazz album covers; and graffiti artist Phase 2. The artists' work was reproduced on posters of various sizes that filled the Stone Gallery's walls or streamed down in long banners from the ceilings.
"There's still a lot of work that needs to be done in diversifying art and design education. The work by the African American designers featured in As, Not For reflects voices that were always there, but might not have been highlighted or discussed in the classroom," says Mary Yang, an assistant professor of art. Along with graphic design students Ashlie Dawkins ('22), Gabriela Ferrari ('22), Jay Li ('21), and Angela Lian ('21), she helped curate the show at the Stone Gallery. "It was important to bring this work to BU to form a conversation around the work: What has been neglected in design history? What work and who are we promoting and why?"
Yang and the student designers took advantage of the Stone Gallery's renovations—which saw floor-to-ceiling windows replace the street-level concrete façade—in planning the show. Some pieces were prominently placed on walls that faced the windows that open out to Comm Ave. At night, the prints were illuminated by purple light so passersby could clearly see the art.
"With the renovations, it seemed appropriate to give the work the space it deserves. I hope that those who saw the exhibition will remember the designers and their work and bring them into their own conversations," says Yang. "Most importantly, I hope visitors left inspired and with the desire to keep learning. We all play a role in shaping history and our designed world."