Turning Our Junk Into Art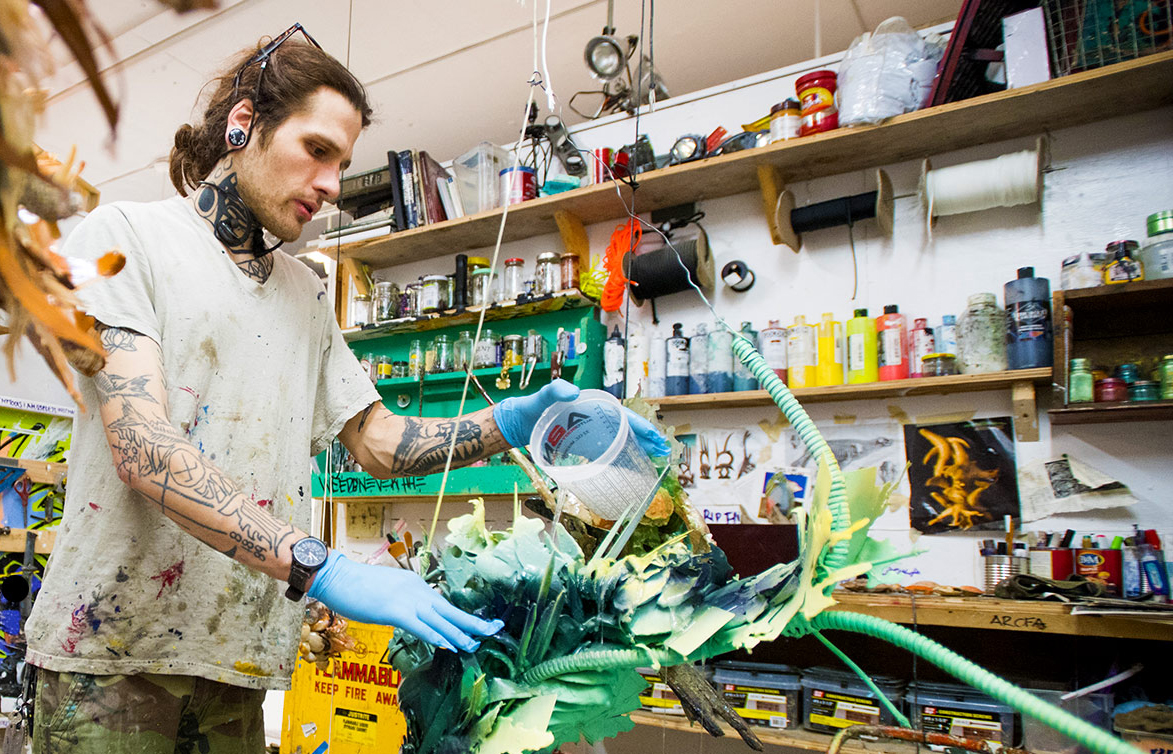 Visual Arts
Turning Our Junk Into Art
A former park ranger creates dynamic sculptures out of trash
by Megan Woolhouse
MAX BARD finds beauty in the oddest things: trash in a Boston gutter, litter from a wildlife refuge, a discarded Tide detergent bottle, or a rusted mousetrap.
A former park ranger for the US Fish & Wildlife Service, Bard ('19) collects junk tossed in parks or city streets, piling it into his 2011 Ford pickup, and uses it to create massive sculptures of birds, dragons, or whatever is on his mind at the moment.
"It's my release," he says of his work. "It's my processing of the world and how I experience it."
Bard says he isn't trying to offer evidence of an environmental dystopia. Instead, he views the natural landscape, as it is, like a painter, fascinated with the way the ocean tides buff an orange Tide jug or rust a battered oil drum in a marsh. Colors and compositions animate and uplift his artwork, he says, at a time when the world's trash problem is "already heavy enough itself."
His artwork is finding an appreciative audience. In 2019, he received a $20,000 award from the Esther B. and Albert S. Kahn Career Entry Fund for the Arts at BU that he is using to execute a traveling public art project. He was also named a 2019 artist-in-residence at Golden Artist Colors, Inc., a venerable paint company in upstate New York.
One of Bard's works, titled Coast Cancer, a 10-foot arch of jagged birch and red pine, interspersed with buoys, a frying pan, and an old sneaker, is also fringed with rusted mousetraps and no-smoking signs dangling from strings. Another work, Perception Machine, looks like an 11-foot rocket made from painted steel, shells, crabs, a guitar, skis, and lobster traps.
Bard describes his own work as "collage," and a "unique, visual language that speaks directly to the complexities of the American landscape."
He's interested in the power of art to "do good." That means focusing less on the final product, and more on the process. The artists he admires most, he says, are those who "go places and do things for the community."
His travels in his Ford pickup this past year led him to the Kennedy Children's Center in Harlem, New York City, where he used a portion of his award money to host an art workshop for three-year-olds with autism. Bard brought the students a massive bird sculpture and asked them to create its wings using paints, paper, wood, and imagination.
"The kids all blossomed," he says. "They were having fun, high-fiving and smiling."
He will also use the Kahn funding to visit Gary, Ind., where abandoned property and disinvestment have created "the perfect opportunity to do public sculpture," and to deposit his sculptures along the Mohawk Trail in disadvantaged parts of Western Massachusetts.
"I'm trying to make work that explores what it's like to be an American," Bard says. "What America is really interests me right now."
This Series
Also in
August 9, 2023

May 24, 2023

October 11, 2022