Symphonic Dreams
From BUTI to the BSO. How a BU program prepares the next generation of musical talent.
CFA Alumni
From Boston University Tanglewood Institute to the Boston Symphony Orchestra. How a BU program prepares the next generation of musical talent.
They remember different things from their time at the Boston University Tanglewood Institute (BUTI): Leonard Bernstein dropping by to conduct a Young Artists Orchestra rehearsal, or the chipmunk that interrupted another one. But for many musicians in today's top orchestras, BUTI was where their dreams began to turn into reality, and its lessons can be heard in the finest concert venues in the country.
For decades, hundreds of promising high school musicians have come from all over the world to learn and play at BUTI's Lenox, Mass., campus, a historic estate just up the road from the Boston Symphony Orchestra's famed summer home, Tanglewood.
"Throughout my musical life, Tanglewood has been the through line," says BSO percussionist Kyle Brightwell (BUTI'04,'05,'06, CFA'12), also a lecturer at the School of Music. "When I was a kid, it was something about the visuals of that place, the grass, the trees, the sun setting, the walk down to the science building where the percussionists played. It's so beautiful and the Tanglewood grounds are too.
"That hits you and stays with you; it's something you think about during the year, and it can be your true north, the center of your musical life."
Brightwell now teaches at BUTI. As an alum and BSO musician, he is not unique among the BUTI faculty, even in the percussion department. Several dozen BSO musicians teach at BUTI annually. More than a dozen of the BSO musicians onstage last summer at the Koussevitzky Music Shed, the main concert venue at Tanglewood, were BUTI alums who returned to the place that nurtured their symphonic dreams.
LISTEN, PRACTICE, AND PLAY
BUTI offers programs in all orchestral instruments, voice, piano, and composition. Students, who on average come from 35 states and 10 countries, can take a two-week workshop or join a young artist program lasting up to six weeks. They face a full schedule of ensemble rehearsals and private lessons, master classes with alums like composer Nico Muhly (BUTI'96,'97) and luminaries like pianist Yefim Bronfman and violinist Anne-Sophie Mutter, and solo practice in one of the tiny sheds that dot the grounds. They also have free rein to attend concerts at Tanglewood's venues, breathing in the heady musical air of that storied Berkshires attraction, where the first notes were played in 1937.
For some, their summer sojourn will be a cherished memory and music a hobby as they move on to college and a career in banking or medicine. But many go on to study music further—at places such as CFA and the Juilliard School and as fellows in the BSO's postsecondary Tanglewood Music Center (TMC) program—on their way to becoming professional musicians. There are BUTI alums in every major orchestra in the country. (Alums also thrive in nonclassical art forms: their ranks include crooner Harry Connick, Jr. (BUTI'83) and actress Lauren Ambrose (BUTI'94,'95).)
"During the short time students are with us," says Hilary Field Respass, executive director of BUTI since 2014, "our job is to spark the passion, curiosity, and the skill potential that we know is there."
BUTI was launched in 1966, after then-BSO music director Erich Leinsdorf saw the need for a program to complement the Tanglewood Music Center (then called the Berkshire Music Center), a preprofessional program. He contacted then-CFA Dean Edwin Stein and School of Music Director Wilbur Fulbright. The symphony and the summer program have had an ongoing partnership ever since.
"BU built what is, with [Michigan's] Interlochen, one of the two most important summer camp programs focused on high-level music making," says Mark Volpe, president and chief executive officer of the Boston Symphony Orchestra. And BUTI is "in proximity to one of the great orchestras in the world, in a place that's unique in the world."
Respass has been working steadily to put the institute on a firm footing, building its donor base, strengthening ties to the community, and growing enrollment to a record 441 in 2019. That trend was projected to continue this year until programs were canceled due to the COVID-19 pandemic. Looking ahead to summer 2021, Respass plans to add a two-week Young Artists Conducting Seminar and expand a wellness program to help students build healthy careers in the face of everything from repetitive strain injuries to stage fright.
For many young musicians, BUTI's appeal continues into adulthood. Brightwell went on to Juilliard for his undergraduate degree—spending summers as a TMC fellow—then came to BU for his master's degree. "After BUTI, the question was, how do I get back there?" says Brightwell. "I got into Tanglewood Music Center, and after that, the only way to get back there was to get into the Boston Symphony. Amazingly, luckily, that's what happened for me."
SURROUNDED BY TALENT
Like many who come to BUTI, Brightwell's musical talent and nascent ambitions made him an outlier at his high school; suddenly, arriving in Lenox, he was surrounded by talented kids like himself. "The peer recognition is huge," he says. "Just to go and see, not in an ultra competitive way, how you stack up against the other best players in the country. I went in very humble or nervous—I think most kids do; even if they put on a face of confidence, they think, 'Oh, all these kids are going to be so good, how do I measure up?' And usually what people find is 'OK, I'm pretty good at this, but they're so much better than me at this other aspect.' So it validates you and it stretches you at the same time." One of Brightwell's BSO colleagues, cellist Owen Young (BUTI'79,'80), says being surrounded by professional musicians during his stints as a BUTI student showed him how hard he would have to work to turn music into a career. He not only went to multiple concerts—by renowned chamber groups as well as the Boston Symphony—but rehearsed with star names too.
"Leonard Bernstein (Hon.'83) came and did a rehearsal with us my first summer," Young says. "Aaron Copland was alive. You'd see him driving around the grounds. There aren't supposed to be any cars on the grounds, and he was in this white convertible, going up the walkways. And Gunther Schuller came and did a few rehearsals, and Seiji Ozawa did too. When you see these brilliant people and how they rehearse and what they're asking for from the orchestra, you understand why they're so great.
"Hearing the level of playing, we understood if you want to be a professional, this is the level you have to reach. And you think, how do you get there?"
The challenge of emulating the mastery he was hearing made BUTI a bonding experience; some of Young's friends from those two summers are still friends 40 years later.
"It solidified for me that this is what I wanted to do. But there's no guarantee, right? It's a very difficult thing. It lit an extra flame under me, to know, if you want to go into this profession, you have to really go for it."
At BUTI, students don't just listen to the masters—or avoid their careening automobiles—they are taught by them too. Brightwell can still summon up the key lesson of his BUTI experience, imparted to him by Tim Genis (BUTI'84), principal timpanist of the BSO and now a lecturer in music and coordinator of the percussion program at CFA.
"He was telling us how to go about practicing difficult exercises or excerpts, and he said, 'You want to take everything that's hard about the passage and turn it on its head,'" Brightwell says. "'Spin it around, turn it upside down, play it in as many ways as possible until playing it feels easy.'" Genis demonstrated with a famously difficult xylophone passage from Porgy and Bess, first accenting every other note, then every third one, then every fifth or sixth.
"I still don't do that—it's too difficult," Brightwell says.
"But, that was the light-bulb moment into how to get better. You make everything the craziest version possible of itself, and by doing that you go into these levels of detail, of phrasing, shape, and sound. You go deeper and deeper under the microscope, and then you get so much better."
Dahae Kim (BUTI'04), assistant principal cellist in the Los Angeles Philharmonic Orchestra, says BUTI taught her that the key to playing in an orchestra is listening, so you can fit in with the scores of other musicians playing around you.
"In the beginning, I was overwhelmed. There's so much sound coming at you," says Kim, who went on to the New England Conservatory for her bachelor's and master's degrees and played with the Detroit Symphony Orchestra before Los Angeles. "Having to play with 10 other cellists—I'd never done that before. It felt very powerful."
---

"THEY'RE VERY MUCH PART OF THE ETHOS OF TANGLEWOOD."


---
Beyond the thunder of a full orchestra, the bucolic venue's other, quieter sounds matter too, she says: "I loved practicing in those little cabins on the grounds. The quietness surrounding you there—you could hear the birds and the crickets—it was almost therapeutic."
Not all the wildlife had the same effect.
"One day, we had a little chipmunk come into our rehearsal space," she says with a laugh, "and it just ran around, and we were all screaming."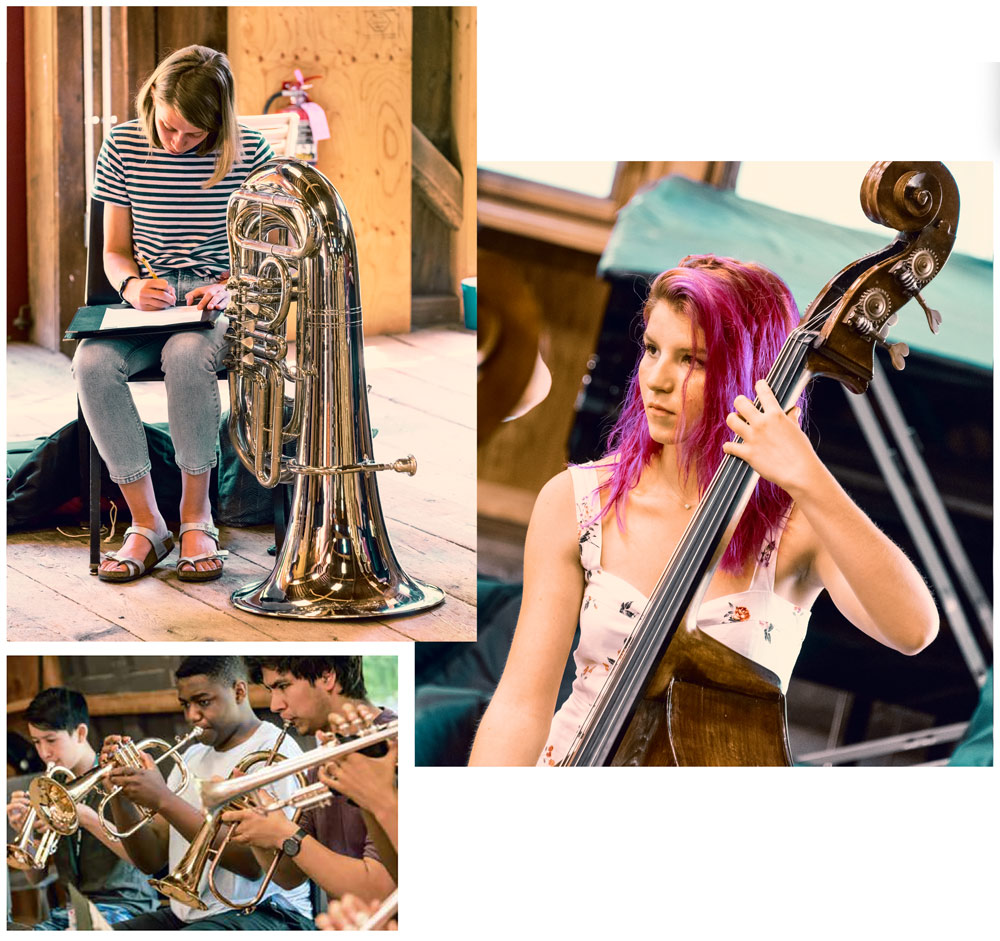 BRINGING ENERGY TO THE BSO
Volpe says the influx of students gives the musicians of the BSO a boost every summer.
"Having the energy of 155 fellows and a few hundred BUTI kids on the campus is great, candidly, for the Boston Symphony, because it reminds the players and all of us what it was like to be 16 or 17 or 18 and have your whole musical life in front of you," Volpe says. "Whatever cynicism you might have will be quickly dissolved."
When the final summer students leave, a week or so before the Tanglewood season ends, "You feel the energy just sag," Volpe says. "I'm not talking about a weekend where we have 8,000 at a shed concert, but a Tuesday or Wednesday, walking around the campus, it just feels different. They're very much part of the ethos of Tanglewood."
But Volpe says the importance of BUTI goes far beyond bringing a feel-good factor to the BSO, particularly given the state of music education in American schools. Half a century ago, big public schools had significant music programs, often mounting bands, orchestras, and other ensembles. Many are gone today, due to budget cuts and changing priorities, replaced by regional bands, if at all.
"The world Leinsdorf lived in had a much better feeder system or infrastructure than what exists today in the public schools, so what BUTI does is even more important," Volpe says.
The program, he says, changes lives.
BUTI certainly changed Brightwell's life—and continues to shape his career today.
"I had always dreamed of being a percussionist in an orchestra, which is kind of a funny niche," says Brightwell. "Without BUTI, I would never have gotten where I am."