About the Conference
September 9 – 10, 2022
Organizers Gareth Dylan Smith, Virginia Davis, and Daniel Akira Stadnicki, in association with the Boston University School of Music, are excited to announce the 2022 International Drum Kit Studies Conference, convening on the Boston University (Boston, MA) campus September 9-10, 2022. This conference follows the University of Glasgow drum kit conference in 2016 as a gathering of drumming scholars, practitioners, educators, and industry professionals and seeks to highlight the intersections of performance, scholarly research, and entrepreneurship. We hope to provide a new and stimulating space for diverse drumming voices, communities, and research trajectories, as well as community events, commercial partnerships, lectures, demonstrations, and educational initiatives.
In less than a decade, the field of Drum Kit Studies has attracted a growing list of international scholars and interdisciplinary specialists, each addressing the significant gap in literature on drummers, drum kits, and communities of drum kit playing and performance. Ushering in this new era of scholarship was Gareth Dylan Smith's I Drum Therefore I Am (2013), followed by Bill Bruford's Uncharted (2018), Matt Brennan's Kick It (2020), as well as recent edited collections in the Journal of Popular Music Education (2021), The Cambridge Companion to the Drum Kit (2021), and forthcoming works such as A Critical Examination of Percussion and Drums in the Collegiate Curriculum (Smith & Davis, 2022) and Authentic Drum Kit Pedagogy for Music Teachers (Davis & Smith, 2023).
In response to the growing momentum created by these and other recent works including emerging doctoral dissertations, we invite paper and presentation contributions to the 2022 International Drum Kit Studies conference. Our conference seeks to highlight the innovations of everyone involved in drum kit playing and scholarship, featuring eclectic contributions from a wide range of voices. The conference theme will celebrate the instrument as an amalgamation of African American creativity and genius, as well as how the drum kit and its most familiar sonic 'artifact' (i.e., the backbeat) has profoundly influenced global popular musics. We particularly welcome the contributions of international scholars and marginalized voices in the drumming community: BIPOC, female, LGBTQA+, international and other historically excluded performers and scholars.
---
Presentation Submissions
We encourage submissions for 30-minute presentations, encompassing all aspects of drum kit-related topics, including those directly related to the conference themes:
Overlooked, local, regional, and marginalized drumming biographies/histories
Drumming, education, and outreach initiatives
Research papers regarding all aspects of drumming and drummers
Drum kit pedagogy at all levels
Scientific, sociological, and ethnographic investigations of drumming and drummers
Intersections of drumming, time, groove, feel, and other rhythmic phenomena
Technology innovations for drum kit
Lecture/performance/demonstration combinations of all kinds
Philosophies of drum kit performance, education, and experience
All interested scholars are encouraged to submit a proposal of 300-500 words, along with a 50-word abstract and 100-word biographies of contributing authors, by May 1, 2022. Acceptance letters will be distributed by June 1. Please direct questions to Virginia Davis at virginia.davis@utrgv.edu.
We look forward to seeing you in Boston!
---
Conference Organizers
Dr. Gareth Dylan Smith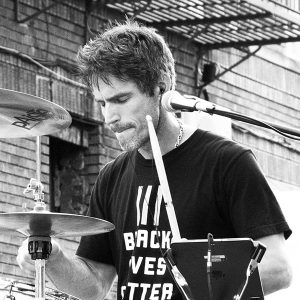 Dr. Gareth Dylan Smith is Assistant Professor of Music, Music Education at Boston University. His research interests include drum kit studies, popular music education, and sociology of music education. His first love is to play drums. Recent music releases include progressive smooth jazz tracks with The New Titans, the Sun Sessions EP with Stephen Wheel, and the Ignorant Populists EP with Build a Fort (Zack Moir). Gareth is the drummer for Black Light Bastards and a founding editor of the Journal of Popular Music Education. His publications include I Drum, Therefore I Am (2013), Sound Advice for Drummers (2017) and the forthcoming (2022) Magical Nexus: A Philosophy of Playing Drum Kit.
Dr. Virgina Wayman Davis
Dr. Virgina Wayman Davis is Professor of Music Education at the University of Texas Rio Grande Valley. Her research interests include drums and percussion, meaningful music education practices, secondary general music, and popular music education. Dr. Davis is published in the Bulletin of the Council for Research in Music Education, General Music Today, The Journal of Popular Music Education, The Journal of Music Teacher Education, and several others. Dr. Davis stays active as a musician, currently playing percussion with the Valley Symphony Orchestra in south Texas and with her faculty pop/rock band The Minör Revisiöns.
Dr. Daniel Akira Stadnicki
Dr. Daniel Akira Stadnicki is a mixed Asian-Canadian drummer, scholar, and popular music educator based in Amiskwaciy Waskahikan (Edmonton, Alberta). Specializing in adapted drum kit for a wide range of global folk, roots, and traditional artists—including Farhad Kosravi, Jaron Freeman-Fox, Spencer Murray, Dana Wylie, T. Buckley, Daniel Gervais, Braden Gates, among others—Daniel also holds a PhD in Ethnomusicology from the University of Alberta. Currently, he is serving as a SSHRC Postdoctoral Fellow in Music at McGill University and Director of World Percussion Ensembles at MacEwan University. As an author, Daniel has published in The Drummers Journal, the Journal of Popular Music Education (JPME) (2017), and served as co-editor for The Cambridge Companion to the Drum Kit (2021), a special issue on 'Drum Kit Studies' for the JPME (2021), and a forthcoming issue in MUSICultures on Anti-Racist Pedagogies (2023). For more information, please visit www.danielstadnicki.com for a list of ongoing musical projects, drumming scholarship, and upcoming performances.