Catherine Mazur-Jefferies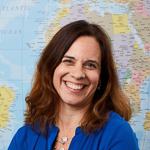 Catherine Mazur-Jefferies has been teaching since 1996. She holds a BA in Classical Civilizations from Haverford College, a TEFL certificate from Godmer House, Oxford in England, and an MA in Teaching English as a Second Language from Simmons College. She has taught in Poland and Portugal, and at a number of colleges in the Boston area.
Cat has written many ESL materials, primarily for National Geographic Learning. These textbooks are used around the world. Recent textbooks include: Reading and Vocabulary Focus 4, the Listening and Note-taking Skills series, and More Grammar Practice. She believes that an inspiring atmosphere leads to better language learning, and she is passionate about creating learning environments where students collaborate, think deeply, and are stimulated and interested in the world around them.
Cat lives by the ocean with her husband and three children. She loves reading good books, watching movies, writing fiction, and traveling.