Li-Mei Lim has been knitting and crocheting since childhood. 
But not until recently did Lim, a research assistant professor in the Department of Mathematics and Statistics, have the chance to connect her lifelong hobby to her professional career. 
Lim is one of the organizers of Mathemalchemy, an art installation on view at the BU Galleries at 808 Commonwealth Avenue through March 4 that invites viewers into a beautiful and playful world of mathematics through a variety of mediums and several narrative scenes and shows them that anyone can be a mathematician. 
Mathemalchemy was conceived in 2019 by Ingrid Daubechies, distinguished professor of Mathematics and Electrical and Computer Engineering at Duke University, and Dominique Ehrmann, a Canadian fiber artist who uses three-dimensional quilting to tell stories. Lim learned about the idea at a mathematics conference in Denver 2020, and knew immediately that she wanted to get involved. 
"There was a special session on math and art that I walked into on a whim and Dominique and Ingrid were presenting on this vision — that we're going to make this a very playful, rich with math exhibit that people of all ages, all experience levels can see and enjoy the beauty of math, the fun of math in it," she said. "I'm a mathematician by training, and I've always liked art, so I was excited to get involved." 
Lim studies number theory, the branch of mathematics that deals with the properties and relationships of numbers, especially the positive integers. She is also interested in mathematical education and communication and serves as the executive director of PROMYS (Program in Mathematics for Young Scientists), an academic outreach program at BU that runs math clubs in high needs high schools, a pre-college summer program for high schoolers, and a summer program for middle and high school math teachers. Lim attended PROMYS as a student in 2001 and 2002, and served as a junior counselor in 2003 and 2004. She went on to earn a Ph.D. in Mathematics from Brown University.
"I'm always thinking about how to reach a broad audience with math and talk about math to a lot of people and get especially young people excited about math," Lim said. "It's a professional interest of mine to help people see how math is fun and interesting and not dry and boring" 
Lim and her Mathemalchemy collaborators planned to get together at Duke in January 2020 to start organizing an exhibit for July 2020. When COVID hit, the planning moved online, with weekly team meetings and art materials exchanged by mail. The exhibit was finally assembled at Duke in 2021, then shipped to the National Academy of Sciences in Washington, DC, and to Juniata College in Pennsylvania, before arriving at BU. After Boston, the exhibit will move to Vancouver, and eventually back to Duke, where it will remain on display in the math department. 
For the exhibit, Lim was involved in creating a garden with various themes, including prime numbers, where there are chipmunks who are playing a game with acorns, deciding whether a number is prime or composite, and squirrels exploring prime numbers using the sieve of Eratosthanes–first eliminating even numbers, then multiples of three, five, and so on. She also helped to design a quilt that is themed around cryptography. 
"I'm a number theorist so I love prime numbers, so that is what drew me to helping out in that area," she said. "In the quilt that I worked on, we explicitly put levels into it. The concept was that it would be a traditional quilt with blocks, but that each block would be some sort of cryptographic idea or concept. We structured it so that you can enjoy it on a lot of different levels. Even if what you're getting out of it is that you can have fun with math, that's a good thing to get too.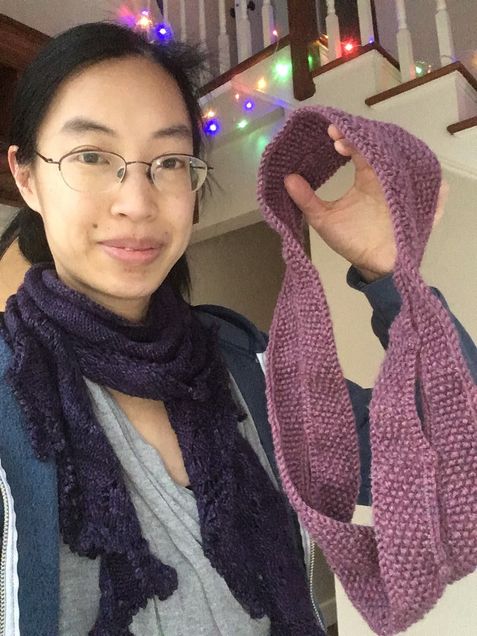 Lim's contributions to the exhibit grew out of her longtime fiber arts hobbies, which she mastered during childhood, but she says she never thought deeply about the direct connections between her knitting and her math until she got involved with the Mathemalchemy team. 
She now realizes that she has always approached knitting and crocheting with a mathematical way of thinking. "For example, sometimes if I'm knitting some pattern, one way you could follow the instructions are to really literally read the instructions, knit 3, purl 2, but another way is to see how the rows relate to each other," she said. "To see how the pattern is coming together and how things related to each other, I think that is a mathematical way of thinking. You're looking at connections between ideas all the time."
For a recent math conference, Lim knit a Möbius strip —  a surface that can be formed by attaching the ends of a strip of paper together with a half-twist — that has three 180-degree twists instead of the usual one. If you were to cut it, she said, you would get a trefoil knot with three 360-degree twists.
"I think there are a lot of ways to be a knitter or crafter. I don't think that as a knitter or crocheter you have to be mathematical but I think sometimes the way I approach it is a similar way to how I approach math," she said. "So maybe it's something that I dabble in now and then — the direct connections between the knitting and the math — but often I just knit stuff that I like at night." 
_____
The BU Arts Initiative and BUs Department of Mathematics & Statistics are proud to bring  Mathemalchemy to Boston University in collaboration with BU Galleries. Mathemalchemy runs January 4 to 7 and January 19 to March 4 at 808 Gallery (808 Commonwealth Ave. Boston). Gallery hours are Tuesday through Saturday 11 a.m. to 5 p.m.