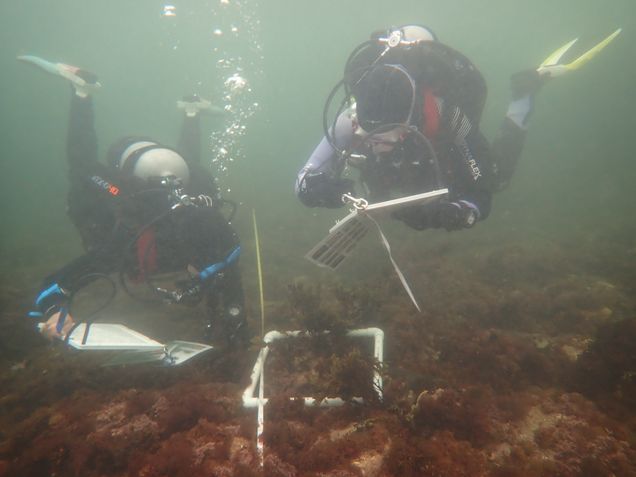 Next offering:
Fall 2023 in conjunction with BI 511
Overview:
Scientific Diving is an advanced course that builds on the basics of diving to teach you to safely task load and conduct research underwater. The course covers DAN Diving First Aid for Professional Divers, field accident management, dive planning, physics, physiology, decompression theory, data collection techniques, and other topics.
Additional Costs and Considerations:
Prerequisites
Required Paperwork due by February 28, 2023 for both Summer 2 and Fall 2023
Open Water Certification and 12 additional dives with at least 6 logged dives in the last year

Copy of Certification Card
Copy of Dive Logs

AAUS Physical Examination

Medical Evaluation– Appendices 2 and 3

Appendix 2 is required o have an MD or DO signature. PA or NP signatures are not accepted, and forms will be returned to you.

DAN Insurance
All forms should be scanned and in PDF format and emailed to narineh@bu.edu.
Upon submission of completed forms, a pool evaluation must be successfully completed to be enrolled in the course. The pool evaluation consists of two parts:
Part 1 – AAUS Swim Test
400 yd swim in 12 minutes or less
25 yd swim underwater
25 yd tired swimmer transport
10 minute tread water
Part 2 – SCUBA Skills Checkout. All SCUBA gear will be provided by the program including a full orientation and review.
Upon successful completion of the water evaluation, students can enroll in the course. Priority will be given to faculty, research professors, postdoc, staff, and graduate students with research needs that will require the use of SCUBA. Remaining seats in the course are open to all students.
Required Gear
7mm Full Wetsuit with hood or hooded vest
Gloves
Booties
Heel Strap Fins
Mask
Gear Bag
Provided with the course: regulator set, buoyancy compensation device, computer, compass, weight system, and cylinders.
Swim and Dive Resources
If you are not sure about your swimming skills, FitRec has open swim hours for you practice before pool sessions are scheduled.
FitRec offers adult swim lessons.
MR 533 Scientific Diving is an advanced diving course that builds on the basics and foundations of SCUBA diving. If you have not logged any dives in the last 12 months, you can take a refresher course with any dive shop, take an advanced diving course, and join dives led by the shop to meet the recency pre-requisites.