Annual Fred Lang Memorial Lecture
The BU Marine Program Faculty started this lecture series in honor of Fred Lang, an invertebrate physiologist. Fred Lang's work followed themes of cardiac and neuromuscular physiology, blended uniquely with developmental neurobiology in lobsters. Teaching was always an important activity for Fred, and even after obtaining a Career Development Award, he continued it enthusiastically. He was a key figure in the Boston University Marine Program at Woods Hole and his legacy is carried on through this annual lecture.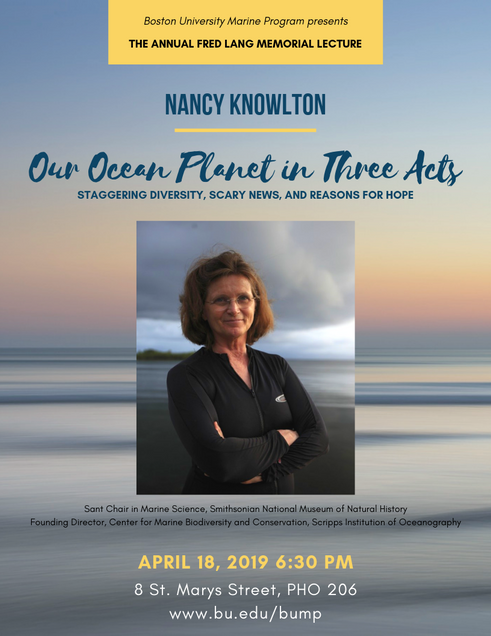 The 2019 Fred Lang Memorial Lecturer is Dr. Nancy Knowlton. Dr Knowlton spent much of her career at the Smithsonian, first in Panama at the Smithsonian Tropical Research Institute and later at the National Museum of Natural History in Washington, DC, where she was the Sant Chair of Marine Science.  She has also been a professor at Yale and at the University of California in San Diego, where she founded the Center for Marine Biodiversity and Conservation at the Scripps Institution of Oceanography. She is the author of Citizens of the Sea, former Editor-in-Chief of the Smithsonian's Ocean Portal, and contributes regularly to the global ocean conversation via @seacitizens. She is a winner of the Peter Benchley Prize, the Heinz Award, and the Women's Aquatic Network 2018 Woman of the Year. In 2013 was elected to the American Academy of Arts and Sciences and to the U.S. National Academy of Sciences.  In 2014 she helped launch #OceanOptimism on Twitter, and in 2017 she was the co-host of the Smithsonian's Earth Optimism Summit.
Previous Lecturers include:
Dr. Steve Palumbi, Stanford University, Hopkins Marine Station
Dr. Carl Safina, Stony Brook University and the Safina Center
Dr. Bernd Budelman, University of Texas, Biomedical Research Institute of Galveston
Dr. Irene Pepperberg, University of Arizona, Department of Ecology and Evolutionary Biology
Dr. Charles Stevens, Salk Institute for Biological Studies (La Jolla, California)
Dr. Nicholas Strausfield, University of Arizona, Department of Entomology, Neurobiology, Anatomy, Ecology, and Evolutionary Biology
Dr. Even Marder, Brandeis University, Department of Biology (Modulation of Neural Networks)