The New England Aquarium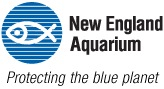 Founded in 1969, the New England Aquarium is a major public education resource and a global leader in ocean exploration and marine conservation. Located on the Boston waterfront, the Aquarium maintains more than 50 exhibits housing thousands of marine animals in conditions that closely replicate their natural habitats. The Aquarium is also a pioneer in marine animal rescue and a leading ocean conservation organization with research scientists working around the globe. Aquarium researchers serve as instructors in two of the program's Marine Semester courses and team with BU faculty on joint research projects. Numerous students have undertaken internships at the aquarium, including two students who served as dive interns in the 200,000-gallon Giant Ocean tank.
Stellwagen Bank National Marine Sanctuary/NOAA
Managed by the National Oceanic and Atmospheric Administration (NOAA), Stellwagen Bank is one of 14 sites in the National Marine Sanctuary System. The sanctuary covers 842 square-miles at the mouth of Massachusetts Bay. It supports a dramatic aggregation of "megafauna," including bluefin tuna, dolphins, humpback whales, and northern right whales. Two Marine Semester courses are offered at Stellwagen Bank which involve projects aboard the sanctuary's primary research vessel, the R/V Auk, a 50-foot double-hulled catamaran. 

Offices, research vessels, and facilities are located in Scituate, MA.
University of Belize Environmental Research Institute
The University of Belize
Environmental Research Institute (UB ERI), inaugurated in January 2010, was created primarily to address the large gap in local capacity for research and monitoring that exists within Belize. Belize has a wealth of natural resources, including the longest barrier reef in the Western Hemisphere, which supports the country's most important industries, including tourism and agriculture. Recognizing this, the work of the Institute is focused on producing results that are directly relevant and applicable to the sustainable management of Belize's natural resources and building local capacity for this. At a finer but equally important scale for Belize's development, the Institute was created as a semi–autonomous department of the University of Belize (UB), with transparent and efficient management of projects at its core, in order to provide a much needed mechanism for research within the University.