Instructor: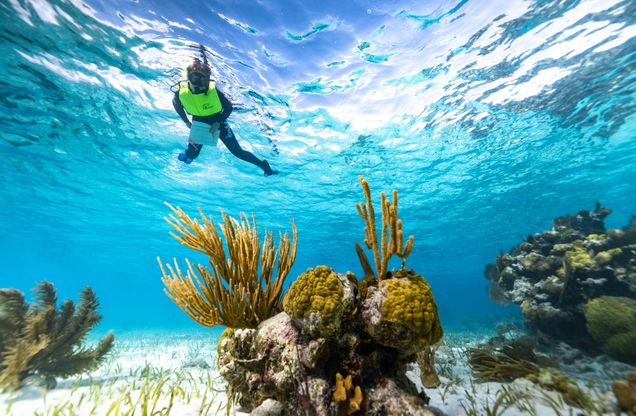 Pete Buston (buston@bu.edu)
Syllabus: EcologyCoralReefFishes_Syllabus
Description: The principal objectives of this course are to introduce students to the ecology, evolution, and behavior of coral reef fishes, with a special focus on the coral reef fishes of Belize. In Boston, in the mornings, prior to the field, students will be introduced to the organisms, the environments, and key concepts in behavioral, population, and community ecology. In Boston, in the afternoons, prior to the field, students will conceive a project, design an experiment, and develop a proposal for a feasible research project in one of the areas of behavioral, population, or community ecology. The course will travel to Belize, to get first-hand experience of these organisms and their environments. In Belize, the first three days will be spent engaging in snorkel safety training and doing ecosystem tours, to get students comfortable in their new environment. The next three days will be spent piloting research projects and taking a well-earned break, so that students are ready to conduct their research projects. The final five days in Belize will be spent in project data collection, data management, data analysis, preparing final oral presentations and written reports. In Boston, the day after returning from the field, students will learn how to clean and store field gear, finalize and submit their written report, and debrief. Students will be free to leave Boston on the last day of finals. By the end of the course students will have a better understanding of the ecology, evolution, and behavior.
This course will be offered as either a diving or snorkeling course. If you are interested in taking Scientific Diving, you should enroll in this course. For more information about the Scientific Diving component of this class, please visit the Scientific Diving page.
Additional Considerations:
Course-specific Costs:

Students will need to reimburse the BU Marine Program for the cost of the flight to Belize (about $1000).
Students are responsible for transportation to and from Logan Airport on travel days.
All students traveling to Belize must purchase

 

DAN insurance and the Guardian Level
All students must have a passport valid for at least 6 months past their return date.

Meals

Food and lodging are covered by the program while in Belize. Students will be responsible for purchasing any meals during travel days.

Schedule

~7 Days in Boston: Mon-Fri / 10:00-12:00 & 1:00-4:00
~13 Days in Belize

Mon-Sun / Daily Field work: ~8:30-11:30 am; 1:30-4:30 pm;
Daily Data Analysis & Talk Preparation: 7:30-9:30 pm
Location: Calabash Caye Field Station

1 Day Wrap-Up in Boston

Required gear

Full-length 2mm/3mm wet suit, neoprene booties, fins, dive mask, snorkel, waterproof watch. Optional: hood, underwater camera.

Physical requirements

Up to 7 hours of snorkeling per day. Daily transit on small boats. Short hikes across level ground. Occasionally carrying class gear across a sandy beach. Class stays at a remote field station. You will be exposed to the elements (sun, rain, wind) and bugs (be prepared with bugspray).