BU Faculty of Computing & Data Sciences Grows by Four
New members have roots in Mexico, China, Russia—and Cool, California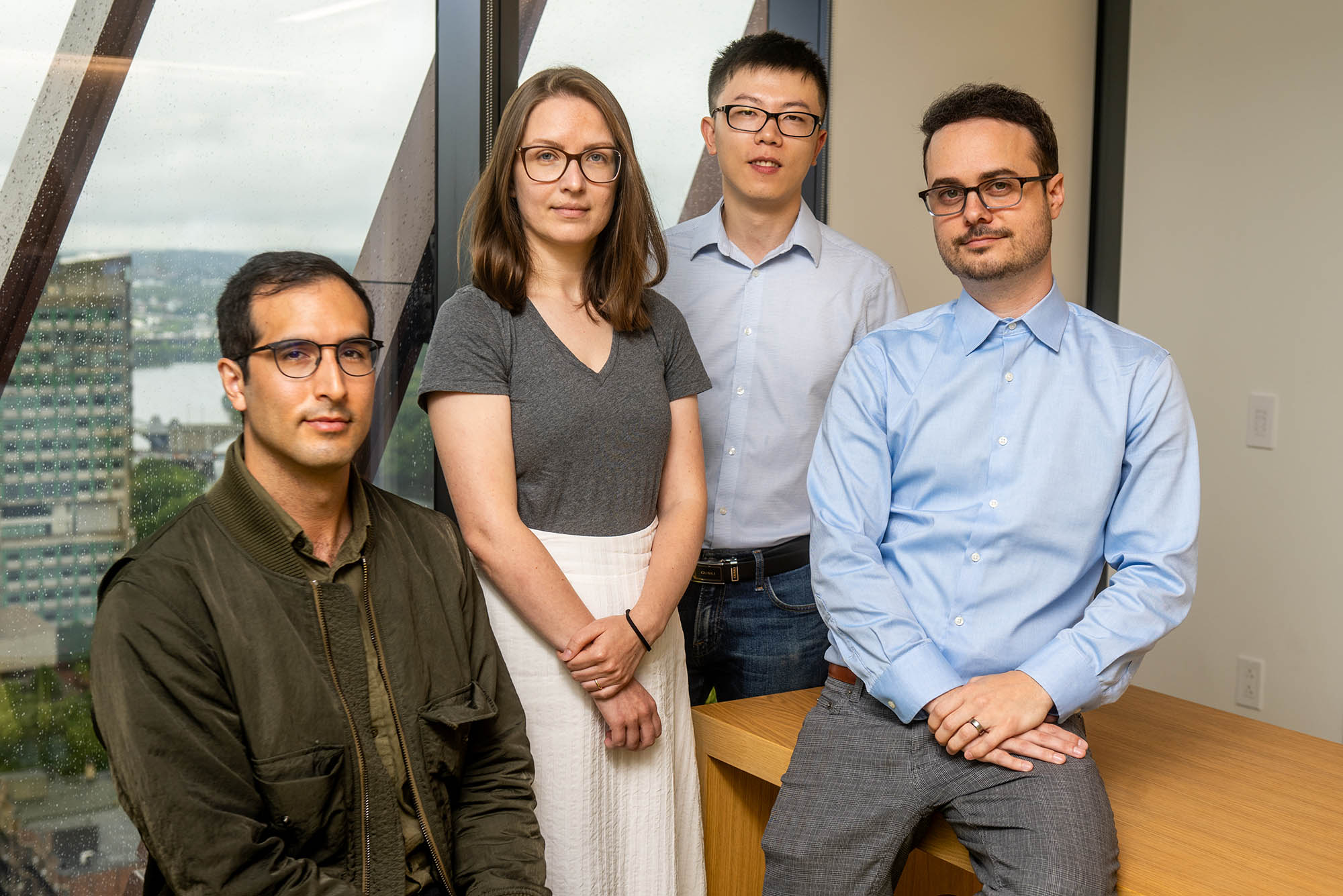 Center for Computing & Data Sciences
BU Faculty of Computing & Data Sciences Grows by Four
New members have roots in Mexico, China, Russia—and Cool, California
The first new members to join BU's Faculty of Computing & Data Sciences since it moved into its new building hail from all over the map, both scientifically and literally.
"Beyond what each of them brings to BU in terms of their specific scholarship in data science, machine learning, and AI, it is amazing to see the range of applications that they cover collectively," says Azer Bestavros, associate provost for computing and data sciences.
The work they do pushes the boundaries for many applications in the fields of robotics, neuroscience and cognitive science, computer vision, genetics, social media, and marketing. And among their experience is postdoc training at Princeton, Microsoft, and the Broad Institute. The quartet brings the CDS core faculty to 15.
"It is really exciting to just think about the diverse ways of thinking and doing that they will bring to our classrooms. Our students will love them," says Bestavros, who is also a William Fairfield Warren Distinguished Professor and a College of Arts & Sciences professor of computer science.
Even more impressive, he says, are the very different ramps and pathways that led the new faculty to BU and the lived experiences they will bring to CDS.
Josh Peterson started his education at a community college and has crafted a cognitive science curriculum where none existed. Aldo Pacchiano grew up in Mexico City and was introduced to academia in the United States through a high-school math competition. Jack Zhang started out as a biology student in Beijing before switching to math and then computer science. Lisa Wobbes tried out a government job as an education data scientist in the Netherlands, then worked for a US start-up before coming to BU.
"That's what diversity looks like," Bestavros says.
Josh Peterson
Before coming to BU as a tenure-track assistant professor, Peterson was a postdoc in the Princeton University computer science department. But his academic journey found him traveling much further than just the miles between two top universities.
He comes to Comm Ave all the way from Cool, Calif. Yup, that's right, Cool. Not a state of mind, but an actual small town in the Sierra foothills east of Sacramento, current population approximately 2,500.
"I guess I don't have a sort of common educational trajectory, at least not to this kind of role," Peterson says. "It's just a small town where folks don't really talk that much about college, you don't really meet a lot of people that have been to college. And it's something you don't necessarily plan for. I had no idea that just choosing you wanted to be a scientist was something people actually did, right?"
In high school, though, he became focused on learning and went on to Folsom Lake College for three years, maintaining a 4.0 and graduating as valedictorian. He entered the University of California, Davis, and ended up designing his own major in cognitive science, picking up programming on his own along the way. "I remember asking [my advisor], like, you know, 'Is it crazy to apply to grad school?'" His advisor urged him to do it, which led him to the PhD program at the University of California, Berkeley.
"About 2014 to 2016 is the initial rise of modern machine learning. And so I'm seeing this have some parallels to things like human learning, and also being kind of like an analysis tool," Peterson says. "I ended up writing my thesis there on leveraging deep neural networks to understand human cognition. So the idea was trying to use these as kind of partial proxy models of some of the things people do."
---

This academic unit, CDS at BU, feels like the right place. It feels really exciting.

---
From there it was on to Princeton. Now, Peterson's work focuses on the use of large-scale datasets and machine learning to understand and predict human behavior, including decision-making, face perception and stereotyping, moral judgment, and visual object classification.
"It's not something I necessarily expected, to end up in this kind of environment," he says. "This academic unit, CDS at BU, feels like the right place. It feels really exciting."
Aldo Pacchiano
"The origin story is that I always liked math," says Pacchiano, hired as a tenure-track assistant professor.
Pacchiano grew up around Mexico City, and he remembers his father, a gynecologist, giving him a book about algebra when he was very young. When he was 12 or 13, one of his teachers encouraged him to enter the international Math Olympiad. He did well in regional and national rounds over the next few years, and even traveled overseas for international competitions. In his final year of high school, he traveled to a competition in Vietnam, and took a side trip to Thailand.
"My friend had gotten into MIT, and we were in a Bangkok mall, the biggest mall I've ever seen in my life. And he asked me, 'So what are you doing for, like, university?' And that was National Autonomous University of Mexico. And he was like, 'Why don't you try to come [to MIT] too?'" Pacchiano says with a smile. "I only applied to one college in the United States, and it worked out."
He left MIT with a dual degree, a BS in theoretical math and computer science, and a master's in computer science. Along the way he also earned a master's from the University of Cambridge in theoretical math, and a PhD in artificial intelligence from the University of California, Berkeley. Since then, he has been a postdoctoral researcher at Microsoft in New York and an Eric and Wendy Schmidt Fellow at the Broad Institute in Cambridge. He is getting his feet wet at CDS as an adjunct visiting faculty while finishing up at the Broad, and he will be at BU full time in 2024.
Pacchiano's research is now mainly centered on reinforcement learning, online learning, and algorithmic fairness. He focuses on better understanding of learning phenomena to design efficient and safe algorithms for scientific, engineering, and large-scale societal applications.
However, his thoughtful approach to big questions around AI came via a couple of paperbacks of classic science fiction stories by authors like Isaac Asimov (at one time an instructor in biochemistry at the Chobanian & Avedisian School of Medicine) that he read when he was laid up with a fever in high school.
"Those authors had questions surrounding technology and society and the future," he says. "It was not just an action story, it was something that would leave you with questions of, what's the future going to look like? And how can maybe technology bring about that future or not? And what are the consequences, also? I think even at that time, those things were brewing in my mind."
Jack Zhang
Zhang comes to BU as a tenure-track assistant professor from a position as a postdoc in the Princeton electrical and computer engineering department and Center for Statistics and Machine Learning. But he grew up in Beijing, China, where he earned an undergrad degree. At the time, he was planning to be a biologist.
"But after a year of, you know, working in a lab, I just couldn't get a biological experiment to work," Zhang says with a smile. "Like, the cells I'd been trying to grow, they just kept dying for no reason. So I was like, okay, I'm not born for this. So I went to mathematics, which is what I did as a young kid."
He ended up moving into computer science, where he felt he could more clearly make a contribution than he could in theoretical math.
"I want to do something more directly useful," he says, "and it's got me into machine learning and data science because it's something that is more related to math, right? A lot of the things I've learned can be used there. Unlike systems or architecture kind of stuff, which I don't really understand to this day."
Zhang earned a PhD in computer science from the University of Wisconsin–Madison and was a visiting scholar in the Learning and Games program at the Simons Institute for the Theory of Computing in 2022. His current research covers the theory and applications of interactive machine learning, with a particular focus on robotics and automation.
Lisa Wobbes
Wobbes, who comes to BU as a clinical assistant professor, is an applied mathematician, employing mathematics that physicists use to describe nature to solve engineering problems. She develops algorithms that allow physical principles to be modeled computationally in an efficient and effective manner.
"I did my bachelor's, master's, and PhD all in mathematics" in the Netherlands, she says, where she and her mother moved from their native Russia when she was a teenager. The focus of her doctoral work at Delft University of Technology was on fundamental improvements to a numerical modeling method known as the material point method. In addition to her PhD research, Wobbes taught courses and supervised projects at the master's level. After earning her doctorate, she decided to shift tracks, moving into data science.
She took a position as a data scientist at the Dutch Executive Agency for Education in the Hague. "I ended up working with models to predict how many students would be at each educational level. It's not like the system was that complicated, but we split that data in so many little pieces that we would get, like, 1,000 levels. And they would predict how many students would be at a certain level."
Later, Wobbes worked as a research engineer at a small consulting/engineering company here in Massachusetts, where she collaborated with researchers from Brown, Rice, and Waseda Universities. Her work included building cutting-edge simulations for modal analysis and fluid dynamics.
As a grad student in the Netherlands, she taught small lab courses and occasionally, a group as large as 50. Nothing like what she's going to be doingin the Center for Computing & Data Sciences, where she will be teaching foundational and core courses as well as developing new electives in data science.
"I have two classes, but I'm co-teaching, so someone else is supporting me," Wobbes says. "But yes, 150 and 80 students. I'm very excited. I've never taught such big lectures before." She notes that grading systems, and a lot of other things, are different in America. "Office hours—that is a new concept for me."