Medieval Meets Contemporary in New English 101 Class
Required course for majors adds diversity and relevance without shedding classics
Academics
Medieval Meets Contemporary in New English 101 Class
Required course for majors adds diversity and relevance without shedding classics
Geoffrey Chaucer, meet Zadie Smith. Daniel Defoe, meet Derek Walcott.
BU's English Department overhauled its curriculum last year, creating a new introductory course for all majors. EN 101 Encounters: Reading across Time and Space asks students to compare works by authors like Chaucer and Defoe to works by contemporary authors like Kazuo Ishiguro, Patience Agbabi, Louise Erdrich, Smith, and the late Nobel laureate and BU professor Walcott (Hon'93) who have responded to the classics "in gestures of homage, repudiation, or ambivalence," notes the syllabus. 
"This is a course that brings a multiplicity of diverse voices into the English major for everybody right away," says Joseph Rezek, an associate professor of English and director of the American and New England Studies Program in the College of Arts & Sciences. "But it's also a course that demonstrates the staying power of canonical texts."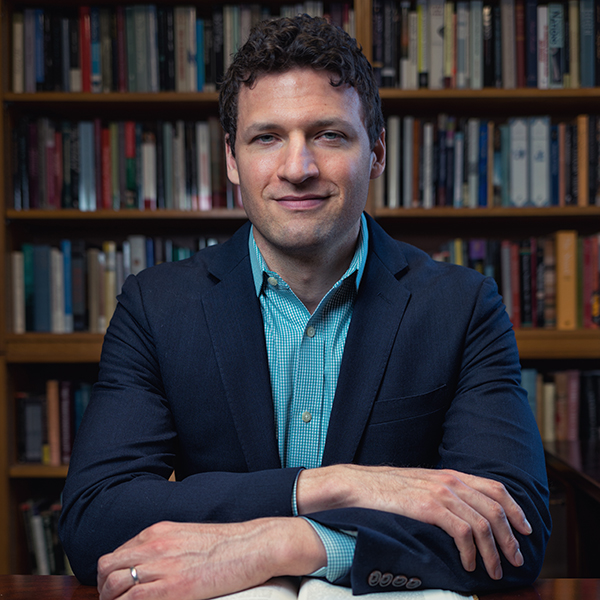 Rezek chaired the Curriculum Review Committee that created EN 101 as part of an overhaul of the English department. Before the curriculum revamp, the English major requirement began with an intro-level seminar on methods of literary study, followed by three historical surveys largely focused on European writers. As part of the curriculum remake in 2021, Appleford suggested a class that would include modern or contemporary responses to canonical work, often by an author of color, a queer author, or one with another perspective.
"The idea was that the course would be heavily canonical, but the way we would get into it would be through modern or contemporary engagements," Rezek says. "The students were bothered that there weren't a lot of non-white voices that were part of the required courses, and that bothered a lot of us, too."
Of course, changing perspectives can be fraught. The new course should also please traditionalists, he says, because it highlights the lasting importance and relevance of canonical texts.
Rezek co-taught the first semester of EN 101 last fall with Amy Appleford, associate professor of English and department chair.
One class assignment requires students to come up with their own creative "encounter" with a work in the syllabus, which can be a poem, video, or other form, like Walcott's poems "Crusoe's Journal" (1965), "Crusoe's Island" (1965), and "The Figure of Crusoe" (1965), which offer a new perspective on Defoe's Robinson Crusoe.
---

The idea was that the course would be heavily canonical, but the way we would get into the canon would be through modern or contemporary engagements.

---
Another assignment asks groups of students to identify other contemporary works that resonate with the classics. For extra credit, students are encouraged to see The Wife of Willesden, now on stage at the American Repertory Theatre in Cambridge. Smith's 2021 play offers students a chance to re-examine the Wife of Bath's Prologue and Tale from Chaucer's 1387 classic, The Canterbury Tales.
The class awakens a more vibrant connection between students and the classic works, says Appleford.
"Every class now, a student comes up and says, 'Have you read X? It's a retake of Arthur, where Arthur is a young Black woman in the same scenario of a sword in the stone,'" says Appleford. "One of the things the course does is to help the student see that they already know about medieval literature. Sometimes it's through pop culture. They can speak to an 18th-century text and they don't have to feel like it's not theirs."
"One thing English majors tend to be good at, and that we emphasize in our teaching, is they recognize echoes and patterns between different texts," says Maurice Lee, professor of English at CAS and director of undergraduate studies. "That's one of the things we're doing, to see those unfold over time."
'An encounter across deep time' 
"Literary history matters for understanding newer texts and older texts," Lee tells this semester's EN 101 class, which he is teaching with Appleford at the new Center for Computing & Data Sciences.
"Juxtaposing texts across time and space shows literature to be not just a collection of individual works," he says, "but a conversation, a tradition, a field of study, a reconfigurable assemblage, even a kind of organism or collective memory."
They and their teaching assistants embed in student groups discussing Ishiguro's The Buried Giant and its relation to the anonymously written Beowulf and two pieces by medieval poet Marie de France. What did the students get out of this encounter?
"The Buried Giant is not as explicit about the myth as Beowulf," says one. "Ishiguro puts more on the reader. There's more ambiguity."
"Historical characters are not as simple as we believe them to be," says another. "They're just as complex as we are, even if that's not always reflected in the text."
The course can help students develop a number of habits of mind, says Lee. "Like recognizing that literary history is deep and relevant. Another is appreciating the storytelling, the aesthetic qualities of literature, the forms and patterns of literature that unfold across time as well."
"The idea the course is trying to convey is that even the texts that don't seem immediately relevant because of their distance from us [do] matter today," says English major Kathryn Lakin (CAS'25). "What the encounter format demonstrates is that, beyond the value of the original texts in and of themselves, these 'canonical texts' are also important because they have informed the writing of modern authors. Many books today contain callbacks to these older texts that really enrich the experience of reading if you know what to look for."
"I've learned that human emotion can never 'get old,'" says English major Gibson Dowd (CAS'25). "That explains why writings from different centuries and places still have such an effect on modern-day audiences, and why authors today still draw from those stories to create material that will touch their readers."
The course is one of only two required of all English majors now, the other being that seminar on methods of literary study. The revamped historical surveys are now among the electives from which students choose to reach 10 courses in the major (down from 11).
The faculty are confident that EN 101 is having its intended effect of connecting students to the classic works in a way that makes those texts relevant. Maybe that's why professors around the country have reached out to learn more about the course.
'A great hook' for a course
Rezek says he's shared word about the course widely, and colleagues at Columbia, North Carolina, Iowa, and other schools have reached out to learn more, as they too look to revise curricula. Among them is Ezra Tawil, an English professor at the University of Rochester.
"The idea of literary 'encounters' across time and cultures is a great hook on which to hang this kind of course," Tawil says. "I mean, Beowulf and Ishiguro? Defoe and Walcott? Blake and Clifton? No one can resist these pairings."
Tawil has also taught various versions of a "great books" course, and when he learned of the course through "the grapevine"—academic Twitter—he wrote Rezek to ask for the syllabus.
"There's a notoriously hard balance to strike," he says, "between giving students a grounding in some of the classic works of a European tradition in which they want to have some mastery, and making sure that the material is sufficiently diverse and representative in a way that students in 2023 rightly demand.
"When I saw the syllabus Rezek and his colleagues had cooked up, I became obsessed with it," Tawil says. "They found the perfect way of doing both, in a way that avoids the pitfalls of other approaches which can seem tokenistic or ghettoizing in their attempts to lend diversity to an introductory survey course.
"I think this course really could be—should be—a model for similar ones across the country."