How Has Trauma Care Changed 10 Years after Boston Marathon Bombings?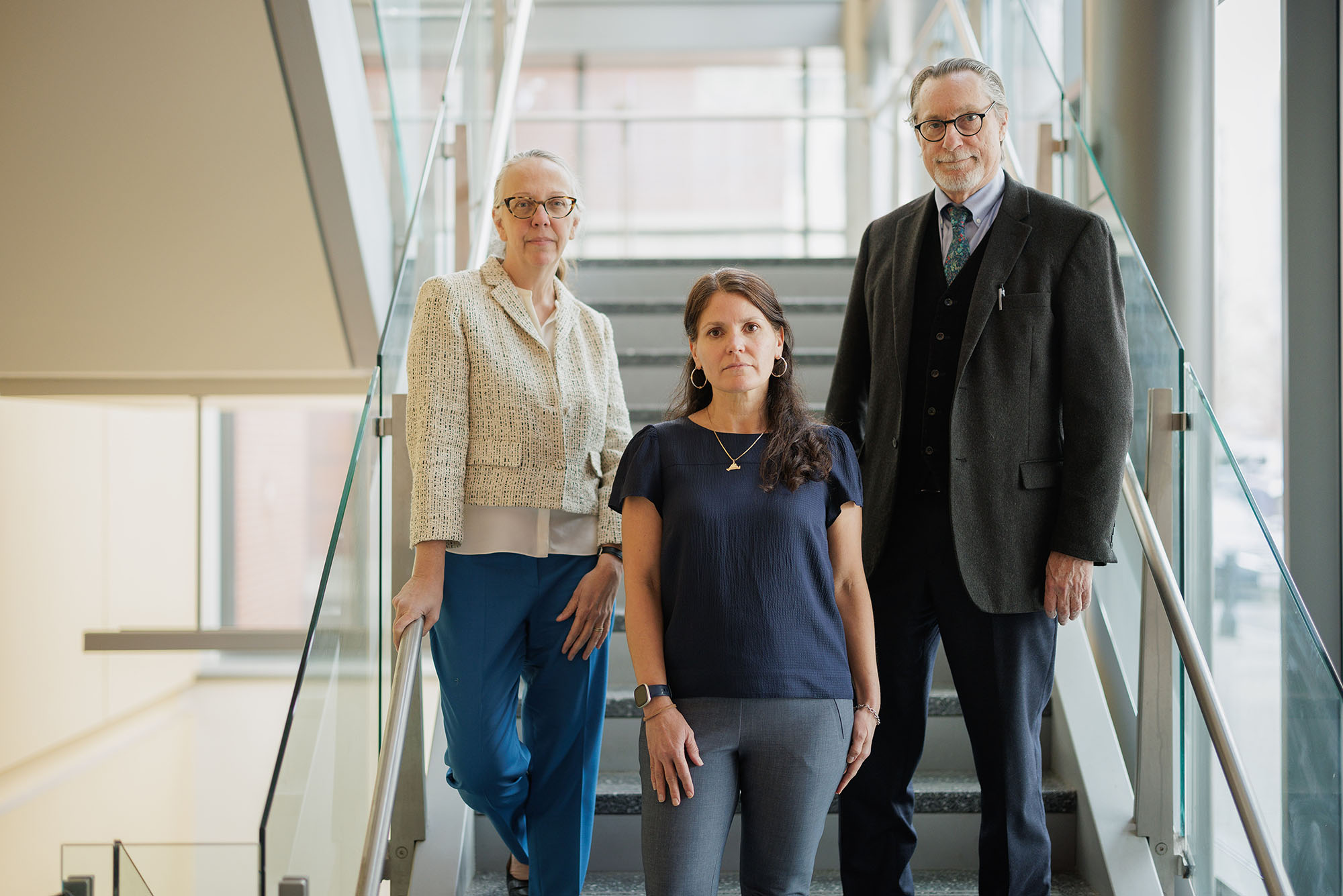 BOSTON MARATHON
How Has Trauma Care Changed 10 Years after Boston Marathon Bombings?
BMC surgeons say the bombings, like the COVID-19 pandemic, highlighted disparities in trauma care and community support. They're working to change that
Editor's note: This article contains graphic details of injuries and wounds and may be traumatic for some to read.
When an IED explodes and soldiers suffer devastating wounds, military surgeons have to make lifesaving decisions in a matter of seconds. There's no time to rely on peer-reviewed, double-blind research when it comes to providing medical care in the field—and, as a result, trauma surgery as a whole benefits from the tried-and-true experience of military surgeons.
That was certainly the case for trauma surgeons at Boston Medical Center (BMC) on April 15, 2013, when dozens of blast victims were rushed in from the Boston Marathon. A pair of homemade bombs—constructed out of pressure cookers packed with nails and other shrapnel—detonated near the Boylston Street finish line, an area crowded with thousands of people packed in close, killing three marathon onlookers and injuring many more.
As a result, the injuries that surgeons confronted that afternoon were more akin to those seen in times of war than times of peace. And the lessons they took away from those frantic, traumatic first few hours continue to drive change in the medical industry.
"There was a different injury pattern because it was a blast. It wasn't something we often see as civilian trauma surgeons," says Tracey Dechert, chief of acute care and trauma surgery at BMC, BU's primary teaching hospital, and associate professor of surgery at the Boston University Chobanian & Avedisian School of Medicine. "We used our military colleagues to help us with that aspect."
Many of the patients Dechert and her colleagues treated in the aftermath of the bombing presented with what trauma surgeons call "mangled extremities," arms or legs that have been grievously injured. These types of injuries can—and do—happen elsewhere: in car accidents or motorcycle crashes, "any kind of crush incident," Dechert says. But what made that day unique, she says, was the sheer number of patients with such injuries.
Not only that, but most patients had related injuries—the kind that don't usually coincide with a crush injury. A car accident, for example, doesn't usually blow out a person's eardrums the way a bomb injury does.
"The bombing was a quintessential moment to be a trauma surgeon; we had to use all our skills," says Peter Burke, professor of surgery at BU's medical school. Burke was BMC's chief trauma surgeon in 2013 (Dechert took over the role in 2022), and his unit, like those of almost every hospital in Boston on April 15, was inundated with injured patients from the marathon. 
Dechert also describes another, "more morbid" pattern among the patients she saw a decade ago—one with which her military colleagues were familiar, but civilian surgeons often are not. (The lessons from the experience were invaluable for the civilian surgeons, even if they hope to never encounter similar injuries again.)
Shrapnel packed into the bombs—including bits of metal, nails, and ball bearings—flew outward when the devices exploded and became embedded in the victims. This is common enough in blast wounds.
"The morbid part," Dechert says, "is that there's such a thing as human shrapnel. Someone else's tissue can go into another person. A shard of shattered bone can end up embedded in the person near them."
Here again, the trauma team relied on the expertise of their military colleagues.
"Knowing how to treat these injuries—which antibiotics to use to prevent infection of all those different foreign bodies—the military is used to that, and we used their guidelines for how to manage shrapnel," Dechert says.
Medical personnel across the entire city were called into action that day to help address the sheer scale and scope of the injuries. Looking back 10 years later, Burke commends the emergency responders who triaged care at the chaotic scene. "They did an excellent job of distributing patients across the city, and that helped save lives, no doubt about it."
As the field of trauma care continues to evolve, practitioners have increasingly turned outward, beyond the operating room, in an effort to care for would-be patients before they even get to the hospital.
One tangible example: "People are more familiar with tourniquets now," Dechert says.
Chalk it up to the proliferation of gunshot wounds in the US, or the easy access to online tutorials and how-to videos, or the concerted effort by healthcare providers, but commercial tourniquets are more readily available than ever. 
"There are fairly basic things, such as how to manage first aid for bleeding, that we're actively trying to teach people," Dechert says. "This way, if you ever find yourself at the scene of something horrific, knowing a little bit about what to do can save a life or limb. In the last 10 years, it's not so much how we're changing our care in the hospital, but that people can learn basic things to help before a patient even gets to us."
---

"The bombing was a quintessential moment to be a trauma surgeon; we had to use all our skills,"

---
These sorts of tools are broadly applicable, too—knowing how to support and care for someone who has experienced a traumatic injury extends beyond headline-making events like the marathon bombings.
And indeed, the vast majority of the patients that Dechert, Burke, and other trauma care providers have seen in the last decade are gunshot or stab victims, or victims of domestic violence, Dechert says. For these surgeons, the legacy of the bombings—while horrific—has been to highlight the vast gulf between the outpouring of support that those victims received and the relative indifference with which most of their other patients are met.
Lisa Allee, director of injury prevention programs at BMC, can put it into stark terms: BMC received 28 bomb victims; 19 were admitted, 11 with critical injuries. That same day, the trauma team admitted 14 gunshot and stab wound patients. 
"You'd have no idea that anyone else was even in the hospitals that day," says Allee, who is also assistant professor of surgery at BU's medical school. "But that's just the norm for us. For a lot of people working, that period was really traumatizing; not because we felt unsafe, but because we saw that it was possible to rally community support for our patients—that support just wasn't distributed to all patients equally."
Allee recalls that at some point in the days following the bombing, she was tending to a gunshot victim who asked her for a blanket. The patient told her that they'd been cold for a while, but hadn't gotten a blanket yet.
"They said, 'It's OK, I know everyone is taking care of the marathon patients.' But, it wasn't OK with me. Everyone deserves the same care and attention."
Looking back, Dechert and Burke share a similar frustration.
"Honestly, when I look back at that day, I have more anger about it," Dechert says. "It was a big public event, and the patients who were victims of that got different treatment; they got more empathy, everyone rallied around them. And they should have gotten that support, I'm not denying it. But we should also rally around others—other people have individual traumas that are equally life-threatening, and they don't have Bradley Cooper and Julian Edelman in the hallways visiting them."
The juxtaposition was striking for Burke, too.
"The reality was that we did an incredibly good job of taking care of this one group of people who were victims of interpersonal violence, but at the same time there was this ongoing flow of people who were also victims, and that was a revelation to many of us; they weren't getting the same level of support," he says.
In 2014, one year after the bombing, Dechert started Socially Responsible Surgery, a group designed to educate young surgeons to be advocates for their patients—and to advocate for equity in surgical care more broadly. Allee and Dechert are among the advisors for the group.
Asked if she started the organization in response to the inequity she saw in the aftermath of the marathon bombings, Dechert paused to consider her answer.
"You know, I'm not sure. It was a conscious decision by any means, but I'm sure that experience played a part in my thinking. This is my life's work, my vision as it relates to this work. My mission is to get people to think about trauma as a chronic disease, think about how it impacts communities, beyond these very intense, public events."
Dechert's job for the next 10 years, as she sees it, is to "take trauma out of the closet."
"We raise money for cancer research all the time; there's no stigma attached to that, and it's a valuable cause," she says. "What if we had the same approach for trauma? Trauma, like cancer, can affect any one of us. It's time we start thinking holistically about it."
This year's Boston Marathon marks the 10-year anniversary of the tragic Boston Marathon bombings that claimed the lives of Lu Lingzi (GRS'13) and two others and injured hundreds more. The event impacted many members of the BU community. Anyone seeking confidential mental health counseling is urged to call 988, the National Suicide & Crisis Lifeline. BU students seeking confidential support can also reach out to Student Health Services; faculty, staff, and employee family members can contact BU's Faculty & Staff Assistance Office.