The Embrace, a Monument Celebrating MLK, to Be Unveiled on Boston Common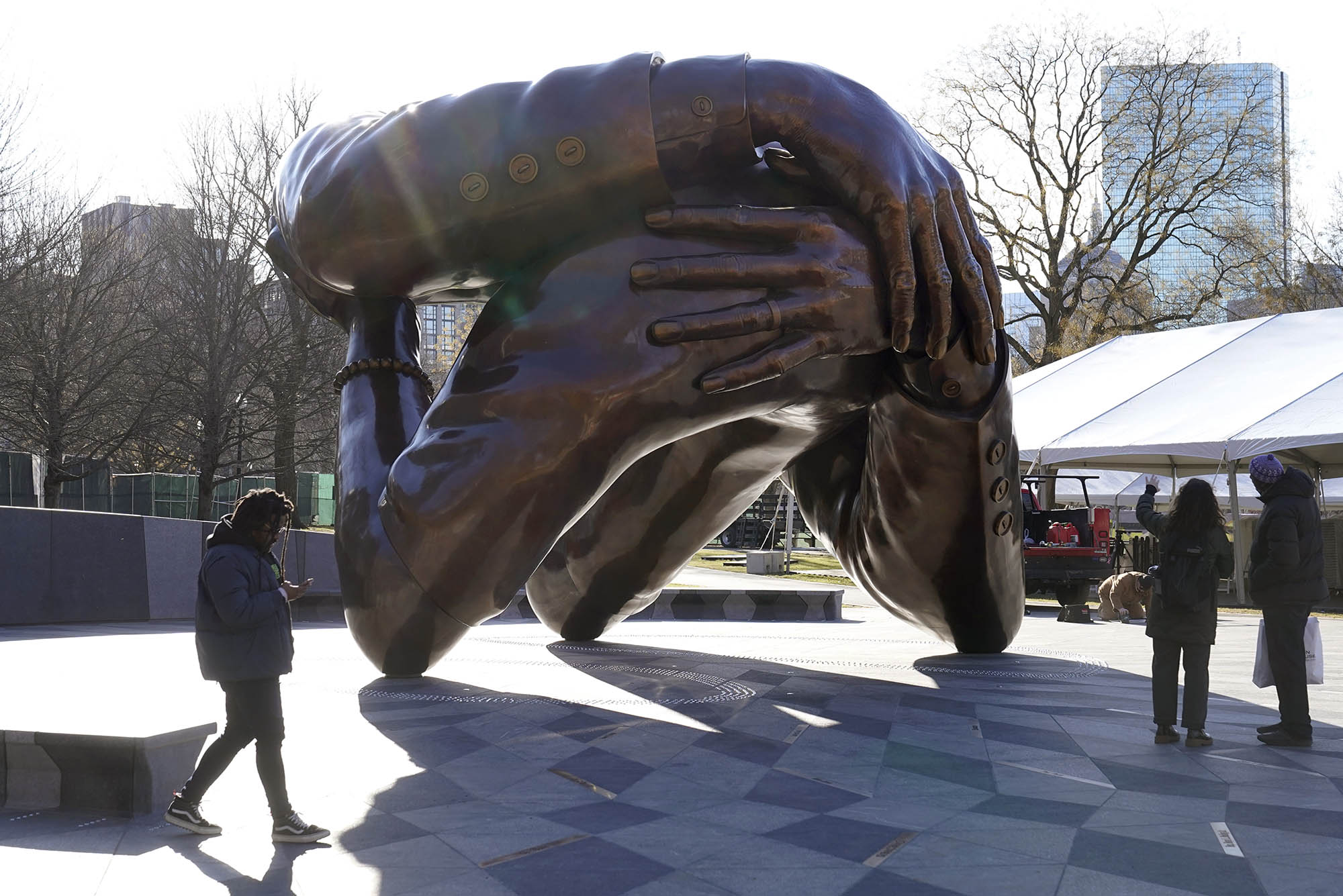 Martin Luther King, Jr.
The Embrace, a Monument Celebrating MLK, to Be Unveiled on Boston Common
The 22-foot-tall bronze sculpture of interlocking arms that commemorates Martin Luther King, Jr. (GRS'55, Hon.'59) and wife Coretta Scott King—who met while King was a student at Boston University—will be unveiled on Friday
Boston Common, the country's oldest public park, has been home to many embraces during its nearly 400-year history: friends meeting up for an afternoon picnic on the grass, couples getting engaged under the lush trees, protestors gathering in support of a cause.
But on Friday, the 50-acre Common will welcome its most significant—and largest—embrace yet. The Embrace, a 22-foot-tall bronze sculpture of four interlocking arms memorializing Martin Luther King, Jr. (GRS'55, Hon.'59) and his wife, Coretta Scott King, will be unveiled at an afternoon ceremony that's open to the public.
The sculpture encapsulates an embrace between the husband and wife after King's Nobel Peace Prize win in 1964. Hank Willis Thomas, the artist who designed it, told the Boston Globe that he was moved by the intimacy of the couple's private relationship as much as the power of their public personas.
Thomas' design was chosen from among five finalists in a competition hosted by Embrace Boston (formerly King Boston) in 2019. The nonprofit organization, which continues King's work of dismantling structural racism in Boston and beyond, oversaw the construction of the sculpture.
"It's deeply significant that America's oldest public park is installing a public monument that is a celebration of the profound role that our city played in the lives of Martin Luther King, Jr. and Coretta Scott King," says Keith Mahoney, vice president of communications and public affairs at The Boston Foundation, which partnered with Embrace Boston.
"The work of Embrace Boston will continue after this, and its commitment to equity and to breathing life into a monument that's a celebration of love is extremely hopeful and represents the dawn of an era of hope for our beloved city," Mahoney says.
The partnership between the two civil rights activists was forged while they were both students in Boston. King, studying philosophy and ethics at Boston University, went on a date with a young Coretta Scott, who was studying opera at the nearby New England Conservatory of Music. They married in 1953, went on to have four children, and Scott King carried on her husband's legacy of racial justice activism for nearly 40 years after his 1968 assassination, until her death in 2006.
In acknowledging the role BU played in King's life, and the profound effect King had in Boston, the University pledged $250,000 toward the construction. In a speech to announce the contribution, BU President Robert A. Brown said that the donation would "ensure that future generations of Bostonians and visitors will appreciate Martin Luther King's extraordinary legacy and what his years in Boston meant to him, to Mrs. King, and to all of us."
The unveiling event on Friday, January 13, will be held on the Boston Common from 1 to 3 pm, and will feature remarks by members of the King family and other elected, civic, and religious leaders. Members of the public can view the event on large screens positioned near the Parkman Bandstand, where a DJ will perform and hot refreshments will be available. The event will also be streamed live on NBC10 Boston. The monument itself opens to the public in early February, once the final construction fencing has been taken down.