Members of BU Community Run the Boston Marathon to Support Others
Meet Five Terriers who will take to the line April 17 to raise funds for local nonprofits
Boston Marathon 2023
Members of BU Community Run the Boston Marathon to Support Others
Meet Five Terriers who will take to the line April 17 to raise funds for local nonprofits
For many locals, the annual Boston Marathon marks the real arrival of spring. The 127th iteration of the world-famous 26.2-mile race, which begins in Hopkinton, Mass., and concludes at the finish line in Copley Square, takes place Monday, April 17. Runners are eligible to compete based on their qualifying times or by raising at least $5,000 for one of the more than 40 charities selected by the Boston Athletic Association, sponsor of the Boston Marathon. Boston University will be well represented among the 30,000 runners from around the world taking part in this year's race. To mark the occasion, we asked five inspiring members of the BU community to talk about the organizations they'll be supporting this Marathon Monday.
Frederick Powell (CAMED'11,'11)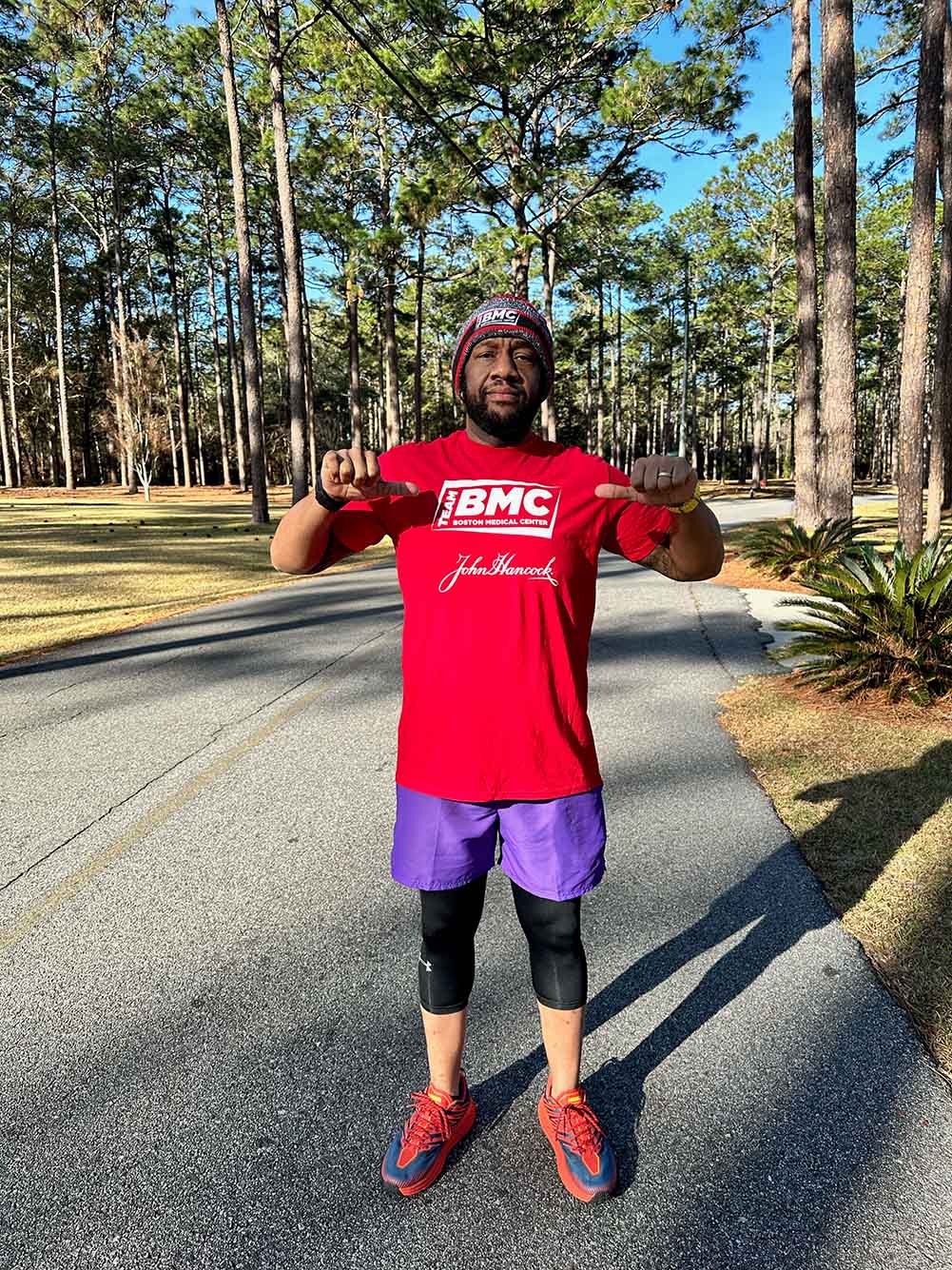 A graduate of the Chobanian and Avedisian School of Medicine, Frederick Powell was working as an anesthesiology resident at Boston Medical Center (BMC) the day of the Boston Marathon Bombings 10 years ago. The 2013 tragedy claimed the lives of three people, including BU graduate student Lu Lingzi (GRS'13), and injured hundreds more.
"That day was very intense and scary," Powell says. "We were overwhelmed with patients that needed immediate care. We had all hands on deck, and everyone was there ready to help. It was one of my proudest days being a resident."
Two years later, the hospital where Powell had helped save lives saved his own. A chief resident and just three months away from starting a critical care fellowship, Powell suffered a heart attack at the age of 33.
"I found myself with an intra-aortic balloon pump as the sickest patient in the hospital," Powell recalls. He spent 19 days in the ICU. On April 17, Powell will be running the Boston Marathon on behalf of BMC. His goal is to raise $7,000 for the hospital.
"My experience was so good I became even prouder to say I was a medical provider at BMC," Powell says. "The staff and my department took exceptional care of me. I could never pay them back for this gift that they gave me."
Now an anesthesiologist at Colquitt Regional Medical Center in Moultrie, Georgia, this is his first-ever marathon.
"It has been very difficult to train, considering that I am working full time," Powell says. "My schedule changes daily, so I simply have to optimize any time I do have to train. I am not a natural runner, so the mental challenge is just as hard as the physical challenge…I'm looking forward to seeing the finish line and proving to myself that I can still achieve through adversity."
Powell says he feels grateful to be able to support an organization that has given him so much.
"I am blessed to have three daughters and a lovely, supportive wife," he says. "I can ask for no more. Now I just have to go out and run."
Nico Iannacone (CGS'23)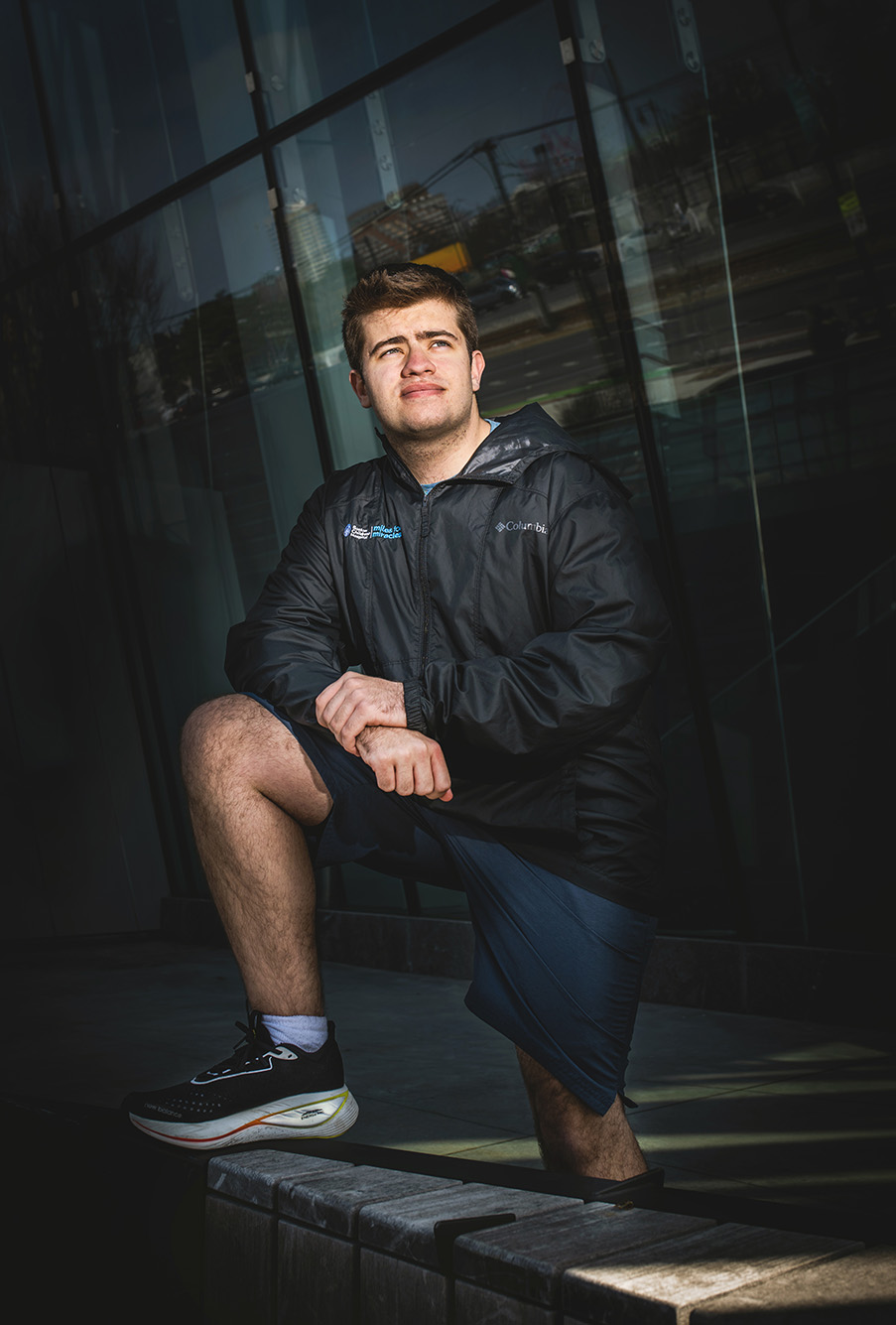 Though just a sophomore, Nico Iannacone is already a Boston Marathon veteran, having run his first in October 2021.
This year's Marathon has a special significance for Iannacone, as it coincides with the tenth anniversary of the Boston Marathon Bombings. In 2013, he was 10 years old, standing outside the Old South Church and waiting for his father, Steven, to cross the finish line when the first explosion detonated just 300 feet away. It was his father's first marathon and he was running to support Boston Children's Hospital.
"I saw the first explosion with my own eyes, and then was caught up in the mass of people running for their lives," Iannacone recalls. "What I remember most of that moment is that for the first and only time in my life, I had the feeling of 'I am going to die now.' I have never been more scared in my life than I was that day; not just for myself, but for my entire family. Yet, the aftermath of the city rallying together is by far one of the most inspirational things I have ever seen, and I have never been so proud of my city."
In 2021, Iannacone ran the Boston Marathon with his father in support of Boston Children's Hospital (BCH). This year, the two will again be running for BCH. Nico will also be running for his patient partner, Jace Perkins. (BCH pairs patients with runners each year and the runners get to know them in the months leading up to the race.)
"Jace has had a rare condition since birth, and his life was only saved because of Boston Children's Hospital," Iannacone says. "Despite the operations and treatments he has gone through, he is an incredibly positive kid who my family has gotten to know well. He was my patient partner in 2021 and now, again, in 2023."
Iannacone says that Perkins has inspired him throughout training. Whenever you have a feeling of doubt about running this marathon, you stop because you are running this race for your patient partner and the thousands of kids like them," Iannacone says.
Come Marathon Monday, the BU sophomore says he will be thinking not only about Perkins but also Martin Richard, the eight-year-old boy who was among the three people killed in the Marathon Bombings in 2013.
"I never knew Richard, but I have felt some sort of a connection," Iannacone says. "He was about my age, and was at the finish line with his parents and his younger sibling. Not that different from myself, and if the timing was different that fateful day, it easily could have been me instead of him.
"Why did he die, and I lived? It is normal to feel doubt when running a marathon, but for me, whenever I do, I think about how I was able to have a healthy and fulfilling life since 2013, something that was stolen from Martin. I just hope I am able to help do some good in the world for others so that at least something good can come out of this whole story and experience."
Erin Murdock (Wheelock'19, Questrom'23)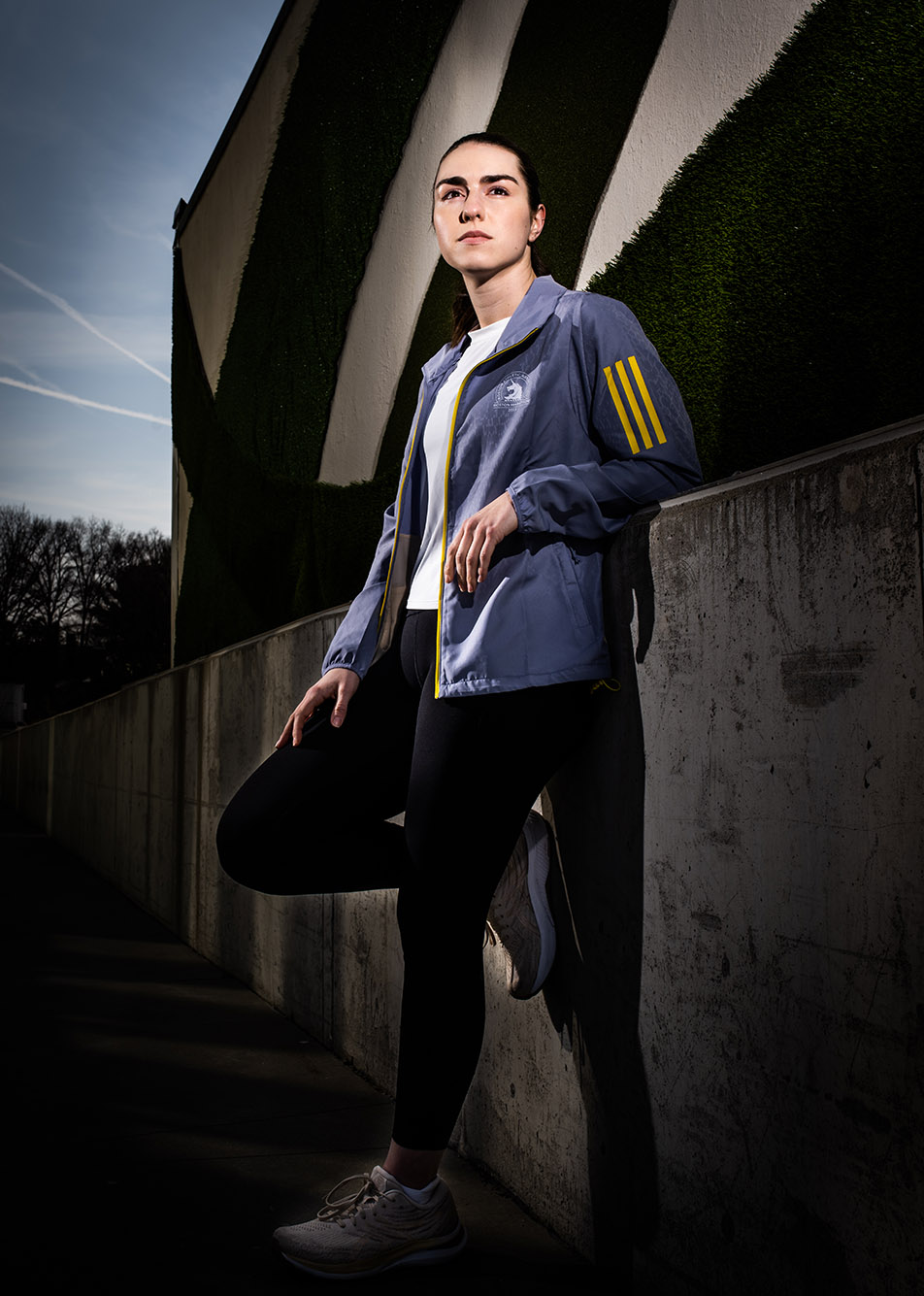 Erin Murdock has strong ties to BU. She earned a master's degree in education from Wheelock and is currently enrolled in Questrom's MBA program. In addition, she works as a financial manager for the Faculty of Computing and Data Science.
Prior to that, she worked as an advisor in the College of Arts & Sciences, where she counseled students who were facing challenges navigating the pandemic. Mental health has long been a passion for Murdock and on Monday, she'll be running her first marathon on behalf of Team Brookline, which is raising funds to support five local nonprofits: the Brookline Center for Community Mental Health, the Brookline Education Foundation, the Brookline Library Foundation, the Brookline Teen Center, and the Brookline Symphony Orchestra. 
"The Brookline Center for Community Mental Health does impactful work that our students and the members of our community can benefit from, and I wanted to help in an impactful way," Murdock says. Murdock says she was inspired to run the 2023 Marathon after watching a friend run it last year. To get her through the arduous 26.2-mile route, she says she's dedicating different mile markers to individuals who have made a special impact on her life. 
"Mile one is to my friend who wrote my training plan and was crucial in helping me realize this is a possibility for me," Murdock says. "My dog, Kobe, a Boston Terrier, passed on January 1, 2023, so I've dedicated mile eight to him because he lived to eight and was a massive part of my life. It helps bring more meaning to every mile and keeps me focused on the bigger picture."
Murdock says that knowing her partner, Ian Smith (CAS'17, GRS'23), will be waiting at the finish line will also help her keep going on Monday.
To date, she's raised nearly $12,000 for Team Brookline.
"I'm exceptionally grateful for the support of my community, especially my BU community, in helping me meet and surpass this goal," she says.
Patrick Sullivan (MET'11)
A lifelong Bostonian, Patrick Sullivan says for him the first official day of Spring is Marathon Monday, not March 21. He has watched his wife run eight Boston Marathons; this year, he's joining her.
"Watching her train through the winter and seeing her run down Boylston Street toward the finish line has been inspiring, and after years of telling myself 'Someday I'll run Boston,' this year was finally the year I took the plunge," Sullivan says.
A graduate of the Metropolitan College's master's program in city planning, Sullivan is running to support a cause inspired by a BU faculty member. Peter Morrisey (COM'87) was a College of Communications associate professor of public relations who died from brain cancer at 59 in 2012. A successful public relations executive prior to arriving at BU, Morrissey had also served as a board member of the Boston Athletic Association, as well as a board member to the nonprofit Morgan Memorial Goodwill Industries.
On Monday, Sullivan will run in support of Morgan Memorial Goodwill Industries' Peter Morrissey Youth Fund, which helps prepare youth in underserved communities to enter the workforce. He has already surpassed his goal to raise $6,000. 
"I knew I wanted to fundraise for Boston, and while looking at charity opportunities, Goodwill jumped out to me as an organization I wanted to support," Sullivan says. "I was particularly drawn to Goodwill's job-training program for young adults with developmental disabilities that want the independence and pride that comes with having a job."
Although Sullivan did not have Morrissey as a professor, he has heard stories of the impact he had at Goodwill and the passion he had for Goodwill's Marathon team.
Sullivan says his training has been inspiring.
"I went out on a training run on a very cold Sunday morning in February and encountered hundreds of other runners on the course along with volunteers staffing water stations and playing music to boost everyone's energy," Sullivan says. "The atmosphere was electric, and I can only imagine what it will be like on Marathon Monday.
On his fundraising page, he's encouraged people to donate amounts tied to specific milestones associated with the race: $385, one dollar for every yard he still has to reach after he crosses the 26-mile mark; $200 to signify the 200 feet above sea level that marks Heartbreak Hill's peak; $127 for the 127th Boston Marathon; and $25, representing the number of hours Sullivan says he plans to sleep after he finishes the race.
"I'll be taking in the spectacle of the Marathon—the crowds and the runners," Sullivan says. "I'll be thinking about all the people that have supported me—my family, training partners, Goodwill teammates, and the generous donors that have contributed to my fundraising efforts. I'll also be thinking about the finish line and the amazing nap I plan to take after the race."
Sara Tenenholtz (Sargent'11)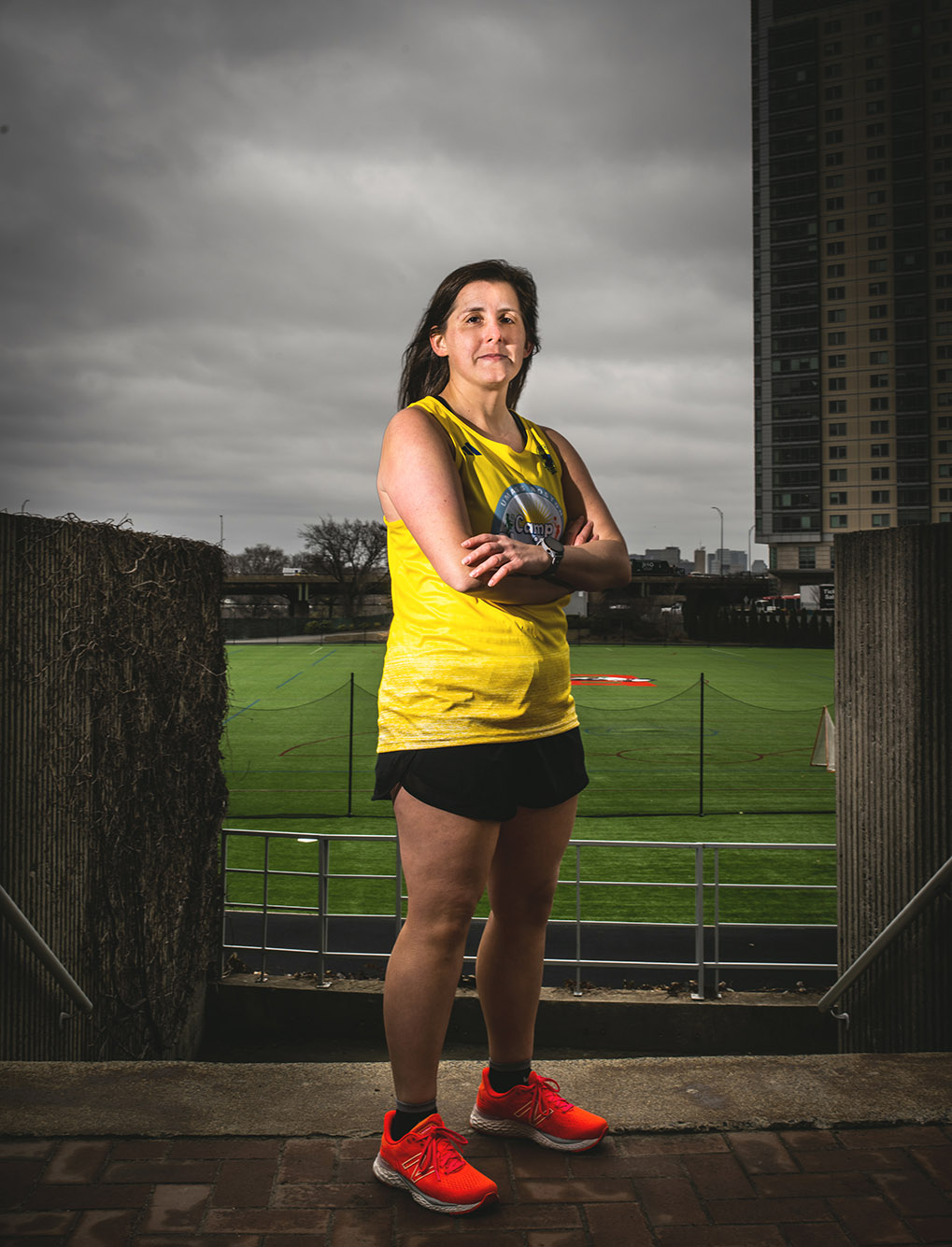 As a pediatric physical therapist at Boston's Brigham and Women's Hospital, Sara Tenenholtz works every day to improve infants' and children's health. So when it came time to identify a charity to run for, Camp Shriver— a free, inclusive summer camp for children with and without disabilities located at UMass's Mt. Ida campus in Newton—seemed like a perfect fit. 
"The organization aligns with my career and my beliefs, Tenenholtz says. "Together, we will ensure that all children, with and without disabilities, have an opportunity to learn, grow, and have fun as equals," Tenenholtz says of her Camp Shriver team. "For me, it is important to support inclusion and equity for kids as I truly believe all children should have equal opportunities."
Tenenholtz set out to raise $10,000 for the camp and has already surpassed her goal.
As she prepares for her first marathon, she says she's been inspired by others.
"I have met some amazing people in the process," Tenenholtz says. "We all motivate each other throughout our training runs!"
The 127th Boston Marathon begins at 9:02 am in Hopkinton, Mass., on Monday, April 19, 2023. The men's wheelchair division will start the race, and the fourth and final wave of runners for charity will start at 11:15 am. Prime viewing spots on and near campus are on Beacon Street and in Kenmore Square.