Warner Bros. Discovery CEO David Zaslav Tells BU Graduates to Pursue Their Passion, amidst Protests over Hollywood Writers Strike
President Brown is praised at his final Commencement for leading by example, bettering the student experience
COMMENCEMENT 2023
Warner Bros. Discovery CEO David Zaslav Tells BU Graduates to Pursue Their Passion, amidst Protests over Hollywood Writers Strike
 President Brown is praised at his final Commencement for leading by example, bettering the student experience
"Show up."
Those two words—shorthand for making time for the important relationships in your life—are the most important advice for success, Warner Bros. Discovery CEO and President David Zaslav (LAW'85) told Boston University graduates and guests at Sunday's 150th Commencement.
The ceremony turned occasionally raucous, with protests inside Nickerson Field, and outside, along Commonwealth Avenue. Several hundred supporters of the ongoing writers strike in Hollywood—including members of the Writers Guild of America (WGA)—shouted, marched, and held up signs condemning the choice of Zaslav as the University's main speaker because of his leading role in the contract negotiations.
Zaslav did not address the issue during his speech, or the several dozen students who turned their backs to him, and instead shared the strategies that helped him become one of Hollywood's most powerful figures. Chants of "Pay your writers" forced him to pause several times during his talk, and at one point he responded with a thumbs-up and smile.
BU President Robert A. Brown, who is stepping down this summer after 18 years as president and presided over his last Commencement, awarded Zaslav an honorary Doctor of Laws degree, over audible boos and catcalls from the audience. Brown called the honoree a "media visionary." Especially important, Brown said, was Zaslav's teaming with Steven Spielberg (Hon.'09) in assembling memories from the shrinking ranks of Holocaust survivors and liberators. The audience responded with hearty applause as Brown told Zaslav that it was "your most important storytelling effort," and that "generations past, present, and future are in your debt."
Zaslav tailored his speech to the Class of 2023's contending with COVID-19, which upended much of their college experience.
"The pandemic has forced all of us to spend a lot more time apart, and on Zoom," he said. "You all spent a large portion of your time here at BU having to work remotely and taking classes online. I really believe it's critical now that we get back to working together, in person, making real human connections.
---

"You spent a large portion of your time here at BU having to work remotely and taking classes online. I really believe it's critical now that we get back to working together."

---
"Show up at a funeral for a friend's dad. Show up at your kids' games, and, if you can, be a coach! Show up even when you are swamped, to 'be there,' or do something kind, or unexpected for someone you love.… Show up for your friends, show up for your family, and show up for yourself. Make your journey as fulfilling as it can possibly be."
Besides "showing up," Zaslav offered other strategies for success, including: "Find a way to do what you really love."
He recalled his first job after graduating from BU as a New York lawyer, raking in money writing company prospectuses. One day, a colleague announced, "Rule 27B has been amended, and that's going to change the way we write about these companies!" While his fellow attorneys rejoiced at the "fun" they'd now have, Zaslav recalled, "I really couldn't care less." Then he noticed a new partner who eschewed the firm's de rigueur suit for an MTV jacket. He discovered the lawyer's clients were in the nascent cable TV business, offered to work with the man, and fell in love with that industry.
"Create your own opportunities," he told the graduates.
Reading an article about Jack Welch, the iconic businessman who had just bought NBC and wanted to expand it into cable, Zaslav cold-wrote Welch to offer his services. He got a face-to-face interview and was hired.
"Figure out what you're good at, and what you're not good at," Zaslav said. "And work on those things." When Welch advised him that in order to be successful, he would have to learn to get along with both easy and difficult people, Zaslav tempered his passion by trying to see the good in everyone.
"Never, never, never get outworked," he said.
The announcement in early May that Zaslav would be BU's featured Commencement speaker triggered objections from the WGA, whose members had just struck after they and the Alliance of Motion Picture and Television Producers deadlocked over a new contract. The WGA wants Warner Bros. Discovery, which Zaslav heads, and other studios to offer more pay and royalties for streaming media, and job protections against artificial intelligence use in WGA work.
Among the students who rose and turned their backs as Zaslav talked at the podium was Californian Sydney Shore (MET'23). She said, "My dad's a writer and on the guild, and my older brother works for the writers." She and her boyfriend, Seth Helman (COM'23), also picketed with scores of guild members before the ceremony started.
In an email to BU's student newspaper, the Daily Free Press, Brown explained why BU did not disinvite Zaslav amid protest threats. "We fully respect the right of the WGA to seek the best possible compensation through the collective bargaining process, but it is not in keeping with our policy for free and open speech to disinvite a speaker to indicate support to a party in a labor dispute," Brown wrote.
"I understand where they're coming from," Shore said. "But…it seems like [disinviting Zaslav] wasn't even in debate, even though it upset so many people." Helman said that the University ignored "the opinions and thoughts of the students, which is what's most important about a university."
Other protests peppered the ceremony. A plane buzzed Nickerson Field, trailing a banner: "David Zaslav—pay your writers." Shore and Helman wrote on their mortarboards, "This speech is what happens without writers."
Zaslav worked for NBC for 18 years, helping develop CNBC and MSNBC, before leaving to head Discovery, growing the company's value from $5 billion to almost $22 billion.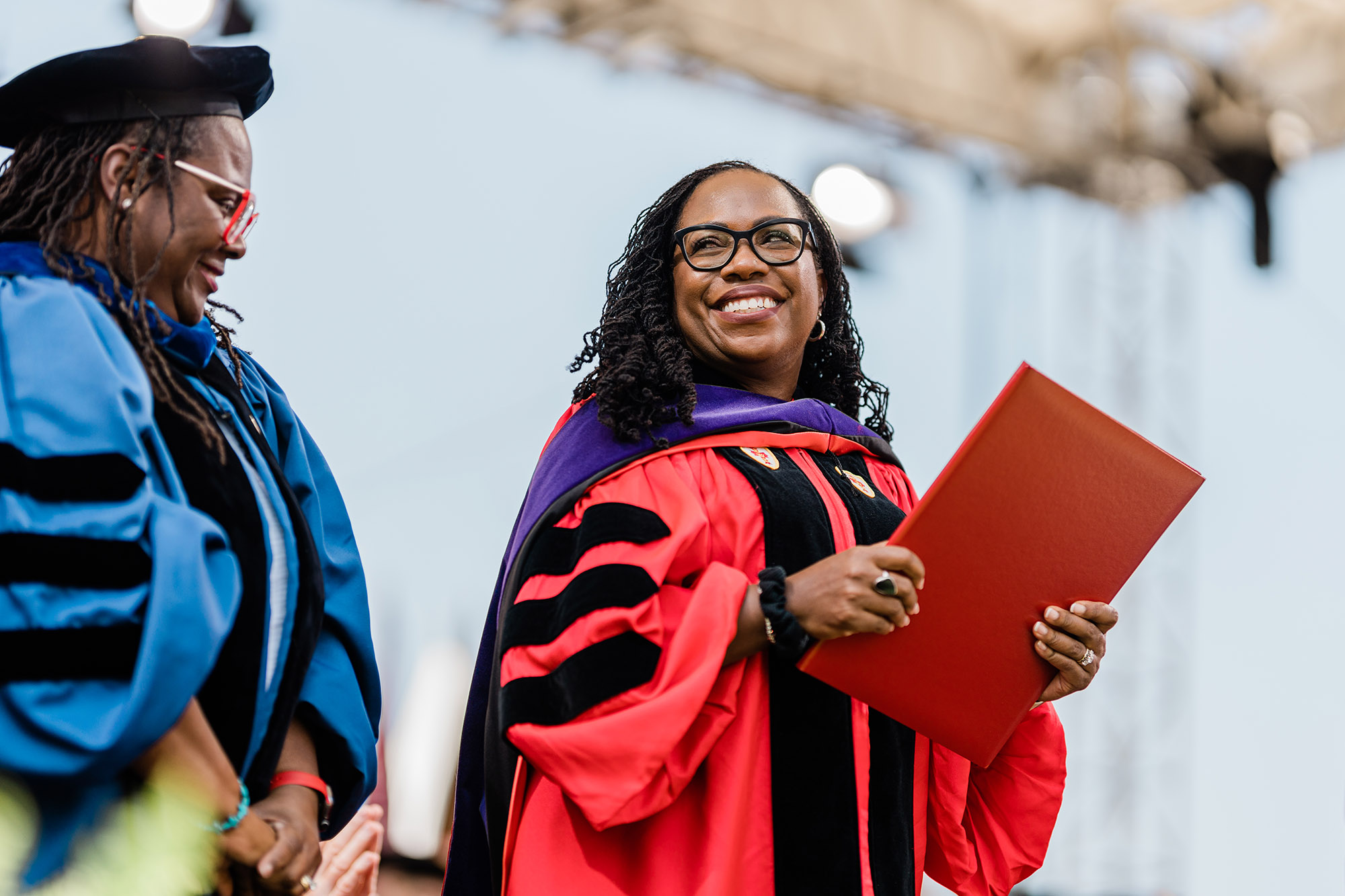 One of the ceremony's brightest moments came when Brown bestowed an honorary Doctor of Laws degree on Ketanji Brown Jackson, associate justice of the US Supreme Court and convocation speaker for the School of Law. The crowd gave Brown, the court's first Black woman, a long standing ovation, and she flashed a wide smile and waved in appreciation. Other degree recipients included RNA biology researcher Drew Weissman (CAMED'87, GRS'87), Doctor of Science; New England Development founder/chair and BU trustee emeritus Stephen R. Karp (CAS'63), Doctor of Laws; and musician/philanthropist Pamela Wood Avedisian, Doctor of Humane Letters.
Avedisian's late husband, Edward (CFA'59,'61, Hon.'22), who gave $100 million to BU's renamed Chobanian and Avedisian School of Medicine, received his honorary Doctor of Humane Letters in a private ceremony last December, shortly before his death at age 85.
Student speaker Sumner Jones (Questrom'23) celebrated the relationships students forged with each other, faculty, and BU staff during a trying, pandemic-plagued four years: "While we are now leaving the classrooms, fields, and libraries, in a way, we are not actually leaving at all, since all these connections remain. Regardless of where our new homes may be, these relationships are our most valuable assets."
Brown presented the Metcalf Cup and Prize to Karin Hendricks, chair of music education at the College of Fine Arts, and Metcalf Awards for Excellence in Teaching to Stephanie Byttebier (GRS'04,'13), senior lecturer in rhetoric at the College of General Studies, and Joanna Davidson, associate professor of anthropology at the College of Arts & Sciences. (She's also associate director of Kilachand Honors College.) The Metcalfs are BU's highest teaching honors.
A bit of humor injected itself near the ceremony's end, as Mariette DiChristina, dean of the College of Communication, presented her school's graduates to Brown. However, she was unable to speak into the microphone at its height, until Brown chivalrously loaned her a booster platform and she burst into laughter.
Ahmass Fakahany (Questrom'79), chair of BU's trustees, paid tribute to Brown's tenure at the ceremony's end.
"He has led this University through times of economic prosperity and uncertainty; he has worked tirelessly to improve the student experience, to increase alumni engagement, and to better the work life of our faculty and staff," Fakahany said. "By doing his homework, leading by example, sticking to a plan, President Brown has decisively placed Boston University in the first rank of global research universities. Because of President Brown and the momentum he has created, the degrees you received today will continue to increase in value and recognition." Brown received a standing ovation.
Kenneth Freeman will serve as interim president while the University seeks Brown's successor. Freeman is University vice president and associate provost and dean emeritus of BU's Questrom School of Business.