2023 BFA Graphic Design Thesis Show on View at 808 Gallery
More than 150 works by 41 graduating seniors can be seen through May 19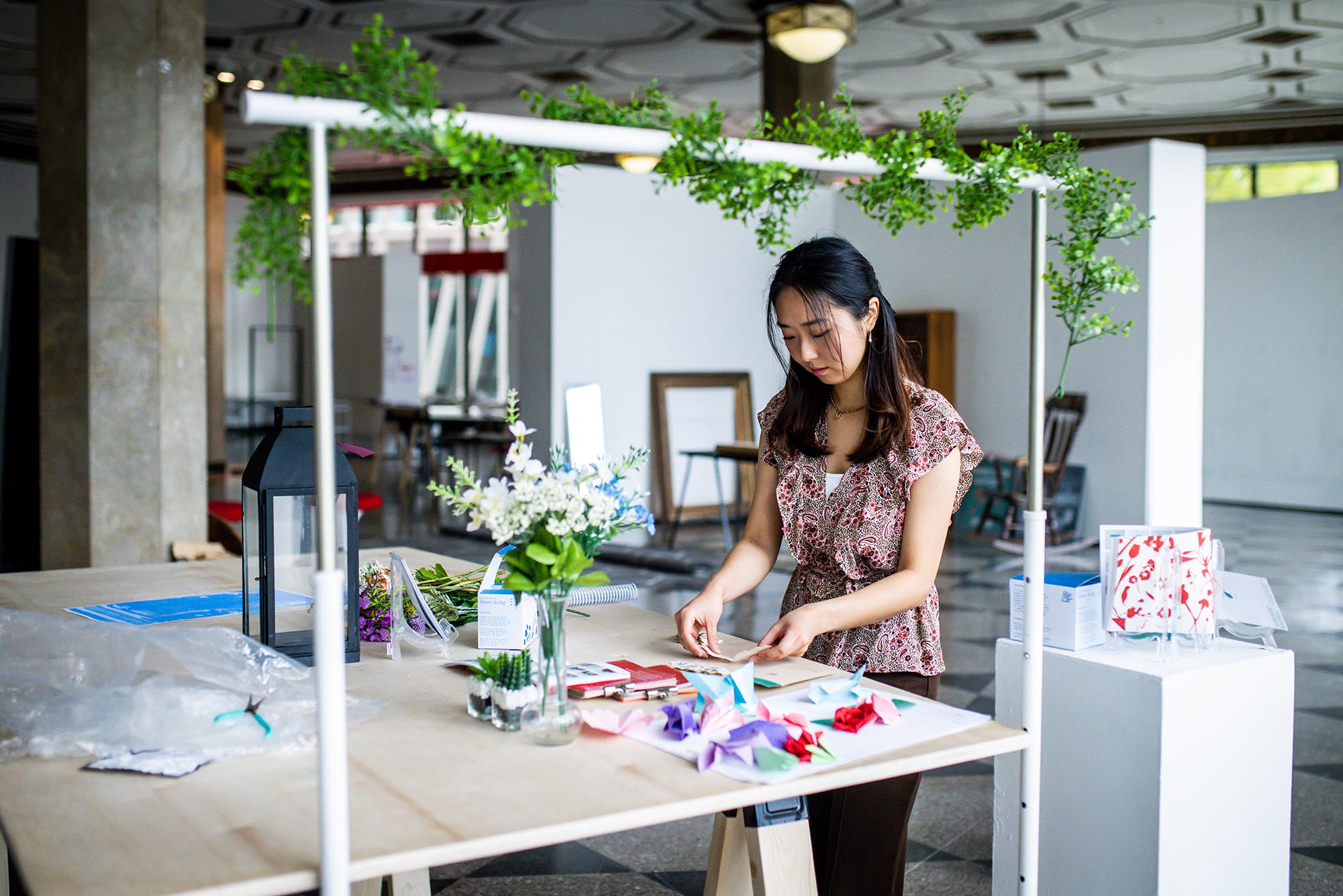 Graphic Design
2023 BFA Graphic Design Thesis Show on View at 808 Gallery
More than 150 works by 41 graduating seniors can be seen through May 19
It's thesis season for the graduating seniors in the College of Fine Arts School of Visual Arts, and this year the BFA graphic design program is faced with a unique challenge: its largest graduating class ever. The order of the day for the 41 graduating seniors has been organizing the more than 160 works into a cohesive show. As it turns out, they have proven themselves more than up to the task as visitors to the 2023 Graphic Design Senior Thesis Exhibition, now on view at the 808 Gallery, will discover. 
"They have a pretty collaborative and familial dynamic, and this dynamic is present in how they have decided to curate their show," Nicholas Rock, an assistant professor of art and graphic design at the College of Fine Arts, says of his thesis students. "They're celebrating their connections, as well as their individuality and personal perspectives, in their work."
The theme of this year's BFA Thesis Exhibitions (the BFA painting, sculpture, and printmaking show running concurrently across the street at the Faye G., Jo, and James Stone Gallery at 855 Comm Ave.) is "EDIFICE."
The task of creating a curatorial theme that embraces the more than 200 works included in both shows fell to Mina Chung (CFA'23), Hannah Hong (CFA'23), and Jacqueline Mang (CFA'23), all graphic design majors and members of the thesis exhibition branding team. "EDIFICE plays on the idea of the home and community we have at CFA, and the foundation that has been laid for our education, careers, passions, and futures," Chung says.
The concept behind EDIFICE—that the collective artistic practices of each student form a creative scaffold like that of a physical institution—influenced the graphic design exhibition, which Chung says also has an independent brand imprint, "Lived In," which imagines the 808 Gallery as a shared domestic space and each thesis project as a room in a house.
The "room" in the 808 Gallery occupied by Chung's thesis—in reality, a table draped in flowers—consists of plantable seed paper postcards and origami flower kits. The blooms, to Chung, symbolize a ritual she adopted while grieving a loved one.
"For me, both flowers and rituals have brought comfort and a reminder of the simplicity of life [and] I wanted to examine the idea of collecting, gifting, and eventually letting go," she explains. "The interactivity of the design was crucial to engage the audience in the meaningful act of gift-giving through custom flower arrangements."
A few yards away, Andreina De La Blanca's "room" is devoted to the practice of creative coding, a "relatively new" form of programming that prioritizes artistic expression over pure functionality.
De La Blanca's thesis exhibit consists of a monitor display featuring two interactive games of her own fabrication. De La Blanca (CFA'23), who learned the practice only recently, designed these "mini experiences" to reflect the process of going outside one's comfort zone and confronting uncertainty. Viewers are instructed to step in front of a webcam and interact with the screen, then watch themselves move about on the monitor and respond to prompts designed to confuse and challenge.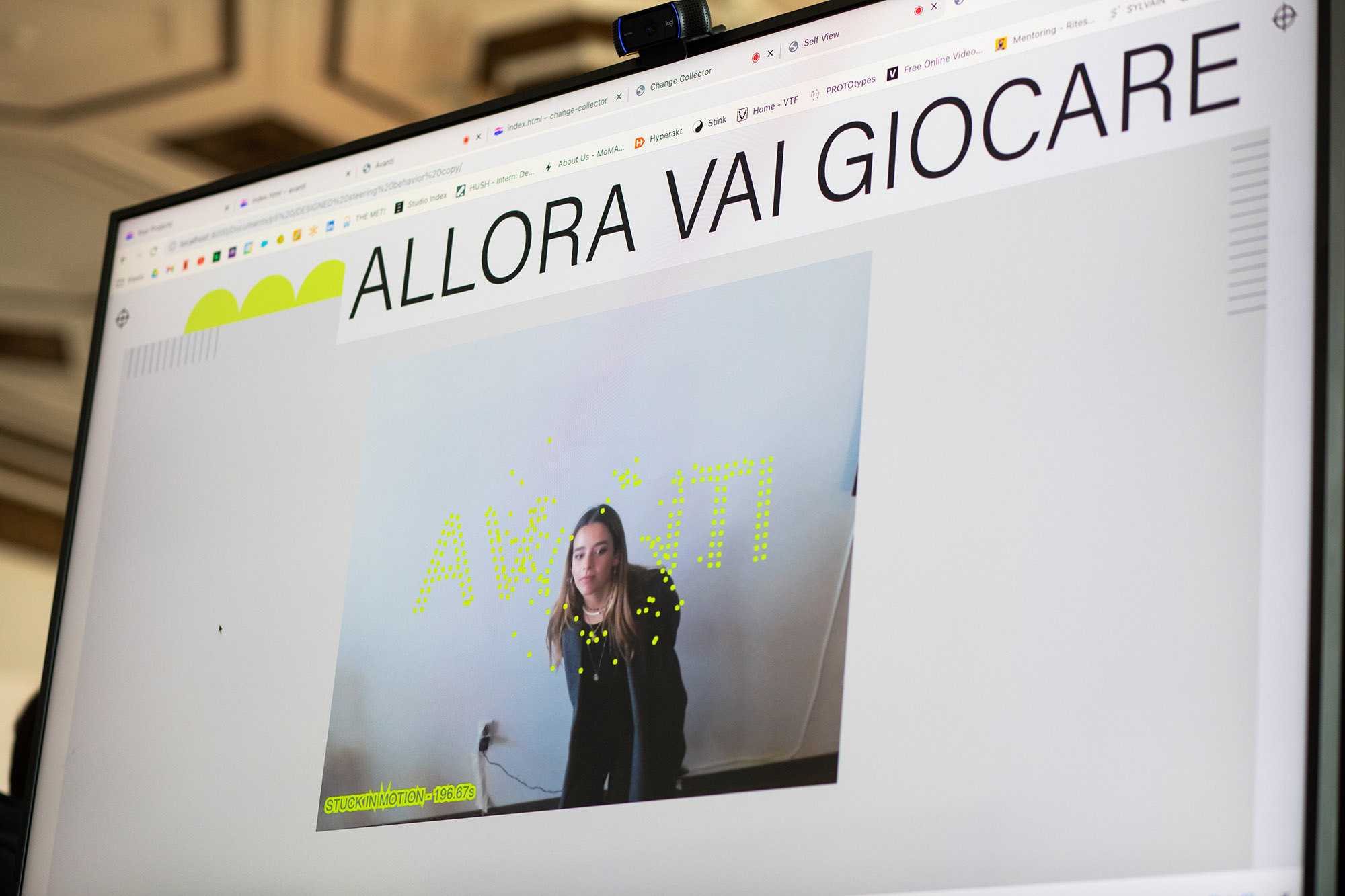 "In its nature, creative coding can be all about happy accidents and newness," she says.
De La Blanca says that her fascination with the risk and reward of the unknown stems from her experience of immigrating multiple times—first from Venezuela to Madrid, then to Rome, Miami, and finally Boston.
"By the end [of each mini experience], I aim to get my point across on change being an enjoyable aspect of life," she says, "even if at first it's something intimidating or unknown."
Undergraduate students at SVA start their careers in a foundations curriculum that emphasizes the basics—primarily drawing, but augmented by painting, sculpture, and art history—before majors are declared in the second year. From there, graphic design students are encouraged to experiment with tools and techniques, according to Rock, which accounts for the immense variety in the annual thesis exhibitions.
"We would consider ourselves a media-agnostic graphic design program in that we see tools as tools and encourage students to move in and around them and to constantly leverage their curiosity," Rock says. "I think seeing the students fully realize their own sense of authorship and control of their craft is amazing."
August Ramos' thesis project might be one of the best examples of experimental, genre-bending graphic design on view this year. The works she created for her thesis served as branding elements, advertisements, merchandise, and supplemental materials for a community fashion runway show titled "HAND-ME-DOWN." Her "room" at 808 features elements from the show hanging from clothes hangers as a nod to the secondhand fashions sported by volunteer models at her event. For those who might not see the connection between thrifted fashion and graphic design, Ramos' advice is to look past the superficial.
"My favorite part of graphic design is when it's activated by people, so I knew I wanted to use graphic design as a means of bringing a community together," she says. "While HAND-ME-DOWN as a project and event lives separately from the exhibition, I see the exhibition as another opportunity to display the project's message of collaboration."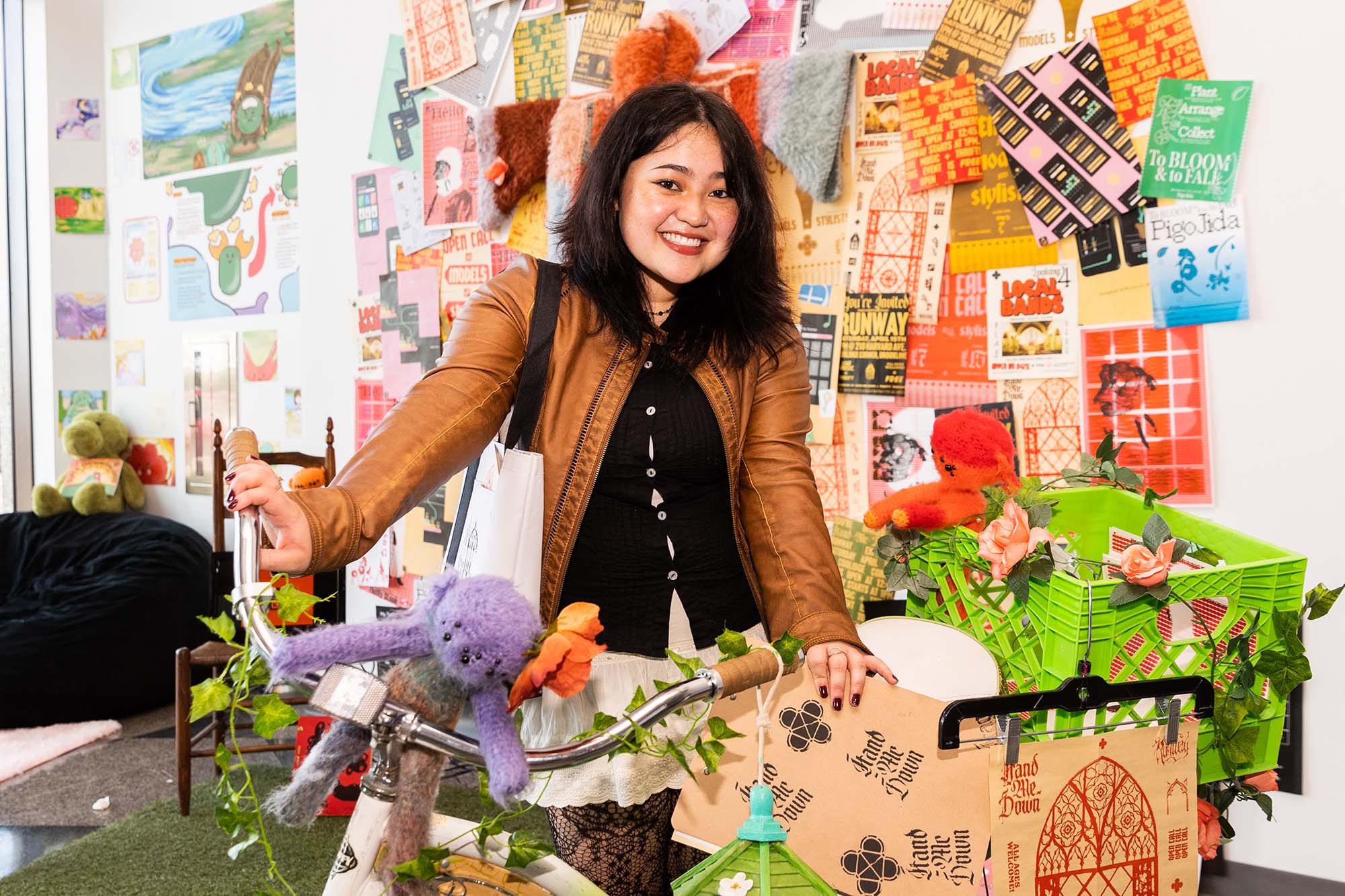 Ramos (CFA'23) partnered with Thrifty Threads, located within United Parish church in Brookline, which provided the clothes for her models (many of whom were BU students). She also partnered with BU's sustainable fashion magazine, Fabrio, which helped with publicity (Fabrio founder/president Eric Tran (CAS'25, CFA'25) also choreographed the show); and a corps of around 70 volunteer models, stylists, and event staff. Ramos says an estimated 400 people attended the day-long event. 
"Being a student at CFA and living in Brookline, I've met so many other creatives that I've wanted to work with," Ramos says. "HAND-ME-DOWN became the perfect project to invite other creatives in and collaborate, but also give them the creative freedom to make this project their own and bring their own individual talents."
Furthering the idea of community is Perry Sosi (CFA'23), whose thesis project , Pferda People, included a 292-person survey that he administered to BU students over Facebook and Instagram. ("It was a very tedious process," he admits.) He collated the results into a bound, 770-plus page "catalog of concerns." By asking each student about the worldwide, local, and campus issues they care about, he says, he was ultimately creating a community artifact which commemorates a moment in time.
"I think these pieces encapsulate my work by incorporating aspects of community, collaboration, service, research, and storytelling," Sosi says. "I've really enjoyed including my peers in this process and learning about what they are concerned about."
Each entry in Sosi's book of global "macro concerns"—and his smaller accompanying book of university-related "micro concerns"-—is accompanied by contextual research that he amassed, using bold type and imagery. Sosi also created t-shirt graphics with information about some of the concerns—such as climate change, homelessness, and the opioid crisis—illustrated with his own graphics. He says the project reinforced a conviction that design is not a self-serving enterprise, but rather an invaluable community tool.
"Right now I'm designing for the BU community, but for my next project, I can be designing for a different group of people," he says. "The underlying constant is choosing to be empathetic to the concerns of others."

The BFA Graphic Design Thesis Exhibition is on view at the 808 Gallery, 808 Commonwealth Ave., through Friday, May 19. The BFA Painting, Sculpture, and Printmaking Thesis Exhibition is at the Faye G., Jo, and James Stone Gallery, 855 Commonwealth Ave., also through May 19. Hours: Tuesday to Saturday, 11 am to 5 pm. The exhibitions are free and open to the public.