The Joys and Challenges of Being a Student-Athlete at BU
COM student's photo essay offers a revealing look into three Terriers' stories
Photoblog
The Joys and Challenges of Being a Student-Athlete at BU
COM student's photo essay offers a revealing look into the stories of three Terriers
When Alexandra Castro signed up for her COM Lab course this past spring, she had a chance to pursue any project she wanted. She knew right away that she wanted to produce a photo essay that would offer an intimate look at what it's like to be a varsity athlete at BU.

As a member of the women's rowing team, Castro (CAS'23, COM'23) knew firsthand the challenges of balancing studies with the rigorous training and competition schedule demanded of a varsity athlete. She spent the semester interviewing three Terriers: Kat Robbins (CAS'23), a member of the women's rowing team; Francesco Montali (COM'23), a member of the men's soccer team; and Ellen Monahan (Questrom'24), a member of the women's lacrosse team. Castro collaborated with Sophia McCarty (COM'25) on the photography.

In this photo essay, the three athletes offer an intimate glimpse into the hard work and challenges (both physical and mental), as well as the satisfaction, of competing and training. They talk about what motivates them and offer a revealing look into their sometimes complicated relationship with their sport. Take a look at their inspiring stories.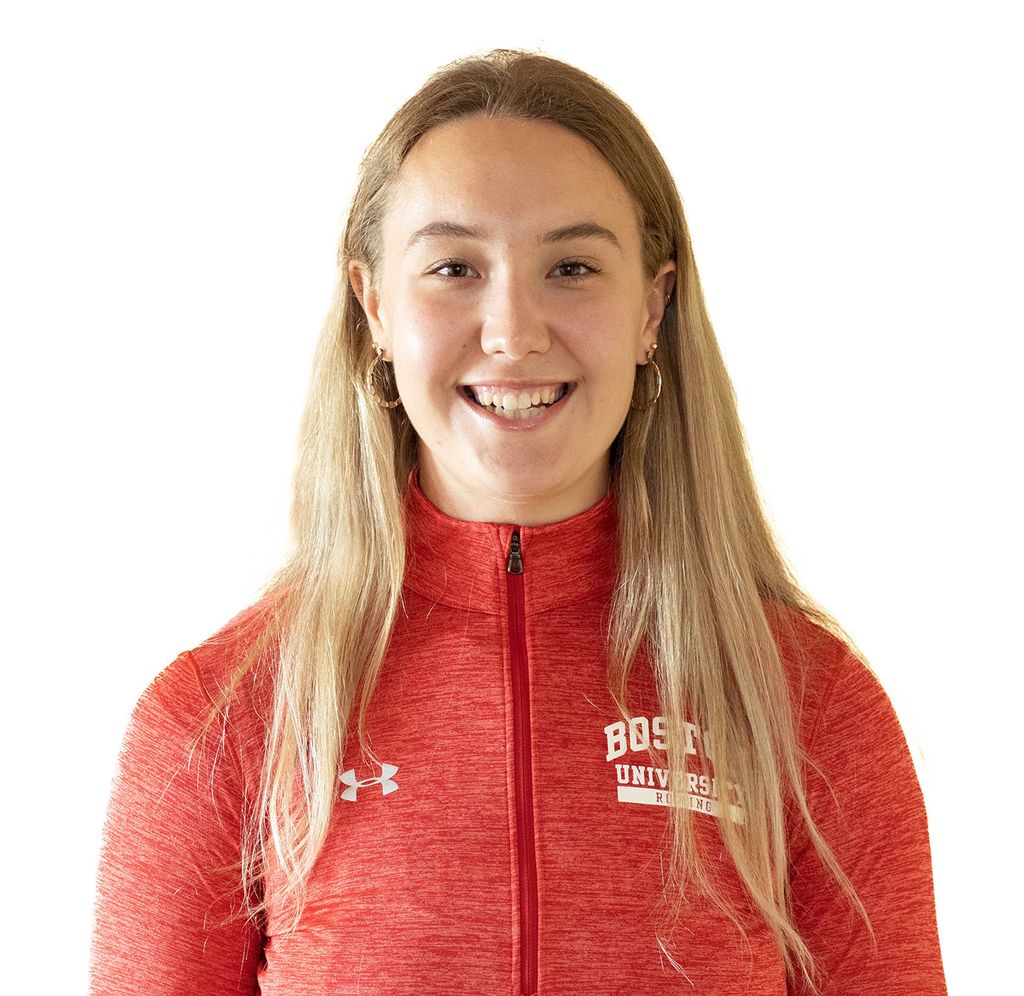 Kat Robbins
WOMEN'S ROWING, SENIOR
BIOLOGY & ENVIRONMENTAL SCIENCE
HOMETOWN: BRACKNELL, U.K.
I started rowing when I was 12 years old at a summer camp with three friends at Eton Excelsior, a rowing club about an hour outside of London. I had some fun, learned the basics, and by the end of the week, I got invited to join the team. Rowing is a space where I can let loose and forget about anything that's going on outside of it. It is basically training to perfect this one movement over and over again. Alongside that, you're working with a team of people to grow and race well together. It doesn't work just to throw nine people into a boat, push off the dock, and go race. You all have to put in the training and work together to maximize speed. It's like a journey of learning how to trust and follow each other, and it takes time to create this stronger bond with the people in your boat. But when that clicks, it's really cool. You have this trust [in the coxswain] to steer you straight, and you also have trust in the other seven rowers who are rowing with you, and you never doubt them.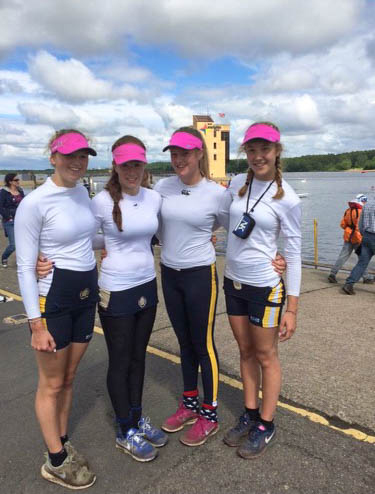 For me, what makes rowing is the people. When you are training on land, it's just you. But once you're in a boat with other people you are rowing for yourself and those eight other people, and that is really, really motivating. You experience things that you wouldn't do in other sports, and it's pretty magical.
After COVID, my sophomore year was tough as I returned to a team that was different from the school I transferred from. Once I realized that I wasn't happy, things got tougher with a coach, some teammates, and my living situation. This made turning up for training hard, and I lost the love I had for rowing. I wasn't experiencing the magic and was unhappy with what I was doing. Frankly, I hated it. When I realized the situation wasn't right for me, I reached a turning point and decided to step away from the team to give myself space to heal. I returned home and changed schools.
While in the transfer portal, BU was one of the first schools to contact me, because I had spoken to coach Matt Hanig in high school. It was comforting to talk to someone who already knew a bit about me, and I wasn't afraid. Additionally, I had previous experience racing at the Head of the Charles my freshman year, so I had been to Boston and felt that it was similar to my hometown. It just felt right, and I fell in love with Boston.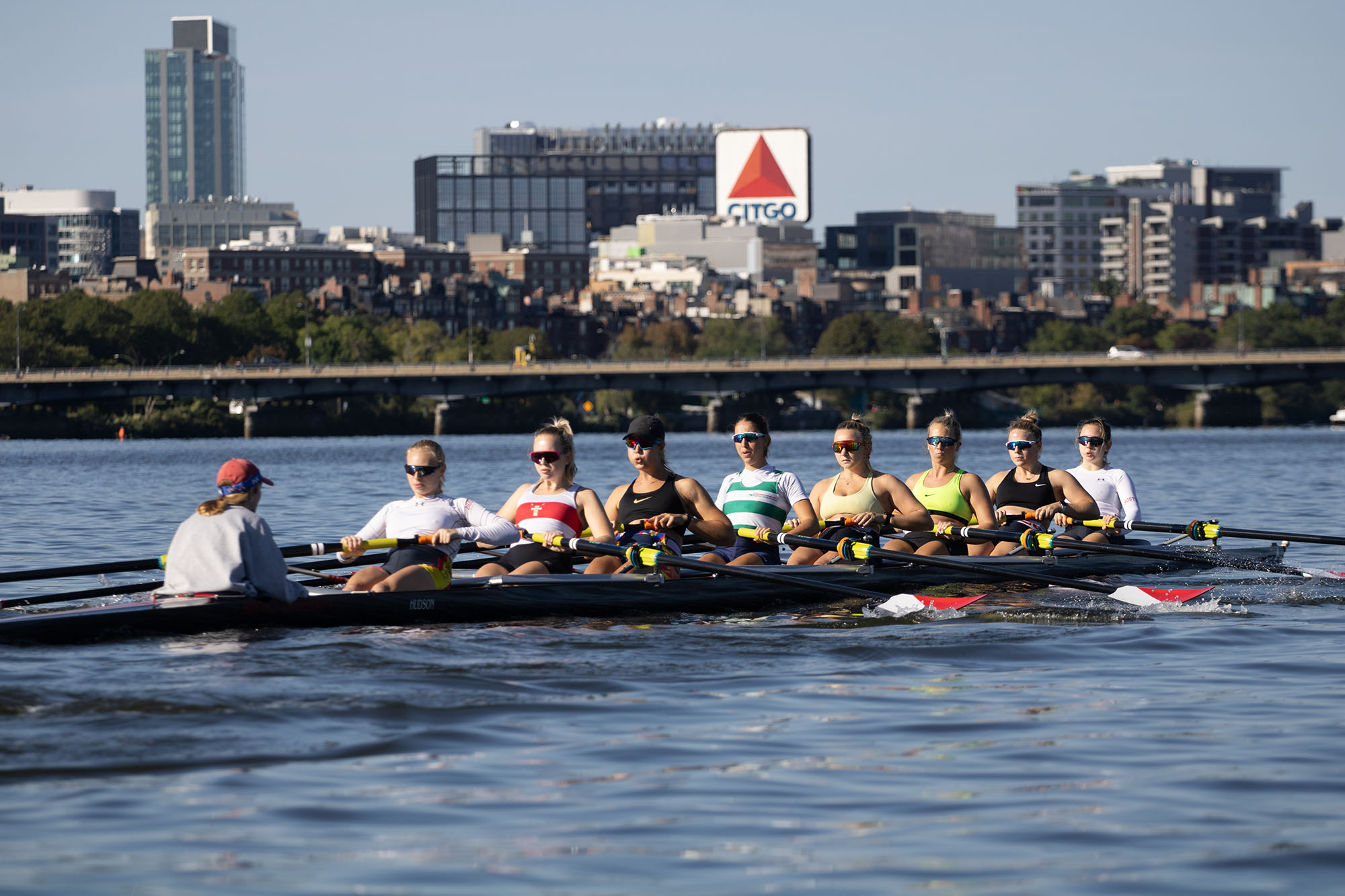 My weekly routine is definitely crazy. We practice every morning at 6:15 to 9:30 am from Monday to Saturday, and we have Wednesday afternoons off. We lift on Tuesdays and Thursdays, and on Mondays and Fridays, we do an OYO (training on your own). On Saturdays, we only train once for a longer session in the morning.
As a student-athlete at BU, it's great to wear the red backpack and meet other athletes in class. We have a common ground, which is nice. It keeps me engaged, gives me a routine, and helps me know what I'm doing every hour of the day. It keeps me focused and motivated, especially since our team is pretty academic, and we're all striving towards our career goals. Having a team of highly motivated girls is powerful. We push each other to do our best and compete to be on top of our work.
The most challenging aspect of being a student-athlete is sacrificing social time and saying no to late plans in order to get adequate rest for practice. Although I feel like I miss out on some things, the rewards make it worthwhile. It can be hard to strike a balance between academics and athletics and to hold oneself accountable when training 20 hours a week. When you do the math, free time is scarce.
Maintaining balance between being a student and an athlete is crucial. Setting aside time in my schedule for social activities, such as meeting someone for coffee, helps me break away from solely focusing on athletics. I even schedule my naps! It's also important to recognize when I need to prioritize my studies, because, ultimately, academics are the top priority.
There are moments when I feel drained, such as on Wednesdays when I'm already exhausted from two full days of double training sessions, and then I realize I have a midterm on Friday. Keeping myself motivated and engaged during these times is tough. Knowing that some of my friends who are not athletes can study until 2 am while I need to go to bed by 10 pm is difficult, and I must make sacrifices to fit in extra study time.
My relationship with rowing is definitely very complicated. When I started rowing, it wasn't too serious, but it took a turn when I represented Great Britain in 2016. I became more competitive and decided to make it my priority by putting more effort into it. Now, in college, my relationship with rowing changes every day. It's a love-hate relationship, but I definitely love it more than I hate it.

I believe the most challenging aspect of rowing is how difficult it is and the potential impact it can have on your mental well-being if you're not performing well. Waking up early and putting in all that training, and when it doesn't work, it can be quite disheartening. Another significant challenge is the risk of injury. Your body may fail you at times when you're not prepared, and dealing with these challenges can be incredibly tough.
I have always struggled with lower back pain, and I knew that I had a difference in the shape of my hips. Recently, I experienced hip pain, and after undergoing some imaging, I was told that I have two tears in the labrum of my hip—the cartilage between the hip joint. It was tough news to hear as it doesn't heal on its own, and surgery is required. Currently, I am figuring out whether or not I want to undergo the surgery.
In the past, I had rib cartilage inflammation and a shoulder injury that were treated with rest, and I was able to return to my usual routine in a short time. However, this is an overuse injury caused by repetitive motion from competitive rowing for six years. It's possible that I had the tear for some time, and it's now worsening, or it could be relatively new. As a competitive rower, my priority is to continue rowing and complete my last two seasons at BU. So, I need to listen to my body and figure out what my next steps are.
Mentally, the most painful aspect of rowing is definitely failing to achieve your goals. Rowing can be a game of numbers, particularly during winter training when you're indoors, facing a screen with numbers constantly. You become a number yourself, and it can be challenging when you're not meeting your own or others' expectations. Personally, meeting others' expectations is harder for me than meeting my own, and feeling like you're letting people down hurts more.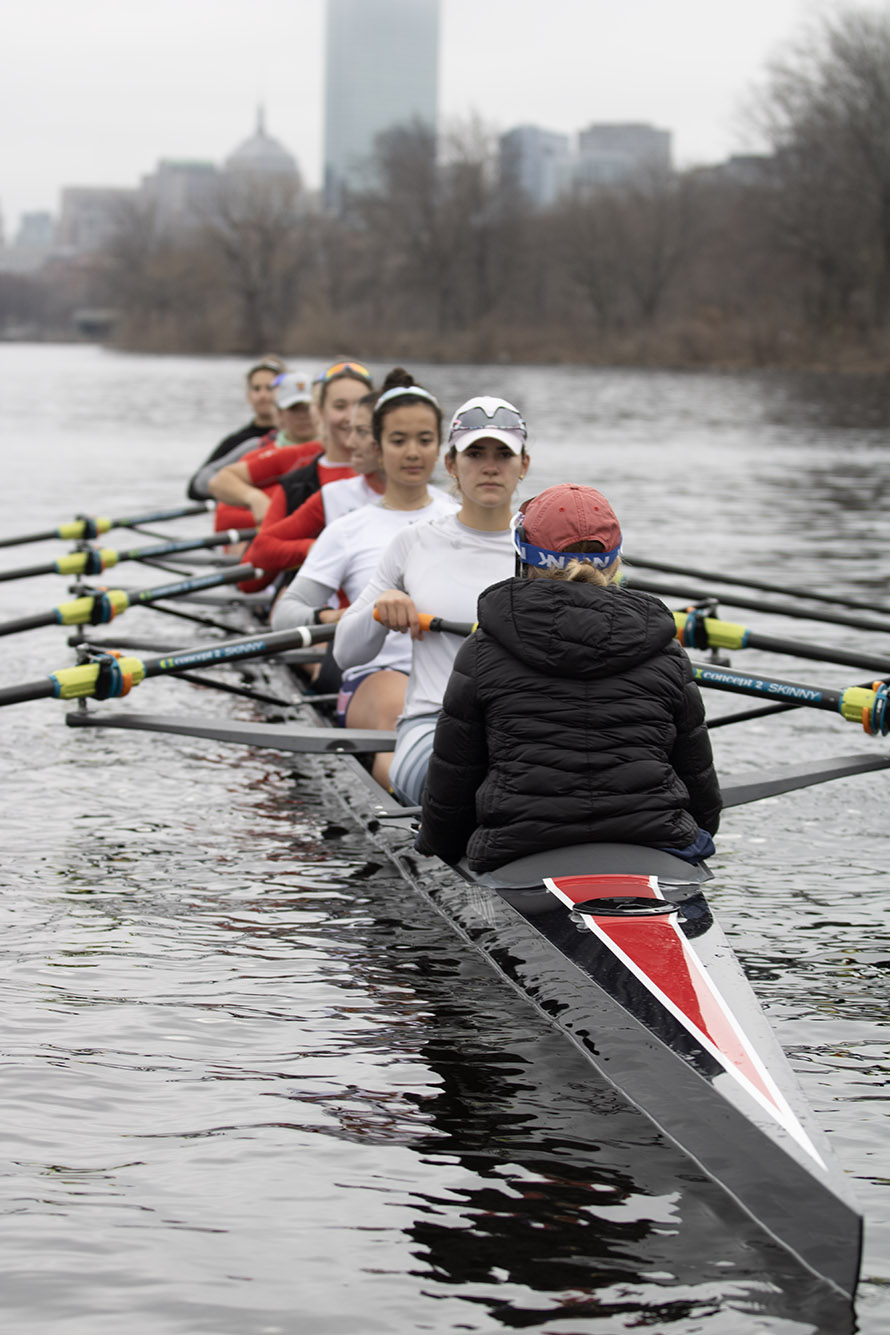 What brings me the most joy in rowing is success, especially when it comes unexpectedly after putting in loads of effort. Looking back, I reflect on how much I've changed since I started rowing at 12 years old and where I've come. Remembering the victories and how good it feels to achieve them keeps me motivated when I cross that finish line. It's knowing that I've given everything I can in that race and that I've done my best.
Being out here, I obviously do it for myself, but I also do it for my mom. She's the one who drove me to practice when I was a kid and put in loads of effort for me to be where I am now. She's witnessed my highs and lows in rowing, and especially when I've gone through difficulties, she's always been there. After 10 years, I think she finally understands rowing, and it's good to know that she understands what I'm going through, and she always knows what to say to make me feel better.
Honestly, I find joy in waking up and training with BU and all the friends I've met on this team. I have had many moments that made me happy, but winning the Patriot League Championship last year was especially meaningful. It was my first year at BU, and I had just transferred from a pretty dark place at the beginning of that year. Breaking the losing streak was amazing, and being able to stroke the boat and work with a team that I had been training with for that whole year to victory was really special. Representing BU at NCCAs for the first time was also a cool experience.
Being the stroke of the boat means that you sit in the stern (back of the boat) and are mainly responsible for creating the rhythm and stroke for the team to follow. You have to be brave and gritty and never let things that happen in the race put you off. I enjoy stroking because it allows me to be in control of things that I can't always control in life. There are definitely highs and lows, and sometimes I feel like there's a lot of responsibility on my back, but overall I love it.
I think the mental and physical hardships of my sport are 100 percent transferable to my daily life. Spending a lot of time with my team has made me work well with people, and it has motivated me in life and my career. It has also taught me the importance of perseverance through hardships. The ups and downs of rowing make me passionate about the sport. For me, it's the journey that it has taken me on. I sort of eat, sleep, and breathe rowing.
Being part of the rowing team has shaped who I am. Rowing has changed my life in many ways, but the most significant part is the people that I've met. The bonds that you make with people through rowing are strong and long-lasting. Spending 20 hours a week with teammates makes it a huge part of your identity. Rowing was also a significant factor in my decision to come to BU, but I am here to pursue my degree and career, and rowing has made that achievable.
In the short term, I will be doing a fifth year at BU, which is super exciting. Beyond that, I have a few options. As an international student, I have one to three years of OPT, which allows me to work as an extension of my student visa in a field related to my degree area. I plan on either staying in America and finding work or returning home and coaching at my home club where I rowed as a junior.
I'm a biology major with a minor in earth environmental science, and I plan on pursuing a career in conservation, animal science, or veterinary nursing and ecology. I enjoy working with animals and people, and I'm passionate about it.
Regarding rowing, I hope to stay active and continue rowing while my body allows it. I want to find a balance between work and rowing and stay part of a rowing club for at least a couple of years.
This interview has been edited for brevity and clarity.
Francesco Montali
MEN'S SOCCER, SENIOR
FILM & TV
HOMETOWN: DAVIE, FLA.
Soccer has always been a part of my life, and I became a goalkeeper because of my older siblings. They needed someone to shoot at, and being the youngest, I got to play goalie. But I loved it, and I still do. My older sister also played in goal, and I wanted to follow in her footsteps.I started playing professionally for the Orlando Youth Academy in my junior year of high school. I then moved to New Jersey to play for the New York Red Bulls youth team during my senior year. I got to train with their professional team as well, which was an incredible experience. After that, I went to college at Florida International in Miami for two years before I decided to transfer.
I entered the transfer portal because I needed to leave the situation I was in. The coaching staff that recruited me left after my freshman year, and with the pandemic, I didn't feel valued by the new staff. I transferred to BU because I felt wanted here, and I received a call from a former assistant coach who had been looking for me every day. The coaching staff at BU was the right fit for me, and I knew I wanted to play for them. My mom, who came to the United States from Peru on a scholarship and has always been academically driven, was also convinced that BU was the right choice for me. Financially, it worked out, and I am grateful to be here.
I must have been around eight or nine years old when I first played as a goalie on the field. Whenever the older team needed a goalie for a tournament, I was thrown into the position. My dad and I decided to take up the challenge when we had a free weekend. Even though we lost every game, getting beat 8-0, I had so much fun. I loved the challenge of being a goalie, even when my team was losing. While I still enjoy playing out on the field, being a goalie just felt like the right fit for me.
I am good friends with one of the goalies on the women's field hockey team, and sometimes she vents to me about the specific challenges that goalies face. Being a goalie is tough, and when I tell people that I play goalie, they often comment on how much pressure it entails. However, I have never seen it that way. Being a goalie has always been something that I want to do. When our team scores a goal, I feel relieved because it takes some of the pressure off of me. However, as I've gotten older, I've realized that being a goalie is a position of great responsibility. Especially in college, being a goalie means being a leader. You see the entire field, and you have to help your defense and your team.
I also feel like being a goalie requires a certain presence. As I've grown as a person and as a player, that has become more and more important to me. When you play against a team with a timid goalie, you can see the difference. You don't have to be a crazy asshole, but you can't shy away from the role either. It used to be a bit of an act for me, but now it feels more natural because of who I am as a person. It's like a different side of my personality. Off the field, I'm not screaming in people's faces or being a jerk, but on the field, I am a different person. It's not as important how other people perceive me as it is how I perceive myself. To be a goalie requires a lot of leadership, courage, and a little bit of craziness, but I love it.
Mentally, the hardest part for me is that a single mistake can lead to a goal. Unlike other positions on the field, where there's always someone behind you who can make up for a mistake, as a goalkeeper, a missed pass or mistake could result in conceding a goal. Physically, aspiring to be a professional soccer player is the biggest challenge for me. Playing professionally after school has always been my dream, and I'm constantly striving to reach that level. The ball moves faster, players shoot harder, and there are crosses in the air with multiple players around you. As a goalkeeper, you're the only player who can use your hands, but you need to be strong enough to fight through people and make an impact on the play.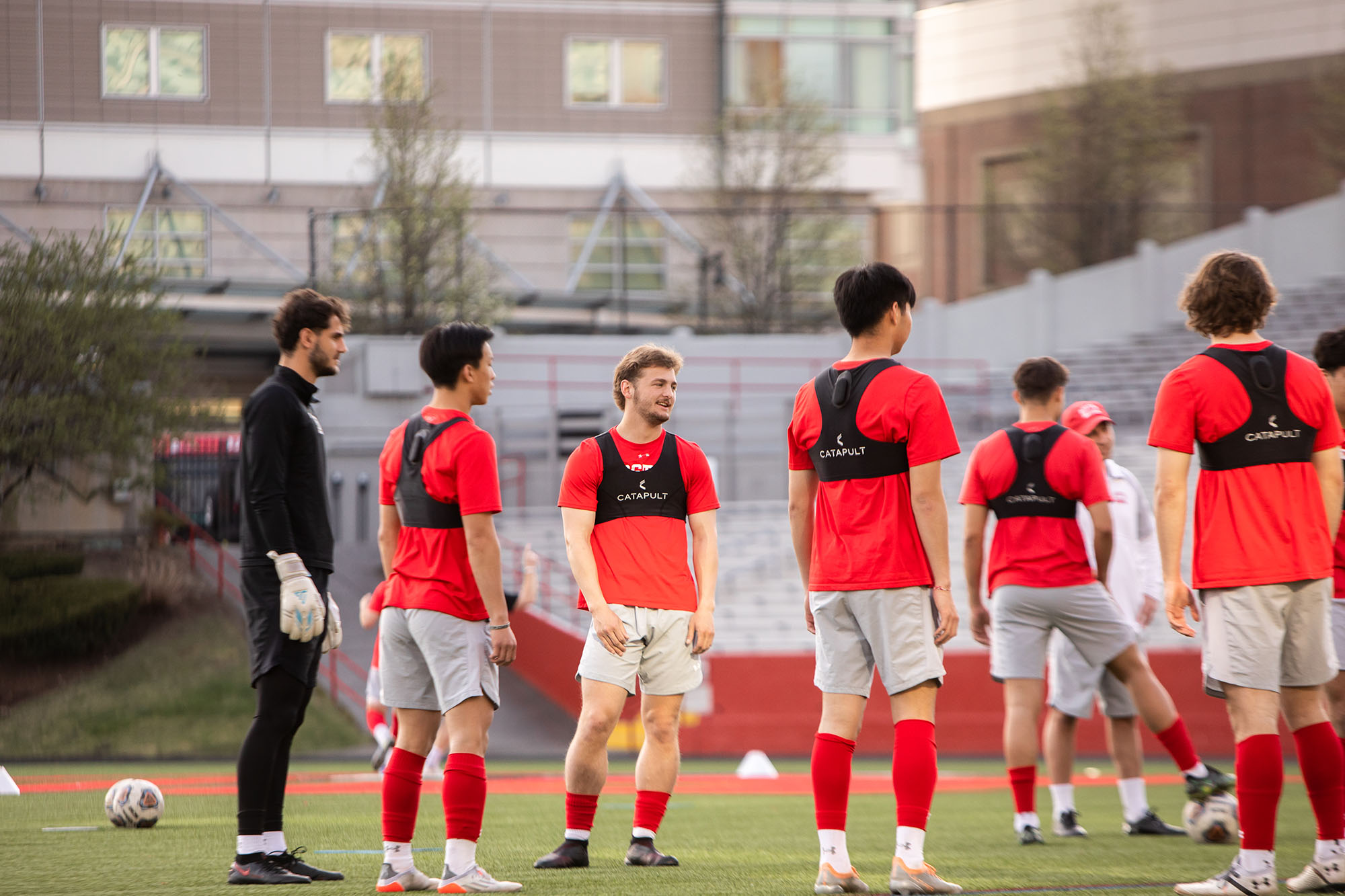 While physical challenges are a part of any sport, I think more about the mental aspect of it. It can be difficult to separate my self-worth from my performance as an athlete. As an athlete, I want to be successful in everything I do, but I've learned that it's important to have patience and not let a bad day affect the next day. Tomorrow is a fresh start, and dwelling on a bad training session won't do any good. Separating myself from my performance has been a journey, but it's something I've worked hard on.
I'm grateful for my teammates, the experiences I've had, and the people I've met through soccer. I've been able to travel around the world and play in Peru, Argentina, Spain, and across the United States. Soccer is a universal sport that brings people together, and I've made some of my closest friends through it. There's a unique bond that develops when you work hard with people you genuinely care about, and I hope to maintain those relationships for years to come.
Being a goalie is a unique perspective, and honestly, it's tough. Sometimes I don't see everything, especially in the attacking third at halftime or something. I'll be asking guys, "What happened?" It's just kind of far. Defensively, which is more important to me, it's amazing because I get to see everything. As a player, you are taught to always be looking at the ball, but as a goalie, you kind of have to look at the whole field. If everyone's looking at the ball, you have to be telling the guys on the other side of the field that they have to mark somebody or there's somebody coming across them that they can't see yet but is running into them or behind them. So it's always kind of like leadership, but also you have to be vocal and just kind of direct and help the people in front of you. Just like the defenders are helping the people in front of them—the midfielders. But I kind of get to help everyone, because I see everyone. I think it's also part of my personality to try to help the person next to me or in this case, in front of me. So it's fitting that I play goalie.
In terms of going into a game and a position, how's the adrenaline diet? Oh, it's a good time. One of the goalies and I have a joke that every game is Christmas Day. So we'll wake up and say, "It's Christmas morning" at team breakfast or whatever. There's nothing like it. I think we have 17 or 18 regular-season games, and then postseason. Even these spring games now, every time, I'm just like, "Wow, this is going to be one of my last few games representing BU and with this group of 28 guys that I love."
Once the game kicks off it's just adrenaline, and I'm trying to stay locked in. It's not hard to prepare for a game, because once I start warming up, everything else in my life kind of just flutters off. Even in the warm-up, if I'm not playing well, it doesn't matter because I know once the game starts, then I'll be ready because of the amount of work that I've put in. I feel like I used to be more nervous for games, but as I've gotten comfortable and I know I have the trust of my teammates and my coaches to be in the position that I am, I don't really get as nervous for games anymore.
My relationship with soccer is a love-hate, as most athletes would say. I've had moments where, before transferring, I was so close to being like, is it that I'm not happy here? Or is it that I don't love the sport anymore? And thank the Lord I transferred, because it's not the sport. It's tough because you love everything about it, and then you aren't performing that well, and you start to hate it. You're doing everything that you can, and it's so frustrating when things don't go your way. It's like: am I wrong for trying, my efforts just aren't enough?
I have definitely had moments where I didn't love the sport every day, but as a viewer, I love it 100 percent. I have never hated the game, but hating playing is a feeling that I used to feel guilty about because of the common idea that you have to love it every single day. But that's just not how it is for me. In life, there are some days where things don't go your way, and you have to accept it. It's hard to admit that sometimes, because you want to believe that putting your best effort in every day should always make things great. However, I believe that the more you put your best foot forward and try as hard as you can, the easier things will become. But that doesn't mean that they won't suck again sometimes.
In the spring, we spend between 8 and 20 hours with the ball and we lift three times a week. As a student-athlete, you don't have as much time, and you have to be more selective about what you choose to do. It's important to get enough sleep. Our practices usually run from 8 to 12, so we can't stay up late past 11 pm or we'll be exhausted all day.
Some people who aren't athletes might think that all we do is practice in the morning, but that's not true. Sometimes we're mentally and physically exhausted from practice, and we also have assignments and projects to complete. As you progress to higher-level classes, there are more projects that require time outside of class. For example, if you have a three-hour class after practice and then have to complete a two-hour project, it can be challenging to find time to eat and get enough sleep. However, I believe it's still possible to do what you want to do if you prioritize and balance your time effectively. It might not always be easy and you might not feel your best all the time, but that's just the reality of it.
Soccer has definitely made me a better person. Through my experiences, I've met people who have very little, but have a love for soccer that makes them happy, and I've also met people who have everything, but still value soccer above all else. I think any sport or commitment can introduce you to diverse groups of people, and you can learn how to be successful in different ways, regardless of your background or upbringing. I think it's important to realize that everyone's path to success looks different, and not everyone's dream is to go to college, get a degree, and live in a high-rise apartment.
Honestly, it's a good thing that it's not everyone's dream or else life would be pretty boring. I've learned a lot from the people I've been around and how much I can tolerate. I've had coaches who were great role models and others whom I did not see eye to eye with. Learning to work with people who have different views is valuable because life isn't perfect, and you'll encounter people with different personalities and ideas.
A sport is the best way to learn about your reactions to failure and how to be patient. When you're playing well, one mistake can change everything, and your reaction to it is up to you. I've learned a lot of life lessons from sports, and I'm grateful for the opportunity to be an athlete. However, it's important to remember that life isn't just about sports. When I was younger, I thought soccer was everything because I wanted to make it my career. I've since realized that there's more to life than soccer, and success looks different to everyone. I've changed my perspective and prioritized different things in my life, but I'm always open to learning from new experiences, people, and challenges—life is all about learning for me.
The last time I was in Peru, I was training with a team and they wanted me to move there. However, my mom was concerned about my well-being and said that she didn't want me to grow up in Peru at the age of 15. She wanted me to stay in the United States and get a college education. She told me that after I finished college, I could do whatever I wanted. Despite her advice, I had a similar opportunity the following year in Orlando, where I could train in a professional environment while attending high school. It was four and a half hours away from my hometown, so I had to decide whether to pursue my dream or stay close to my family.
I was only 16 at the time, but my parents were supportive of my decision. They asked me how they could help me and were grateful that I had a goal for my life. So, I moved out of my childhood house at 16 and lived in Orlando for a year away from my parents. They would visit me almost every weekend and were always there to support me. My family, including my siblings, have been my biggest supporters, coming to my games whenever they could. As the youngest of four, I cherish the moments when we're all together. It's tough for all of us to be in one place at one time, but it's always nice when we can make it happen.
As I look forward to my Senior Night, I'm reminded of how grateful I am for my family's support. It's going to be an emotional night for me, but I hope it's not my last moment with my sport. I hope to continue playing at a higher level after college. Nonetheless, it's going to be a special moment for me, and I hope my whole family can be there to share it with me.
The goal is to be drafted and play in the MLS. The MLS is the major soccer league in the United States, which holds a draft in December of every year. My intention is to play this final year and then enter the draft in December. I have trained with a few teams across the United States, and I was in Philadelphia for my spring break. I also went to Cincinnati in December. It's basically like networking. I meet coaches, train with teams, and try to see where I fit best. I will put my name in the draft, and hopefully, it gets called. Then I'll live wherever that takes me.
In terms of my career, I don't know. That's a much harder question. I was in psychology at my old school, and then I transferred to communications. When I came here, they said there's a school of communication, but I had to pick one of the routes, so I picked film and TV. I love films, and besides reading, film is probably my outlet. I have really enjoyed learning how to make films and what makes films great. Yesterday, I had a small class of about 10 or 12 people and we watched these low-budget professionally made films. They have a small cast, and you can't tell what's going to happen. We just came in and spoke about what we thought the film meant. Hearing everyone in the class's ideas about how they perceived things, it just changes everything. There's no right or wrong interpretation, and that's the beauty of great art, not just films, but also music, how you interpret something. I think that what you bring into art is what you see.
So, in terms of my career aspirations, I am not entirely sure. I do know that I want to pursue soccer and see where that takes me, as there is a large alumni network available to me. Within the film and TV industry, I have taken a screenwriting class and enjoyed writing, but I am also open to getting involved in production and starting with smaller roles to see where my interests lie. I have also taken introductory courses in directing, writing, and production to explore my options. While I have enjoyed most of the classes, nothing has stood out as a clear path for me. However, there is one class that has really resonated with me. It's not about learning specific skills, but rather about the emotional connection to film. If I were to make a film, I would want it to be something like what we've discussed in that class.
This interview has been edited for brevity and clarity.
Ellen Monahan
WOMEN'S LACROSSE, JUNIOR
MANAGEMENT & FINANCE
HOMETOWN: COLUMBUS, OHIO
I began playing lacrosse in first grade, starting with camps and eventually joining a club team in fourth grade. Both of my brothers played, and we were living in Virginia at the time, where the sport was popular. I played throughout high school and continue to play now. I currently play defense, but I have experience playing every position, even goalie.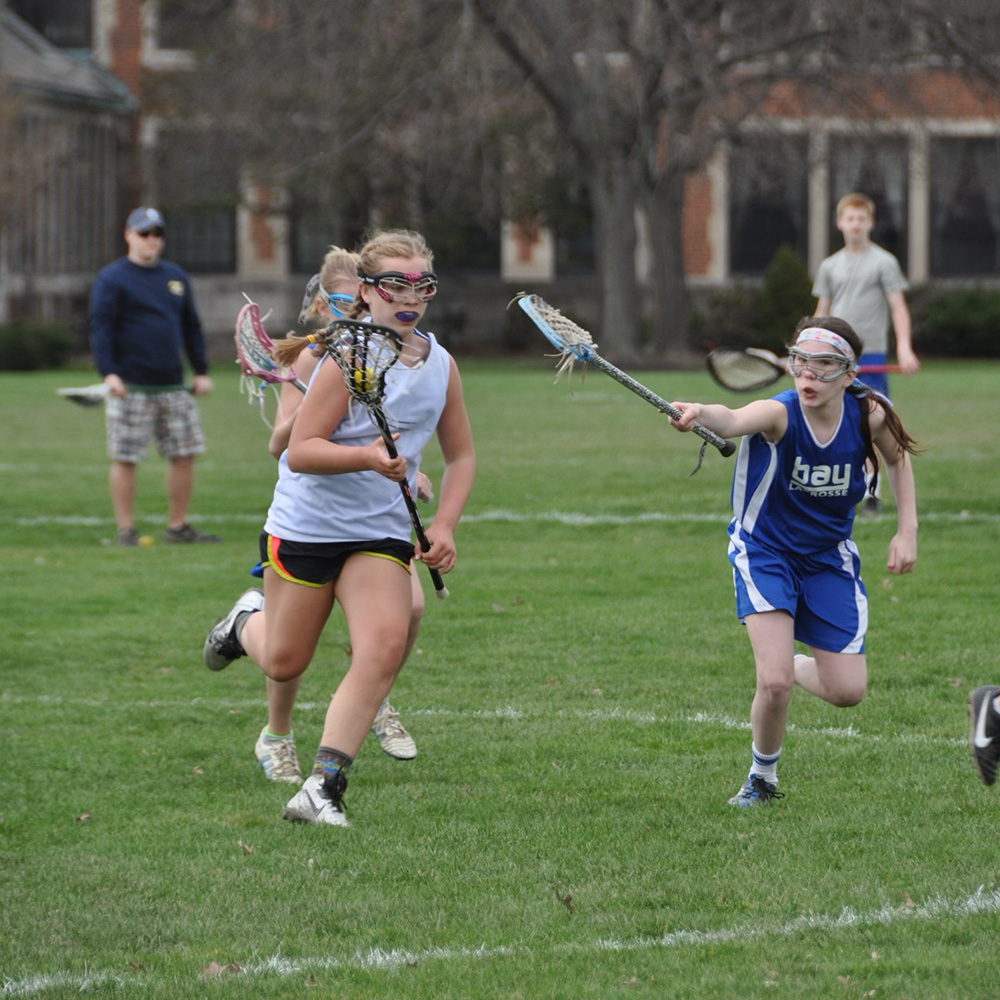 Lacrosse is similar to basketball in that there are set positions and plays, but it allows for creativity within those parameters. I love the fast-paced nature of the sport and the challenge of understanding the mind of an attacker while playing defense. Being versatile in all positions has helped me better anticipate and respond to my opponents.
I am originally from Ohio but moved to Connecticut after high school. I chose Boston University because I fell in love with the city and the environment it provides for personal growth and meeting people from diverse backgrounds. The lacrosse program also attracted me because of the coaches' emphasis on hard work and grit rather than being a perfect player. That mentality aligns with my playing style, and it's been a great fit for me.
I think my earliest memories of playing are definitely from those early camps, where I wanted to master new stick tricks. I looked up to the older players so much and was in awe of their stick skills and speed of play. It's amazing to reflect back on how I've grown as a player and now incorporate those skills myself. Lacrosse is such a multifaceted sport, with a vast array of skills and tricks to master. Catching and throwing may have been difficult at first, but it's now second nature.
The most challenging aspect of playing is probably playing a long defensive set. If the opposing team regains possession, and there's a shot clock reset to a new 60 seconds, it can lead to playing defensively for several minutes, which is quite taxing. It's essential to communicate with teammates, slide quickly, and manage one's legs, which can be exhausting. Long conditioning sets during practice can also be challenging to endure.
For me, the most difficult part of the game is mentally recovering from mistakes. As a junior and captain, I have higher expectations and standards for myself. If I make a mistake, it's hard to shake it off quickly, but it's crucial to stay consistent and not dwell on the mistake. It's a constant challenge, but the more I practice and focus on responding to mistakes, the better I become. Mistakes are inevitable, but it's more about how one responds to them that counts. Making a poor pass, leading to a goal scored against you, can be a game-changer, so learning to recover from mistakes is crucial.
I have gone through numerous ups and downs while playing the sport. When I entered my freshman year of high school, it was a make-or-break moment for me, as I had to decide whether I wanted to continue playing in college. However, I realized that if I didn't take a chance on myself and at least try, I would regret it for the rest of my life. It just so happened that things worked out for me, and I consider myself lucky, especially since I came from Ohio, where not many people were interested in lacrosse, making it difficult to get recruited from that area. Therefore, this was a challenging and low point for me, as I tried to find motivation. Nevertheless, throughout high school, I regained my passion for the sport.
I've also gone through a lot of ups and downs here, especially concerning my coach. Responding to mistakes and not being able to control whether my coach takes me out of the game or not has been a significant challenge. As a freshman, I became a starter halfway through the season, which continued into last year, but I had ups and downs, being on and off the field. This responsibility was mentally taxing, and I struggled with how to remain a valuable member of the team, regardless of my playing time. Our team had a terrible season, going 2 and 15, which was demoralizing for everyone. It was exhausting to come to practice every day, and I lost a lot of joy for the sport.
What I love the most about lacrosse is the fact that it's such a mental game. To be good at it, you have to think about a thousand different things, solve problems throughout the entire set and play. I just love that aspect of it. As someone who is a bit of a nerd for school and learning, it's really fascinating. I also love that there's always something to improve on, that you never settle, and you can always get better. It's taught me so much about myself, how to handle adversity, be resilient, and rely on my own abilities instead of outside motivation.
What hurts the most is definitely how hard it gets during off-seasons or times when we're not training for a competition, as it's easy to lose sight of everything. Even if we have a Saturday game and don't play for another week, it can be difficult. Hard practices and feeling like you're losing your purpose, especially without a direct competition or game coming up, can be really tough. It can be demotivating and make you not want to do anything else, like school or talking to people. It just sucks.
I find the pressure of being a student-athlete difficult to handle. It's a challenge that not everyone is cut out for, and I believe that having supportive people around you is crucial. While my team hasn't always been there for me, I've been fortunate to have supportive parents and coaches who have helped me work through things. Additionally, relying on my past accomplishments and the work I've put in to get to this point has been helpful. Nonetheless, the pressure can be overwhelming, particularly at the collegiate level, where thousands of other girls are looking up to you. It's a lot of weight to carry.
Our team is really close. We have good communication and understand each other's needs. In past years, we struggled with people not accepting their roles, such as being a cheerleader on the sideline. However, as the season has progressed, people have embraced their roles, and it has benefited everyone. Regardless of being on the field or not, everyone has a purpose, and there is a lot of support from teammates. We make sure to have intense practices that are also fun, with a lot of cheering and communication. We can be talkative at times, but it helps us stay connected. Overall, we are a tight-knit group that supports and relies on each other.
I have morning classes every day, and then during the season, we have a practice block from 1:30 to 5 every day. In the off-season, it's only three hours, rather than three and a half. During that time, we split it up and do film, lift, and practice, and we lift three times a week. We do film pretty much every day or have some sort of team meeting. Our games are typically on Wednesdays and Saturdays if we have midweek games, or primarily just on Saturdays.
This semester, I don't have any night classes or anything, but sometimes that's a factor for a lot of my teammates, as they may miss most of their Wednesday night classes during the spring. So, we practice from 1:30 to 5 every day, right in the middle of the day.
My relationship with lacrosse has developed into a healthy one. I used to have an unhealthy attachment to it, where I placed too much of my energy and identity in it. However, now it has become only a small part of who I am, and more of something that I have learned from rather than something that defines me. I don't introduce myself as "Ellen, the lacrosse player" anymore, and I think it's a positive change. Although it has taught me a lot, I have come to understand that it's not everything. I still love it more than anything, and finding joy in it is the most important thing for me now. I try to remind myself every day that it's just a small yellow ball, and not to take it too seriously. It's great, but not that big of a deal.
It has changed my life in many ways. I believe it has impacted my confidence and how I present myself. Moreover, it has also altered how I perceive my strengths and weaknesses. As a player, I have become the most vocal and communicative member of the defensive unit, and I have learned to embrace that aspect of myself. This characteristic has transcended the field and has helped me become the first person to initiate conversations in various settings. I have learned a lot about myself in these ways. Additionally, receiving feedback from coaches has also influenced how I view myself, both positively and negatively. It is essential to consider both and let some feedback slide while taking the rest to heart. Overall, I think lacrosse has solidified my identity, values, and self-worth in many ways.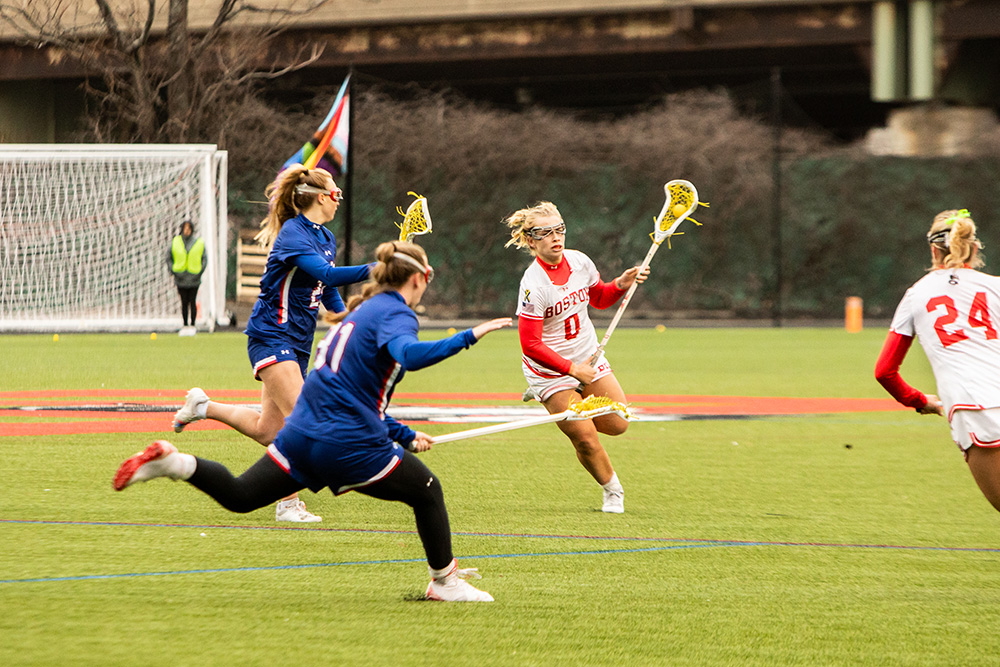 In terms of my career, I have an upcoming consulting internship this summer and I anticipate starting my career in consulting. However, I don't want to limit myself to one industry for my entire career. I am still exploring my options and figuring out what I want to do in the future. I am open to opportunities in the business world and I aspire to have a diverse career path.
In addition to consulting, I have also discovered a passion for coaching. I have been coaching for club teams for the past three years and have enjoyed helping out at camps. I hope to continue to incorporate coaching into my life, even if it's just part-time. I don't want to completely give up lacrosse, and I can see myself taking on a coaching role in the future.
This interview has been edited for brevity and clarity.
---
Behind the Scenes
Alexandra Castro (COM'23)

JOURNALIST & PHOTOGRAPHER
As a student-athlete, I have experienced the difficulties of carrying the red backpack around campus, which is why this project, Athletes of BU, is designed to give a voice to athletes and inspire others.
It first came to mind during the pandemic in 2020, and now, thanks to COM Lab, it has become a reality.
I will soon start my professional career as a content producer writer for NBC News and Telemundo in Boston.
Alexandra Castro can be reached at ale2809@bu.edu.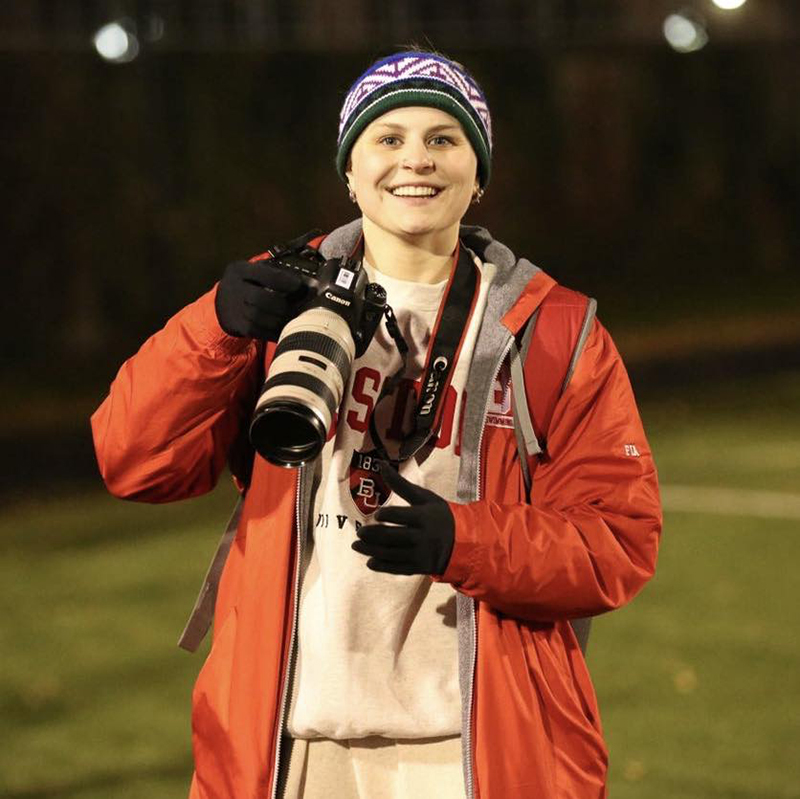 Sophia McCarty (COM'25)
PHOTOGRAPHER
I'm on the BU swimming and diving team. BU Athletics has given me an amazing opportunity to photograph all the teams at Boston University.
I began taking photos in September 2022 and plan to continue working for BU until I graduate, with the hopes of pursuing a career in sports photography.
Sophia McCarty can be reached at srm@bu.edu.