Union Drive Accelerates among University's Graduate Students Seeking Better Pay, Benefits
Advocates seek better pay and benefits, but University says a union isn't in their best interest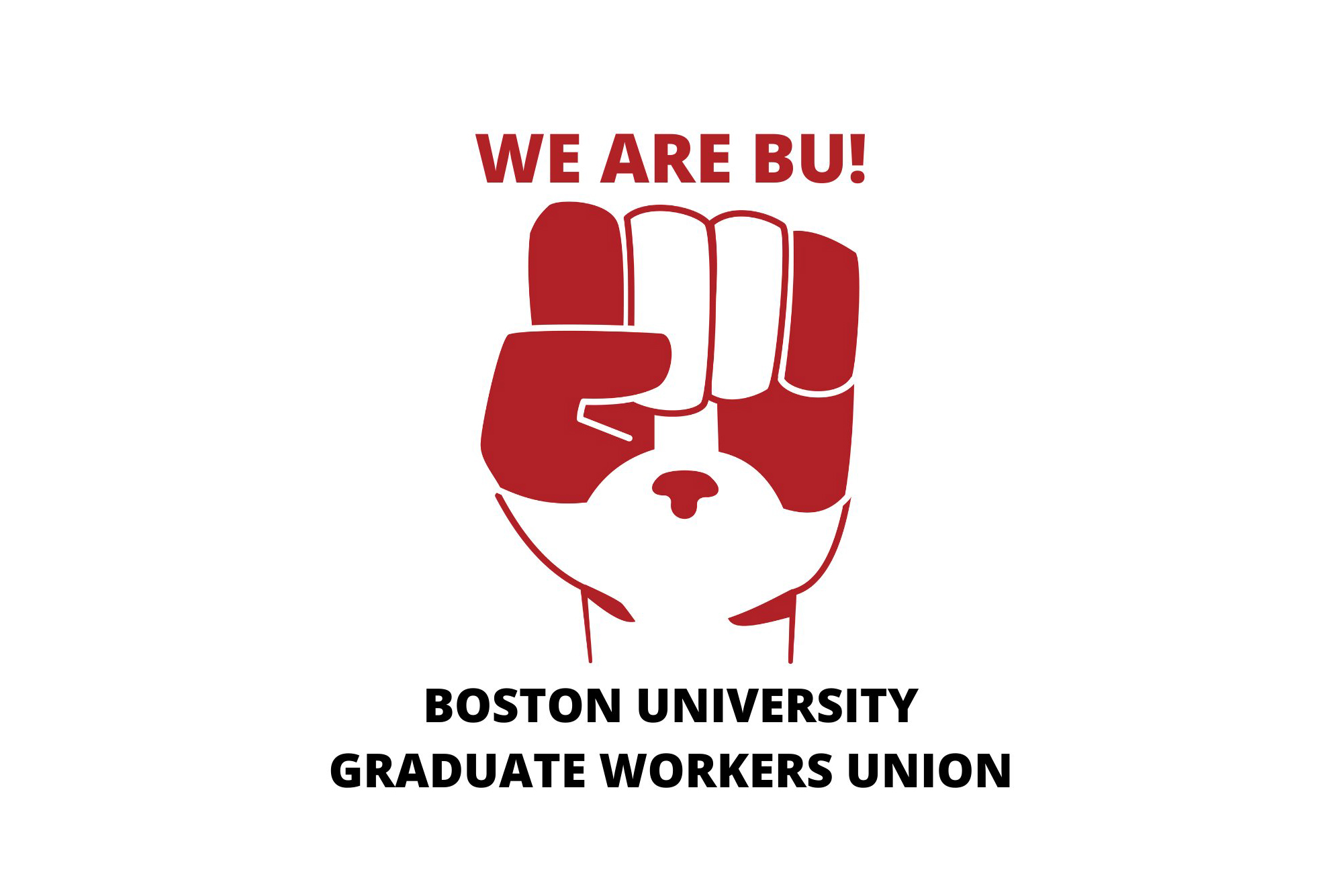 University News
Union Drive Accelerates among BU Graduate Students
Advocates seek better pay and benefits, but University says a union isn't in their best interest
Legally speaking, right now graduate students are considered "employees" by the National Labor Relations Board, which means they are allowed to form a union. But inside of an education environment, where they must spend long hours pursuing their PhD studies while earning a stipend, does forming a union make sense for them? This question is the crux of the debate that's heating up at Boston University this fall as BU graduate students, joining a nationwide movement, move toward a vote on whether they should unionize.
The efforts at BU are part of a broader trend. In Massachusetts, graduate students at Brandeis, Tufts, Harvard, and MIT are among those who have unionized in recent years, in addition to Indiana University, the University of New Mexico, and others. It's an issue with deep roots—the first teaching assistants' union formed in 1969 at the University of Wisconsin–Madison, yet today, according to the National Center for the Study of Collective Bargaining in Higher Education and the Professions, there are only 42 graduate student unions nationwide, meaning about four out of every five grad students are not unionized.
The yearslong drive at BU gained renewed steam recently, with advocates rallying at Marsh Chapel September 20. University leaders have pointed to a number of changes to BU's graduate program that they believe support students, and they say that they believe a union could be counterproductive, because the life of a graduate student immersed in research and studies should be nothing like the life of a full-time employee.
The Boston University Graduate Workers Union (BUGWU) organized the rally and is pushing for a vote on whether they should join Service Employees International Union (SEIU) Local 509. BUGWU says the union would cover 3,000 BU grad students. At least 30 percent of graduate students must sign a petition or cards in favor of a union for the National Labor Relations Board to conduct an election.
Supporters of the union drive say inadequate pay and excessive workloads for graduate students justify the move. The University argues that a union would lack the direct access to BU leadership that graduate students now have to voice their concerns and could lead to the redistribution of some funds now spent on graduate education.
"It's really too early for us to know when we'll schedule [a vote]," says Jordan Pickard (GRS'25), a PhD student in English who teaches introductory writing to undergraduates in the College of Arts & Sciences Writing Program. "There are a lot of graduate students on campus, so we have to have a lot of conversations with each other.… It's a process, and we've been working really hard at it."
BU pays doctoral students stipends to be PhD students, with teaching and research a part of their educational experience. The University set a minimum rate that all programs must at least pay, and also covers their full tuition and student service fees and provides health coverage through the Student Health Insurance Plan, although that doesn't cover dental or vision benefits, something union advocates support and say a union could help negotiate. (They can receive discounted dental care through the BU Dental Health Center on Comm Ave.)
Pickard says the University pays her a stipend of about $29,000 for 10 months' work, which, she says, isn't a living wage in greater Boston, according to a calculator developed by MIT. The calculator pegs a living wage at almost $47,000.
She supplements her stipend with working five hours a week managing social media and as an English department research assistant. "I hear from a lot of other graduate students that they do have to work multiple jobs," she says, "especially in the summer months, when many of us don't receive a paycheck for four consecutive months." She lives in the MBTA Commuter Rail's Zone 4, a distance from Boston that allows her to find a more reasonable rent.
Workloads are another concern of graduate students. University policy caps teaching duties at 20 hours a week (managing those hours is the responsibility of the departments and teaching supervisors). Pickard says she must squeeze class prep time, classroom time, grading, and office hours in that time frame, and this semester she has 18 students to manage.
"Some weeks, I might put in more like 40 hours of work. Some weeks, maybe a little less than that. But it's generally pretty difficult to actually keep it to 20 hours a week," she says. Plus, she has to work on her dissertation. "[That] can easily be a full 40 hours itself in a week," she says. "We're juggling a lot."
Katie Meyer (Wheelock'24) says that "there is not a single day or week where I have been able to just work 20 hours.… Yesterday alone, I worked 13 hours," and six-day workweeks are common. Meyer earns about $38,000 in stipends for 12 months' work as a research assistant, teaching assistant, instructor this spring, and for her doctoral research. Her spouse earns a higher salary, a "point of privilege that I recognize, but not all of my colleagues have [that]." 
"Our graduate students will need to decide if unionization is right for them," says Daniel Kleinman, BU's associate provost for graduate affairs. "I'm focused on leading efforts to make graduate education at BU more student-centered and equitable."
---

[We're] just trying to figure out how to pay our rent and how to make sure that we're able to find our next meal."

---
Kleinman, a CAS professor of sociology, says those efforts in recent years include a vacation policy and a sick leave policy for PhD students. "We recognize that our PhD students will follow multiple career paths—not merely academic career paths—and consequently, we have developed a large set of professionalization opportunities for PhD students," he says. 
Additionally, he cites a recent 4 percent increase in stipend levels for PhD students, a child-care stipend, summer internships, and more holistic admissions training. BU also removed from its application a question about applicants' criminal records.
Judi Burgess, BU's senior director of labor relations and ad interim executive director of talent management, says BU is fully committed and currently continues to work closely and directly with its graduate student organizations to advance graduate student interests without a union. She also questions whose interest is served when students are being asked to pay for something that they currently enjoy for free.
"While the University is proud of its work with its employee labor unions, graduate students are uniquely different from traditional employees," Burgess says. "It gets tough when there is the actual reality that student unionization may often hamper progress because of the very nature of elections and labor negotiations."
Bargaining for a new contract, she says, is typically a slow and arduous process under the best of circumstances. "When you are talking about thousands of graduate students with various interests, programs, and concerns, it may be years before agreement is reached, as new contracts can take anywhere from one to two years or longer, if agreement is ever even reached," Burgess says. Another factor to be considered, she adds, is that students would have to pay union dues, which are typically 2 percent of stipends or pay. (For a graduate student earning $30,000, that would be $600 a year.)
In an email to the students last month, Jean Morrison, BU provost and chief academic officer, said that a union would be a poor match for students, "whose teaching and research activities (often supported by stipends as part of funding packages) are integrally related to their scholarly and professional development and whose life and experience at the University is, and should be, very different from an employee in a typical workplace."
She went further, adding: "The organization that seeks to motivate graduate students to unionize treats 'labor' in a generic way and will not provide the same kind of relationship that you have with faculty in the academic graduate learning environment…. Furthermore, unionization at BU may necessitate changes to how the University distributes the funds that are available for graduate education in ways that could negatively impact some of our graduate student cohorts. This would be unfortunate, as we have worked hard to maximize support for our programs and have enjoyed partnering with our current graduate students toward this goal.
"I believe that you deserve more than a one-size-fits-all approach to supporting your academic experience and success.… Right now, you have your own voice and agency," Morrison wrote.
A similar union drive three years ago at the University ran aground when the National Labor Relations Board, comprising then president Donald Trump's appointees, appeared poised to thwart graduate student unionization. But a proposed rule to that effect was set aside.
SEIU 509's membership includes 20,000 Massachusetts educators and human service workers. Its parent, SEIU, has 2.1 million members nationally and is the country's largest union for healthcare and property services workers.
The conversation around unionization at BU has arisen at the same time as a new, completely separate effort, the Task Force on the Future of PhD Education at BU, was commissioned by Morrison in the spring. Its purpose is to examine what is and is not working for BU's doctoral students, from their career prospects to how their stipends are structured to how they are supervised. The task force hopes to recommend changes to the provost next spring or summer and is planning student listening sessions for PhD students.