The Weekender: December 1 to 4
Candy cane cold brew, ice-skating at Frog Pond, and a quartet of carolers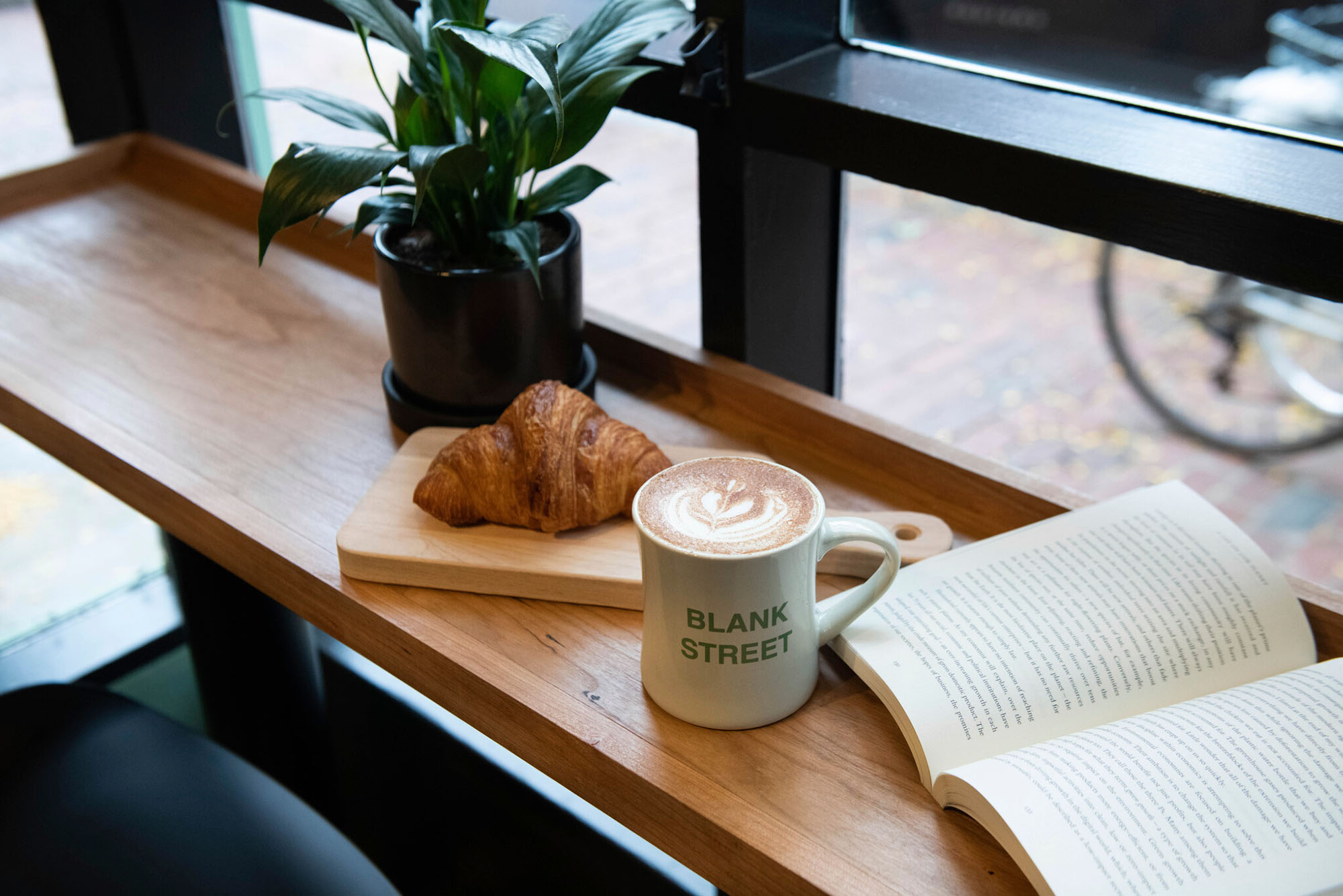 Kick off December with some holiday shopping in the South End or warm up with a seasonal drink at Blank Street Coffee. Get outside and enjoy tree lightings across the city or lace up your skates and go ice-skating on Frog Pond. And if you'd prefer to stay inside, listen to a cappella carolers while sipping hot cocoa in the Prudential Center.
Quality meets affordability at Blank Street Coffee, which recently opened its second Boston location, on Charles Street, with another planned to open on Boylston Street in mid-December. The brand takes a minimalist approach to cafés, opening small-format shops and offering a limited menu of drinks and baked goods. Blank Street currently has 50 locations—in New York City, D.C., Boston, and London, with plans to expand to 150 by the end of 2023. Savor a seasonal drink like candy cane cold brew or indulge in a signature drink like the pistachio latte or strawberries and cream latte. 
Blank Street Coffee has Boston locations, 282 Cambridge St. and 97 Charles St., both in Beacon Hill. Download the app to view hours, menu, and rewards and to order online. 
Get a head start on holiday shopping at the South End Holiday Stroll. Sponsored by the South End Business Alliance (SEBA), this annual event includes over 300 businesses and features wreath and Christmas tree sales, pop-up shops, hot chocolate and cider, special trolley tours, and a petting zoo and organ concert at the Cathedral of the Holy Cross. Come back again on Thursday, December 7, for "Holiday Sip and Shop Night" at participating retailers or stop by the SoWa Winter Festival at the SoWa Power Station.
The South End Holiday Stroll is Saturday, December 3, from 10 am to 7 pm, Sunday, December 4, from 11 am to 5 pm, and Thursday, December 7, from 4 to 8 pm.  Check here for a list of event locations. The SoWa Winter Festival is at the SoWa Power Station, 550 Harrison Ave., Boston. Check out dates and times here. 
Boston Common Tree Lighting
Celebrate the 81st annual tree lighting on the Boston Common, featuring a white spruce tree from Nova Scotia. This is the 51st year Nova Scotia has given a tree to the city of Boston as thanks for providing relief following the December 6, 1917, ship explosion in Halifax Harbour. WCVB Channel 5 coanchors Anthony Everett and Shayna Seymour will cover the festivities beginning at 7 pm, and the holiday lights will go on shortly before 8 pm, when Mayor Michelle Wu is joined onstage by Santa Claus and Rudolph the Red-Nosed Reindeer. The Commonwealth Avenue Mall lights will also be illuminated and will stay lit through April. 
The Boston Common Tree Lighting is Thursday, December 1, from 6 to 8 pm. The event will take place adjacent to the Visitor Center at 139 Tremont St., Boston.
Get in the holiday spirit with a cup of hot chocolate, courtesy of the gourmet Italian marketplace chain Eataly, and listen to an a cappella quartet of carolers in the Prudential Center. The carolers are professional singers based in either Boston or New York City and are members of the group Songful Artists. They come "with a full repertoire of winter and holiday songs, drawing from the spirit of the season." Don't miss this festive event.
Carolers & Cocoa is every Friday through December 23, from 4 to 6 pm, at the Prudential Center's Center Court, 800 Boylston St., Boston; free to the public.
The BU theater club Wandering Minds presents its second show of the semester, Rosencrantz and Guildenstern Are Dead, this weekend at Morse Auditorium. Tom Stoppard's comedy spin-off follows two minor characters from Shakespeare's Hamlet, who are confused by the tragedy's events and present their own rambling, sometimes profound perspective. This absurdist play was first staged in the United Kingdom, and has since been performed on Broadway, adapted for BBC Radio, and turned into a 1990 film. Founded in 2000, Wandering Minds is a BU student-run club designed for non–theater majors.
Rosencrantz and Guildenstern Are Dead runs December 2 to 4 at Morse Auditorium, 602 Commonwealth Ave. Performances begin at 7:30 pm and tickets are $5 for BU students, faculty, and staff; $10 general admission.
Searching for a classic winter activity? Bundle up and head to the Boston Common Frog Pond for ice-skating all season long. The rink offers lessons, skate rentals, and college nights, where college students can skate for half-price admission Tuesdays, from 6 to 9 pm. On certain college nights, admission is free to students who attend selected colleges with a valid school ID (BU's is January 10). And if you're feeling hungry, stop by the Frog Pond Café for wraps, burgers, hot dogs, and ice cream.
Check here for information on the Frog Pond hours, admission, skate rentals, and services.