BU Poet Karl Kirchwey Reflects on the Center for Computing & Data Sciences Building
"The Front Lines" considers the human and historical costs needed to excavate and construct 19 stories of glass, concrete, and steel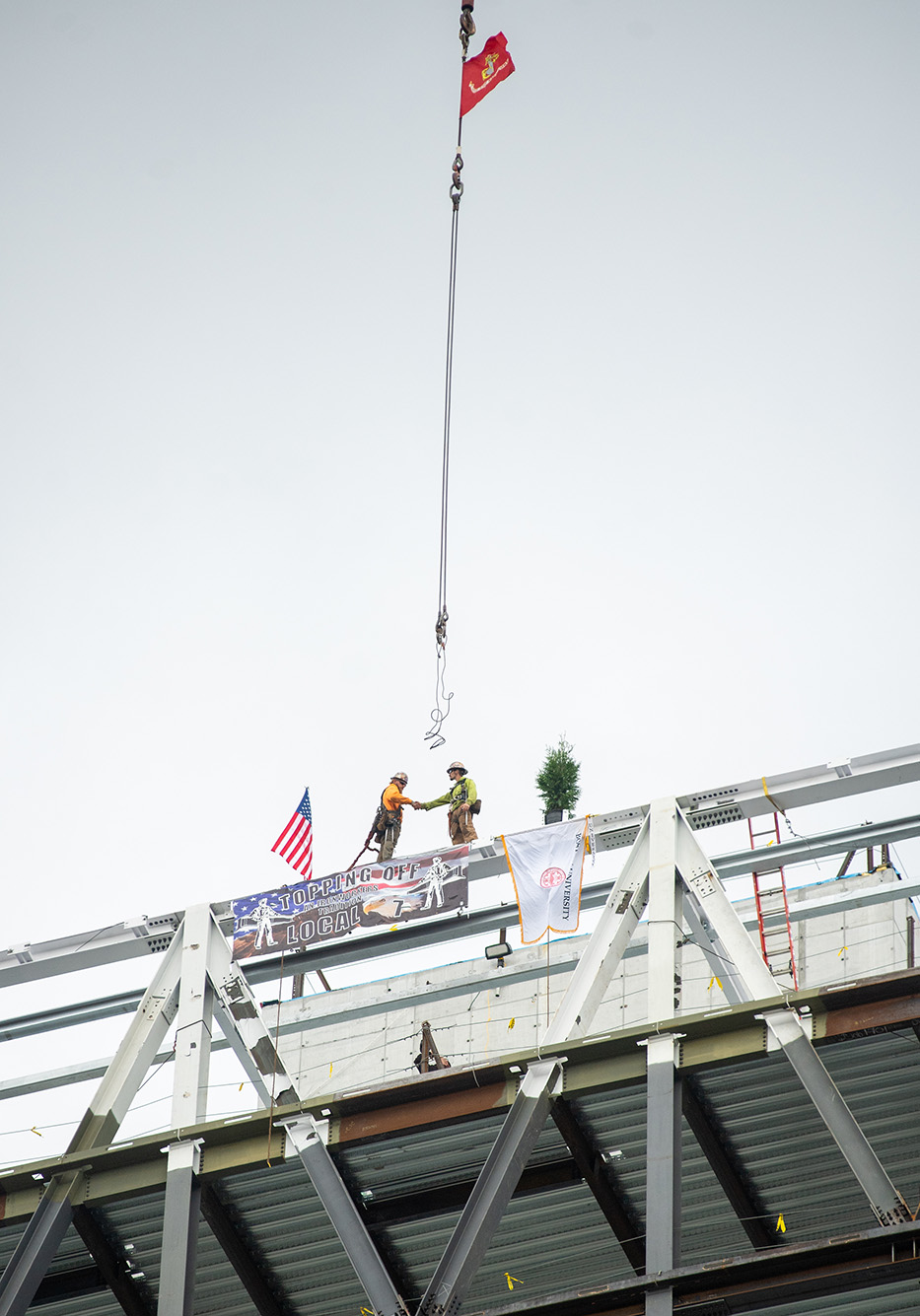 Poetry
BU Poet Karl Kirchwey Reflects on the Center for Computing & Data Sciences Building
"The Front Lines" considers the human and historic costs needed to excavate and construct 19 stories of glass, concrete, and steel
Editor's note: Karl Kirchwey, a College of Arts & Sciences professor of English and of creative writing, has published seven collections of poetry and edited several anthologies. His poem "The Front Lines" was inspired by the US Marine Corps flag that flew over the Center for Computing & Data Sciences while it was under construction and by the words of the architecture firm that designed the building: "If data sciences is the next technological revolution, the front lines can be found right here on Commonwealth Avenue."
---
The Front Lines
The new Center for Computing & Data Sciences rises to the east like alphabet blocks
—or, since he assures us he cannot imagine a future,
the dapper library dean, in which printed books
will have no place, then: like a pile of books.
An eighth wonder of the world for the city of Boston!
Thirty-one geothermal wells, three hundred feet tall,
and no bedrock, but riverine mud to build on.
The pour started December 5 and was continual,
for the foundation. Nine hundred tons of steel
and four and a half thousand cubic yards of concrete
allowed this cantilevered thing to grow,
along with the tower crane to bootstrap it,
mast, jib, counter jib, pendants, but also,
between trolley and hook block, there flew
the flag of the United States Marine Corps
from the outset, its wavering ribbon of gold,
its field of blood. I wondered how it got there,
by what kinship with those whose dreadful trade
so strides the midway air, harnessed and helmeted,
wrangling I-beams past their dip and swing
and into place, the graceful spread of Y-joints,
the gloom of closing spaces, torches' glaring
and sputter, the superb nonchalance
of clipping on, then off again at once.
Let me be bold to say where they learned this
courage of building, which was in the war.
I read it in a book: the slaughterhouse
of honeycombed rock, the shriek and tear
of steel against every attempt at shelter,
until a man wrote, Time had no meaning; life
had no meaning; the fierce struggle made
savages of us all, its abject proof
in the foundations he dug as ordered
among the entrails of the enemy dead.
The red badge floats above Commonwealth Avenue
on the unceded land and tops this pile's
skewed play of negative space, the vaned sky-blue
or frowning cloud of its reflective panels.
The building will be visible for miles.