New BU Center for Brain Recovery Aims to Advance Treatments for Stroke, Alzheimer's, and Parkinson's
Interdisciplinary research hub brings together diverse experts to improve understanding of the brain and test new ways of restoring neurological function
Brain Health
New BU Center for Brain Recovery Aims to Advance Treatments for Stroke, Alzheimer's, and Parkinson's
Interdisciplinary research hub brings together diverse experts to improve understanding of the brain and test new ways of restoring neurological function
The brain is often compared to a supercomputer, so who better to help neuroscientists figure out how it's programmed—and how to fix any bugs in the system—than a computer scientist? At the new Boston University Center for Brain Recovery, computing and data experts are joining with neurobiologists, biomedical engineers, speech therapists, and other researchers to improve our understanding of how the brain works—including why it sometimes malfunctions.
Founded this summer, the University-wide center's mission is to bring together multidisciplinary teams to look for new ways to prevent, treat, and cure brain disorders like stroke, Alzheimer's disease, and Parkinson's disease. Early projects include developing deep machine learning programs that can predict language recovery after a brain injury, building computer simulations to track dementia decline, and advancing mobile brain monitoring technology.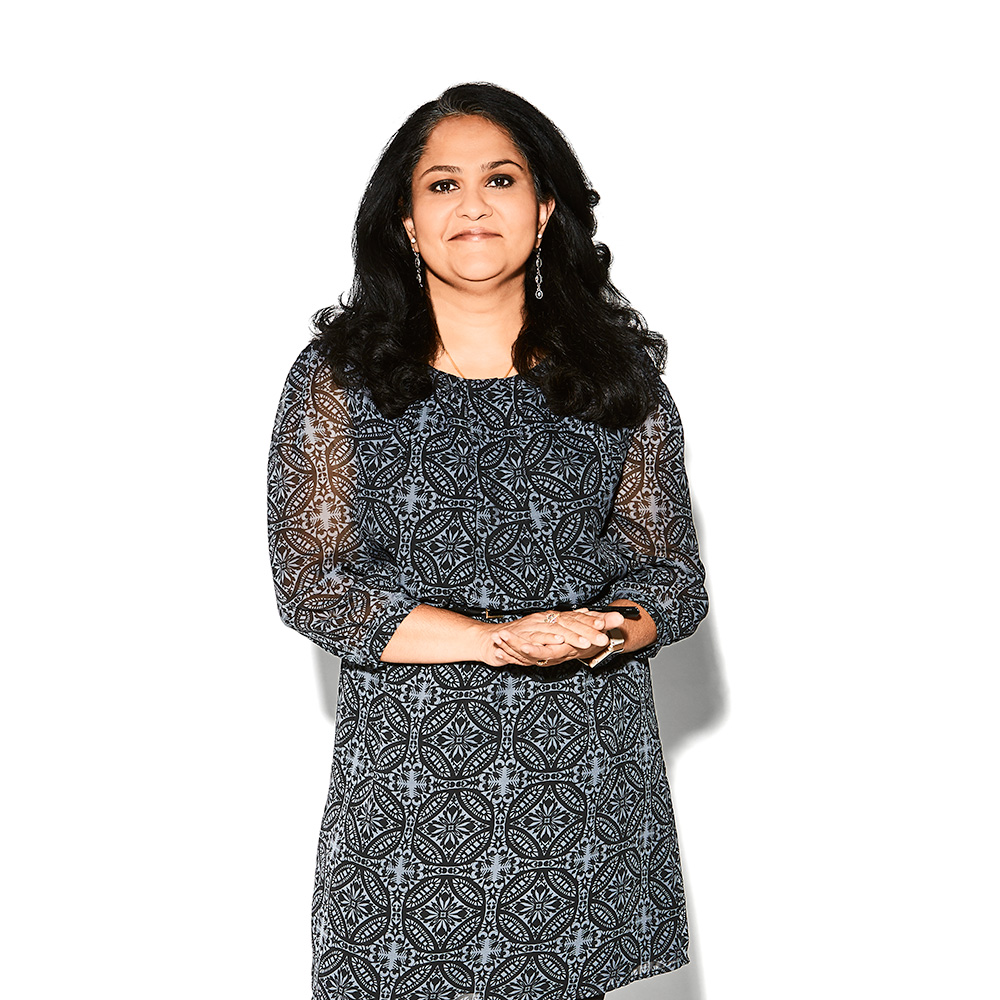 "The goal is to become a national, international, premier center to understand, diagnose, and treat individuals with brain disorders—it's intentionally very broad," says founding director Swathi Kiran, the James and Cecilia Tse Ying Professor in Neurorehabilitation at BU College of Health & Rehabilitation Sciences: Sargent College. Kiran is a leading authority on aphasia, a language condition that's caused by damage to the brain and currently affects about one million people in the United States. She says that while there are plenty of centers around the country looking at specific health issues or aspects of the brain, the breadth of the Center for Brain Recovery's work—coupled with its focus on direct patient impact—will separate it from the crowd.
"This is the right center for the right university at the right time," says Kiran. "It takes a lot of different disciplines, different mindsets, to think about solving complex problems—and neurological disorders are a very complex problem. We don't fully understand how the brain works, let alone when something goes wrong in the brain, especially in conditions like dementia."
Artificial Intelligence and Healthcare
The center is already drawing affiliated faculty from fields as diverse as biomedical and electrical engineering, neurology, biostatistics, physical therapy, psychological and brain sciences, and speech, language, and hearing sciences. Kiran says she's also excited to be working with BU's Faculty of Computing & Data Sciences—one of the center's founding steering committee members is Margrit Betke, a BU College of Arts & Sciences professor of computer science. Along with Prakash Ishwar, a BU College of Engineering professor of electrical and computer engineering, Betke will help lead a study using artificial intelligence (AI) to review brain scans of people who've had a stroke, pinpoint damaged areas of the brain, then predict the likelihood of severe language problems and the efficacy of treatment.
"It's really the intersection of AI and health care," says Kiran. "For a university that's heavily invested in data science and computing, the brain is a really good problem to be trying to tackle. We are in a position where we can collect a lot of data, apply data science to it, and start to look for patterns and trends."
With so many potential areas to explore, Kiran is breaking the center's work into three main sectors: cultivating state-of-the-art neuroimaging techniques, examining neural and behavioral biomarkers of brain health, and using data science and AI to predict patient decline and recovery. Some of that work is underway, including a project that aims to use infrared light—and a technology called functional near-infrared spectroscopy (fNIRS)—to monitor people's brain activity outside of the lab.
---

For a university that's heavily invested in data science and computing, the brain is a really good problem to be trying to tackle. We are in a position where we can collect a lot of data, apply data science to it, and start to look for patterns and trends.

---
"We would like to really get a dynamic picture of brain function in real time," says Kiran, who's also BU's director for strategic planning implementation. "We're trying to detect early brain signatures of neurological dysfunction. Once we have reliable signals of when the brain falters, we can do a better job of diagnosing stroke or Parkinson's disease and that will eventually lead to treatments."
That wearable fNIRS effort includes David Boas, an ENG professor of biomedical engineering and director of the BU Neurophotonics Center. He's hopeful the Center for Brain Recovery will spur new collaborations and partnerships.
"BU has a growing number of faculty with expertise in neurorehabilitation, and also has great strength in the neurosciences and neuroimaging," says Boas. "This new center will leverage all of this expertise to address a timely problem that our collective knowledge and tools are enabling us to tackle."
Advocating for Patients
Kiran says a big part of the center's mission is making sure that any breakthroughs don't get stuck in labs and journals, that they have an impact on patients. In addition to hosting clinical trials to test new approaches, the center will work on new treatment guidelines and study ways to reduce barriers to care. Kiran plans to have disability advocates and stroke survivors join the center's core committee to help shape its work.
"In the neurological population we study, there are two levels of barriers," says Kiran. "One is a disability barrier—their memory, their reading, their speech are not at the same level as someone who doesn't have the problem—[and] the other is racial disparity. People of color, people who are Hispanic, African American, have lesser access to health care."
One project will see the center develop a network of advocacy groups and partner with national organizations like the National Aphasia Association and the Brain Injury Association of America to produce educational materials for caregivers and patients. Kiran's goal is to democratize access to information and resources about aphasia and other neurological disorders.
"We're trying to make a difference in patients' lives," Kiran says. "We're doing this really cutting-edge neuroscience on detecting and treating patients, but we want to go all the way to changing the policy of how these patients are treated, as well."
The Center for Brain Recovery is hosting its first public event, Research on Tap: Neuromonitoring Brain Health and Recovery, on Wednesday, September 21, at 3:30 pm, at the Kilachand Center for Integrated Life Sciences & Engineering Colloquium Room (Room 101), 610 Comm Ave. It will feature a series of microtalks on interdisciplinary brain research happening at BU. Register online.