International Education Week Is Back, with Panels, Film Screenings, and More
Global Programs' 11th annual event runs November 14 to 18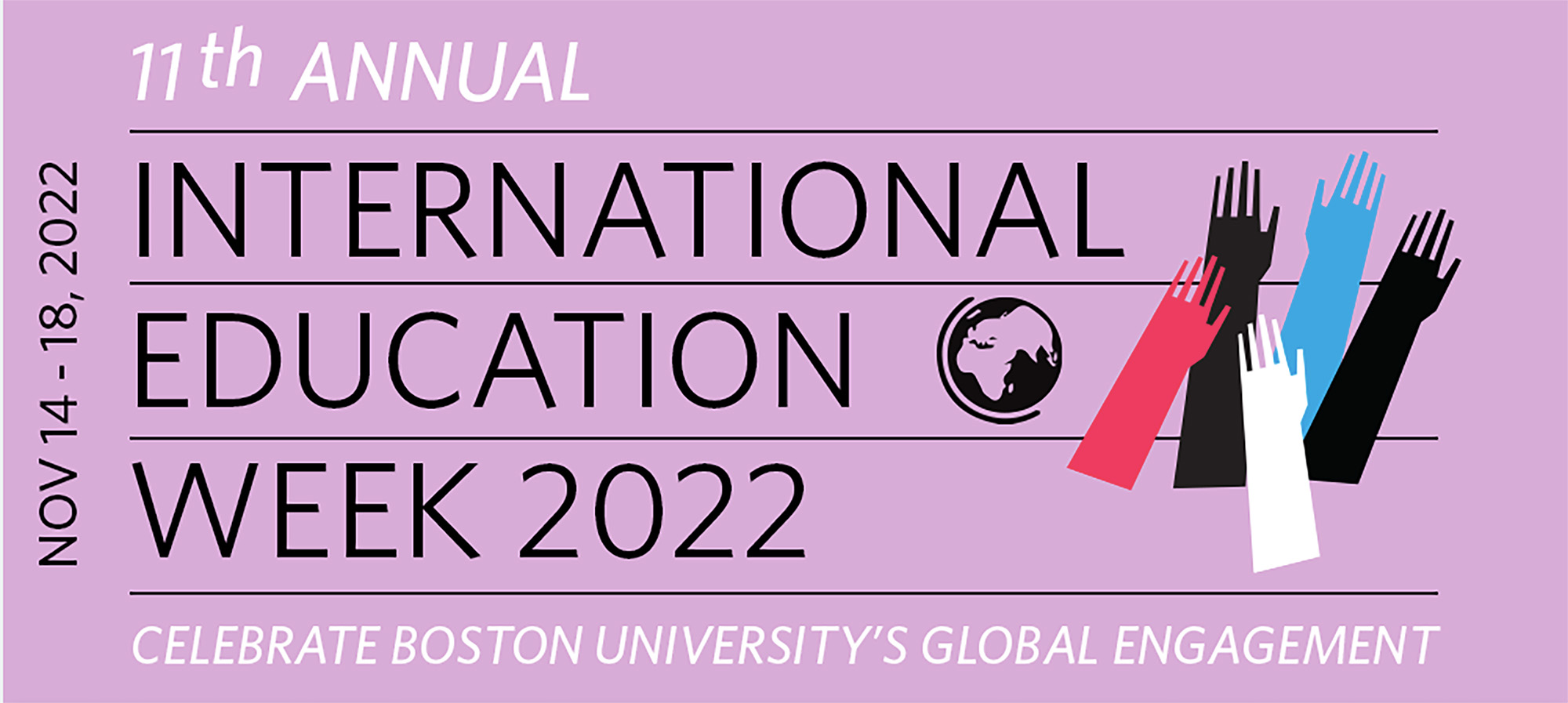 Global Programs
International Education Week Is Back, with Panels, Film Screenings, and More
Global Programs' 11th annual event runs November 14 to 18
During International Education Week, being observed November 14 to 18, 2022, Boston University's Global Programs celebrates its international engagement, and this year's observance has more than 20 events, including panel discussions, film screenings, and more, on tap all week long.
"International Education Week is a terrific opportunity to celebrate the benefits of international education, global research, and exchange—which BU has actively pursued for decades," says Willis G. Wang, vice president and associate provost for global programs.
"We are always excited, and particularly today with the increased ability to travel more freely around the world, to help bring together the BU community through programming that celebrates diversity and spurs the exchange of ideas with a global perspective."

International Education Week is an annual nationwide effort by the US Department of State and US Department of Education to highlight the importance and impact of international collaboration in education. Every year, schools, colleges, businesses, and organizations across the country host events meant to celebrate global interconnectivity and scholarship.
This year, more than 40 departments are involved in BU's International Education Week. (Some events are just for international students, while others are open to the entire BU community. Find more info here.)
Highlights include a panel on the global refugee crisis, cosponsored by BU's Center on Forced Displacement (November 14), a Newbury Center reception and panel on navigating college as a first-gen international student (November 15), the Metropolitan College Gastronomy Program's popular international cookbook giveaway (November 16), an international student night at the men's varsity basketball game (November 17) (BU Athletics is offering free tickets for the first 75 international students who sign up), a screening of three films and documentaries made by international students, followed by a Q&A moderated by College of Communication professors (November 17), and a series of lightning talks focused on educating global citizens (November 18).
Campus dining halls will also offer a special international menu each day this week, with dishes from the top 10 home countries of BU international students and scholars. New this year is a special Ukrainian menu on Wednesday, November 16.
BU's celebration of International Education Week isn't limited to Boston, however. Events will also be held in some of BU's more than 70 Study Abroad locations, including a panel in Padua, Italy, on midterm elections in the United States and Italy, and a workshop in Venice on renewable energy projects. In Washington, D.C., where Global Programs runs a domestic Study Abroad program, representatives from the European Union's delegation to the United States will speak about global security and disinformation.
This year's programming has been designed to provide something for everyone, says Pamela DeCoste, Global Programs marketing and communications manager. From fun cultural events to discussions on hot-button issues and current affairs, International Education Week's roster is designed to highlight BU's commitment to creating community on a global scale.
"Being a leading global research university means BU strives to address society's most pressing challenges—no matter where they exist or who they impact," DeCoste says.
"We know that our diversity at BU is a strength," she continues. "Global Programs welcomes over 11,000 international students and close to 1,000 international scholars to campus annually from 120-plus countries. International Education Week is a terrific opportunity to bring people together and spark curiosity while exchanging different perspectives and lived experiences to learn from one another."
Find a full list of BU's International Education Week events and activities and registration details here.