Frame/Work/Site: 2022 Graphic Design MFA Thesis Exhibition Opens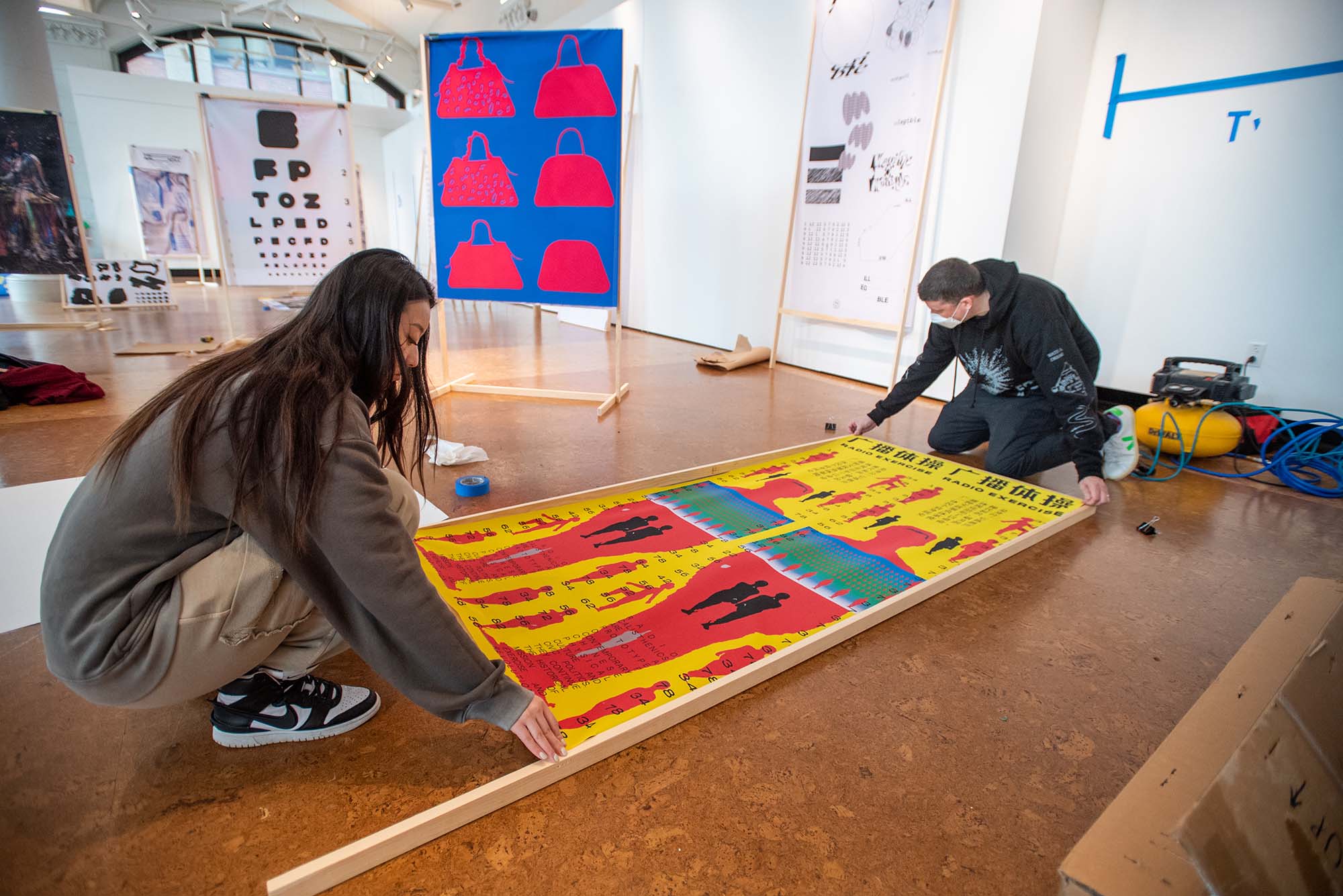 Graphic Design
Frame/Work/Site: 2022 Graphic Design MFA Thesis Exhibition Opens
Stone Gallery show on view through April 29, featuring work by 18 students
Graphic design is everywhere.
It's in the Netflix interface, the morning New York Times (or ahem, BU Today) email, the directional arrows at the Museum of Fine Arts—even if you don't always clock it, it's an integral part of daily life.
That's what makes the medium so interesting, says Christopher Sleboda, a College of Fine Arts associate professor of graphic design, one of the curators of Frame/Work/Site, CFA's 2022 MFA Graphic Design Thesis Exhibition, currently on view at the Faye G., Jo, and James Stone Gallery. The show is free and open to the public and runs through April 29, with a kickoff reception on Friday, April 15, at 5 pm. 
"Sometimes the more successful graphic design is, the less you're going to notice it," Sleboda says. "That's the balance [of the art form]—it's between being effective to the point of being invisible and other times capturing attention and getting the audience excited."
For the 300-plus works in the exhibition, it's the latter. The pieces represent the culmination of two years of hard work by the 18 MFA students in CFA's graphic design program. To display their pieces, the students constructed wooden frames of various sizes by hand in the school's wood shop, and ordered cinder blocks for displaying smaller items such as booklets and cards. The result: artwork dots the Stone Gallery like mushrooms, enticing viewers to stroll through and engage with what they find.
One such work is the Booklifting project by Chen Luo (CFA'22), who bound together images from a student workshop she led and then attached them to a 15-pound dumbbell. The end product? An accordion-like flip book that you can read only by lifting the weight in the air.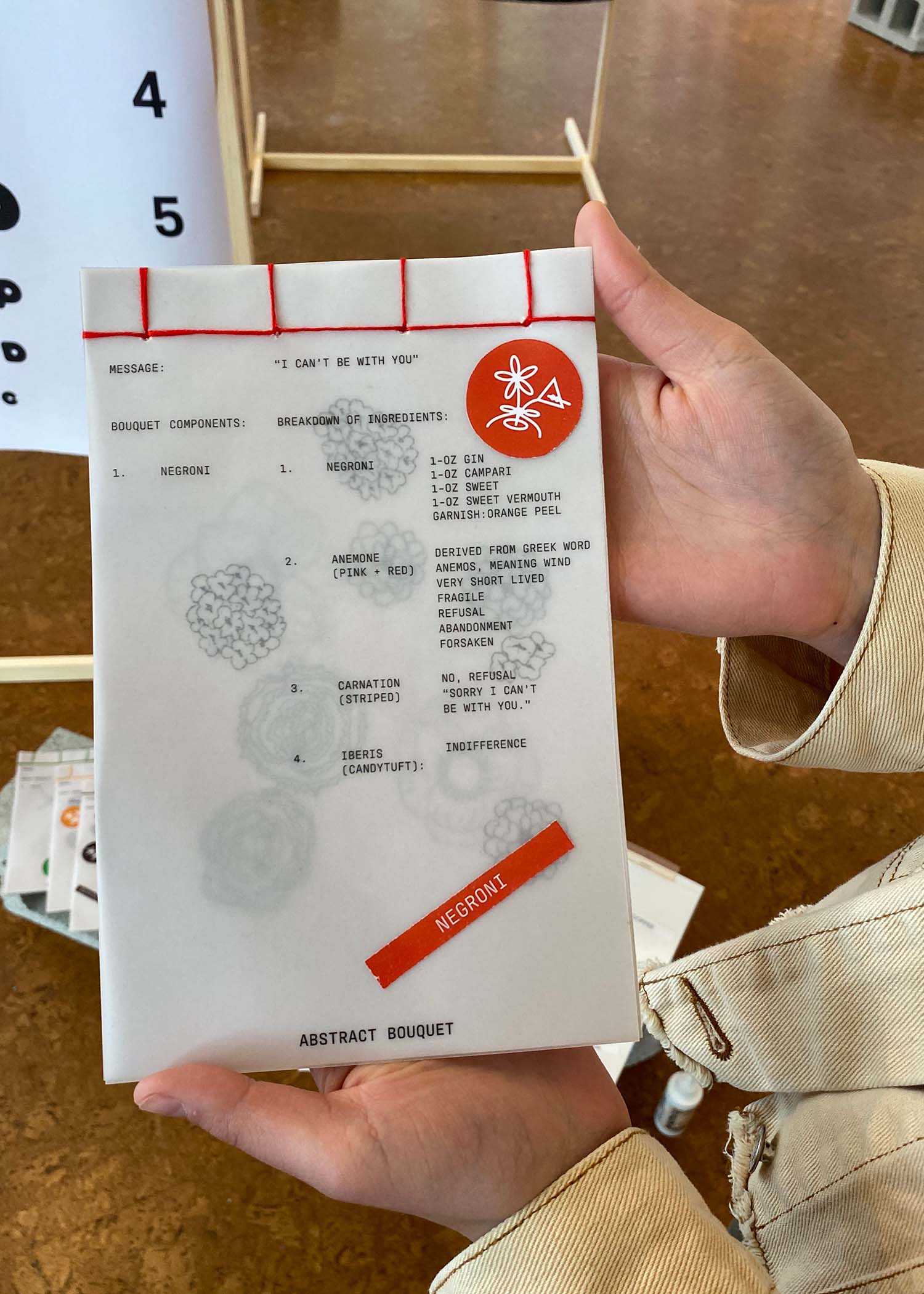 "The inspiration came from my thesis research about normative body gestures and how we interact with graphic design," Luo says, adding that the project was a hit at a Rhode Island School of Design book fair she recently participated in. "There are many standardized gestures for how we touch things, how we flip and read books—by using objects like a dumbbell and a book for this project [hopefully people will] try unfamiliar gestures to read it."
Regina Acra (CFA'22) became fascinated with floriography, the art of conveying messages through flowers, while conducting her thesis research. That led her to ponder whether you could also send messages through something like a drink—resulting in one of her thesis creations, Abstract Bouquet. Her crisp recipe books each pair a cocktail with different flowers to convey meanings such as: "I can't be with you" (negroni, anemone, carnation, and iberis).
"I've always been interested in the analytical and the intuitive part of design, the combining of data and emotion," Acra explains. "This is my own take [on floriography] that creates a parallel between language and design."
Other students' thesis works were influenced by their upbringing. Chuck Gonzales (CFA'22) is from the Philippines, where he works for his father's shipping company. The vernacular of importing and exporting inspired his typography piece Proforma, named after a type of invoice.
"This is a personal project: it's showing where I've imported all my influences from and what I've exported," Gonzales explains. "There's all this typography in the Philippines, like in the ads draped over Manila taxis, but it was all just wallpaper for me growing up. It wasn't until I moved here that I gained an appreciation for the culture and it stopped being wallpaper to me."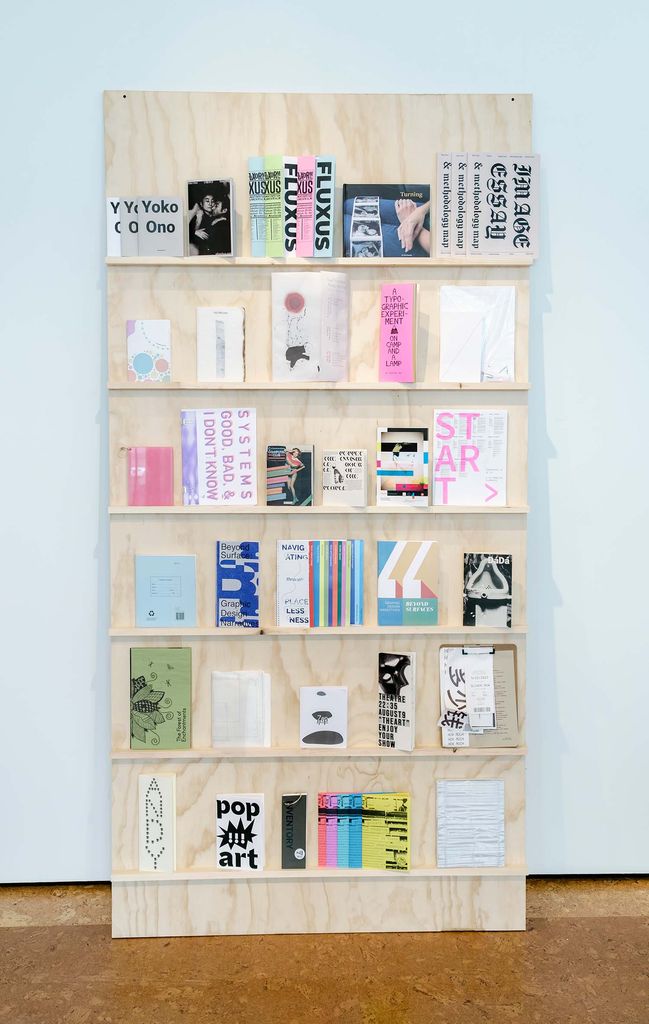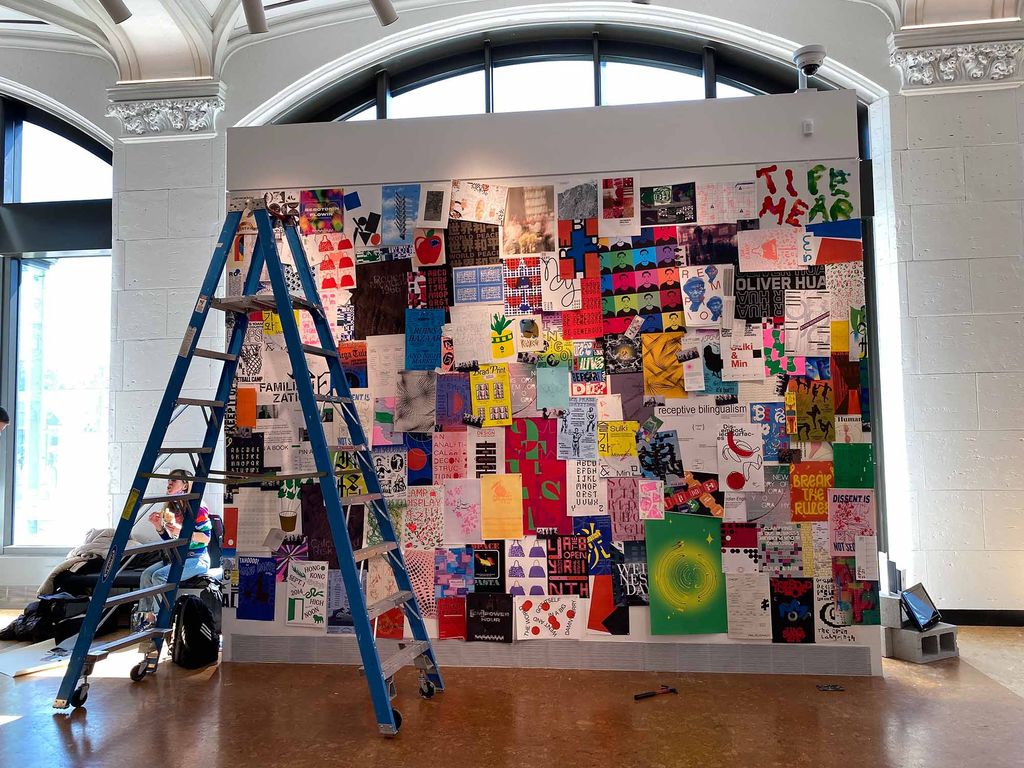 The exhibition also features collaborative displays. Students transformed one gallery wall into a massive collage of posters they'd designed throughout the two-year program. Misprints, past favorite projects, designs that didn't quite make the cut for the thesis show—whatever anyone wanted to showcase, they could, says Arjun Kumar (CFA'22).
"The other stuff we designed for the exhibition has strict frameworks; this is one space that didn't have any constraints or restrictions," Kumar says. The installation—students climbed a ladder and pinned posters in whatever open spaces they could find—also speaks to the behind-the-scenes work the public doesn't get to see, he adds.
"This is the messy part [of design] that we wanted to show, too," he explains.
Among other collaborative displays is a bookshelf stocked with student-made publications, and each student also designed a flag for the exhibition, which they installed against a back wall.
It's the communal installations that best speak to the nature of the graphic design program, Kumar says. "For me, the best part of this experience has been the studio space—and not just the physical space, but more of what it ended up signifying," he says. "It's this collaborative place where we've ended up working together, making friendships, and learning from each other.
"It's been really special."
Frame/Work/Site is on view at the Faye G., Jo, and James Stone Gallery, 855 Commonwealth Ave., through April 29. The show is free and open to the public. The gallery is open Tuesday to Saturday, 11 am to 5 pm.