2022 MFA Painting and Sculpture Thesis Exhibition Now at Stone Gallery
Dozens of works by 18 students are on view through April 2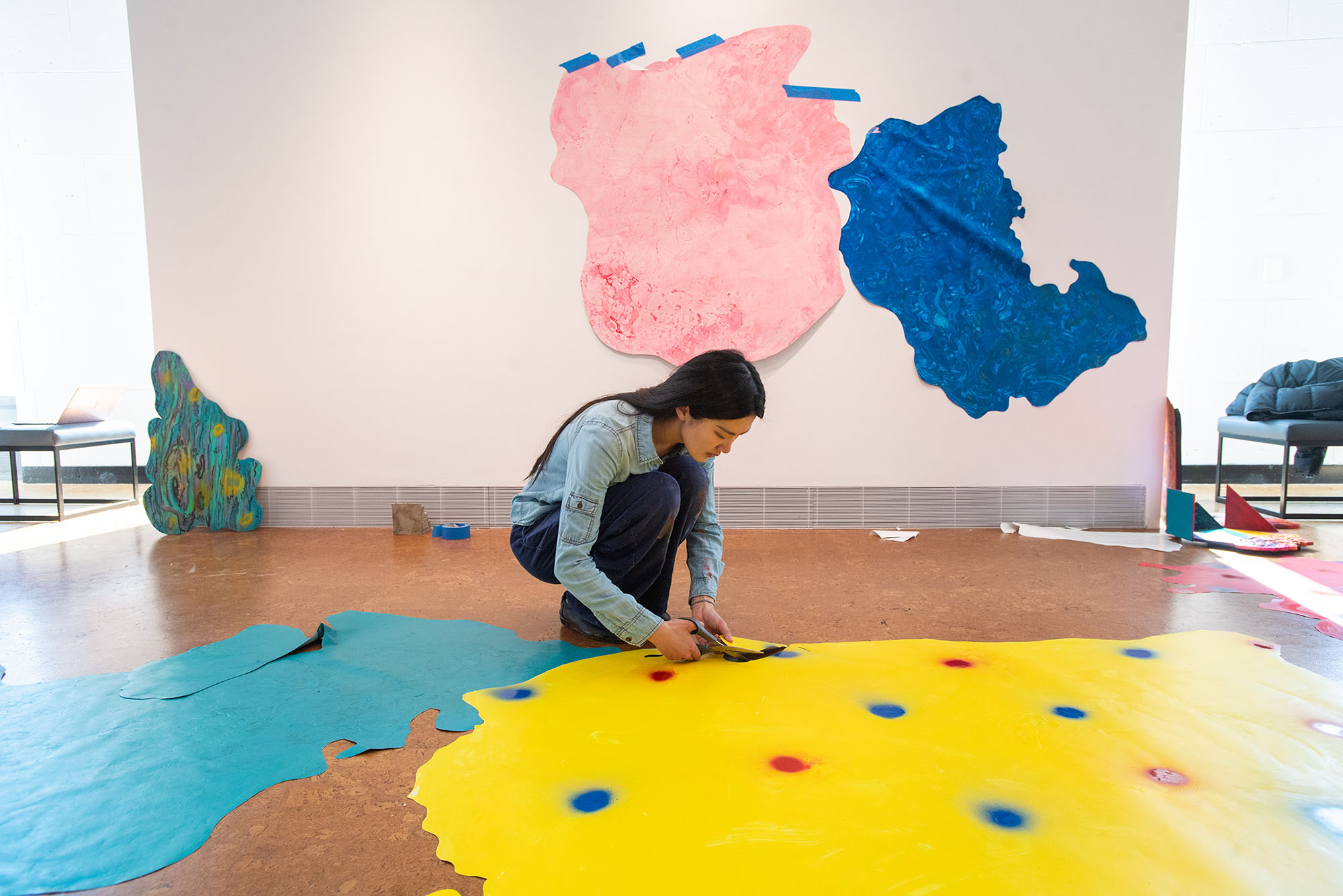 Fine Arts
2022 MFA Painting and Sculpture Thesis Exhibition Now at Stone Gallery
Dozens of works by 18 students are on view through April 2
Chen Peng uses her paintings to explore feelings of loss and longing as an expatriate. Eva Lewis often references mythological goddesses in hers. Oscar Morel's mixed-media collages invite viewers to rethink their Eurocentric conceptions of art.
The work of these 2022 CFA master's grads is now on display at the Faye G., Jo, and James Stone Gallery at the College of Fine Arts in the annual MFA Painting and Sculpture Thesis Exhibition. The show runs through April 2 and features just over 50 works by the graduating Master of Fine Arts candidates in painting and sculpture (16 painting students and 2 sculpture students, with some dabbling in both, among other mediums). CFA graphic design students will have their own show starting April 13. 
The students showcased in this year's exhibition joined their MFA programs during the height of the COVID-19 pandemic, a fact that adds a sense of "urgency and veracity" to their artwork, note faculty members Lucy Kim, a CFA associate professor of art and interim chair of graduate studies in painting, and David Snyder, a CFA assistant professor of art and chair of graduate studies in sculpture, in a joint statement accompanying the show.
"This remarkable group of students started their MFA journey in the fall of 2020, optimistic that the confusion and uncertainty of a global pandemic would soon fade. Although these hopes proved false, these artists persevered in their studios and classes and continued to learn, expand, make, break, scream, cry, laugh, sigh, and wonder what it even means to make art in this moment.
"The strength of their efforts suggests an overwhelming potential that fills us with hope."
The dozens of artworks exhibited represent the culmination of the students' MFA journey. Because they're also all technically "pandemic art," as Kim says, many of the pieces reveal how the student-artists have grappled with the political turmoil of the last two years as well as the devastation of the COVID-19 pandemic and subsequent lockdown and isolation.
"There's so much energy in the [artists'] studios right now," she says. "I really do think there's a sense of urgency in everyone's works, in their need to make and touch and be inclusive and bring in all of these different materials." Plus, "painting can be political, and I really see my students engaging with the idea of painting being an important discipline right now."
As to what's on display, a look through the gallery reveals a wealth of color and imagery. A vinyl-and-paint collage by Moxin Chen (CFA'22) drips from a wall onto the floor. Sculptural installations from Jada Haynes (CFA'22) highlight her welding abilities—as well as her crocheting. Oil portraits by Gavin Fahey (CFA'22) are shrouded in elaborate wooden constructions that make you itch to crack them open (please don't, however). Other pieces hide in corners and spring up unexpectedly from the ground, inviting viewers to take their time wandering through it all.
The caliber of the work is par for the course for the College of Fine Arts, whose MFA painting program is ranked sixth in the nation by U.S. News and World Report. For Chen Peng (CFA'22), being part of the graduate program has been an opportunity to push herself and get closer to her true artistic self.
"I came to BU's MFA program because I wanted to make work that is meaningful to me and more 'like me,'" she says. "I've tried many things over the past two years and made myself vulnerable by making very personal work, and I'm truly grateful that my colleagues and faculty are so supportive and encouraging.
"I'm so happy that I came and experienced the special two years with everyone."
The 2022 MFA Painting and Sculpture Thesis Exhibition is on view at the Faye G., Jo, and James Stone Gallery, 855 Commonwealth Ave., through April 2. The show is free and open to the public. The gallery is open Tuesday to Saturday, 11 am to 5 pm.
Want to view even more art? Up next for CFA is the 2022 MFA Graphic Design Thesis Exhibition, which takes over the Stone Gallery April 13 to 29, followed by the 2022 BFA Thesis Exhibition, running May 9 to 20. Find more information about these events here.