FYSOP Returns in Person after Two Years of Virtual or Hybrid Programming
This year's volunteer service program offers first-year students a kaleidoscope of community service opportunities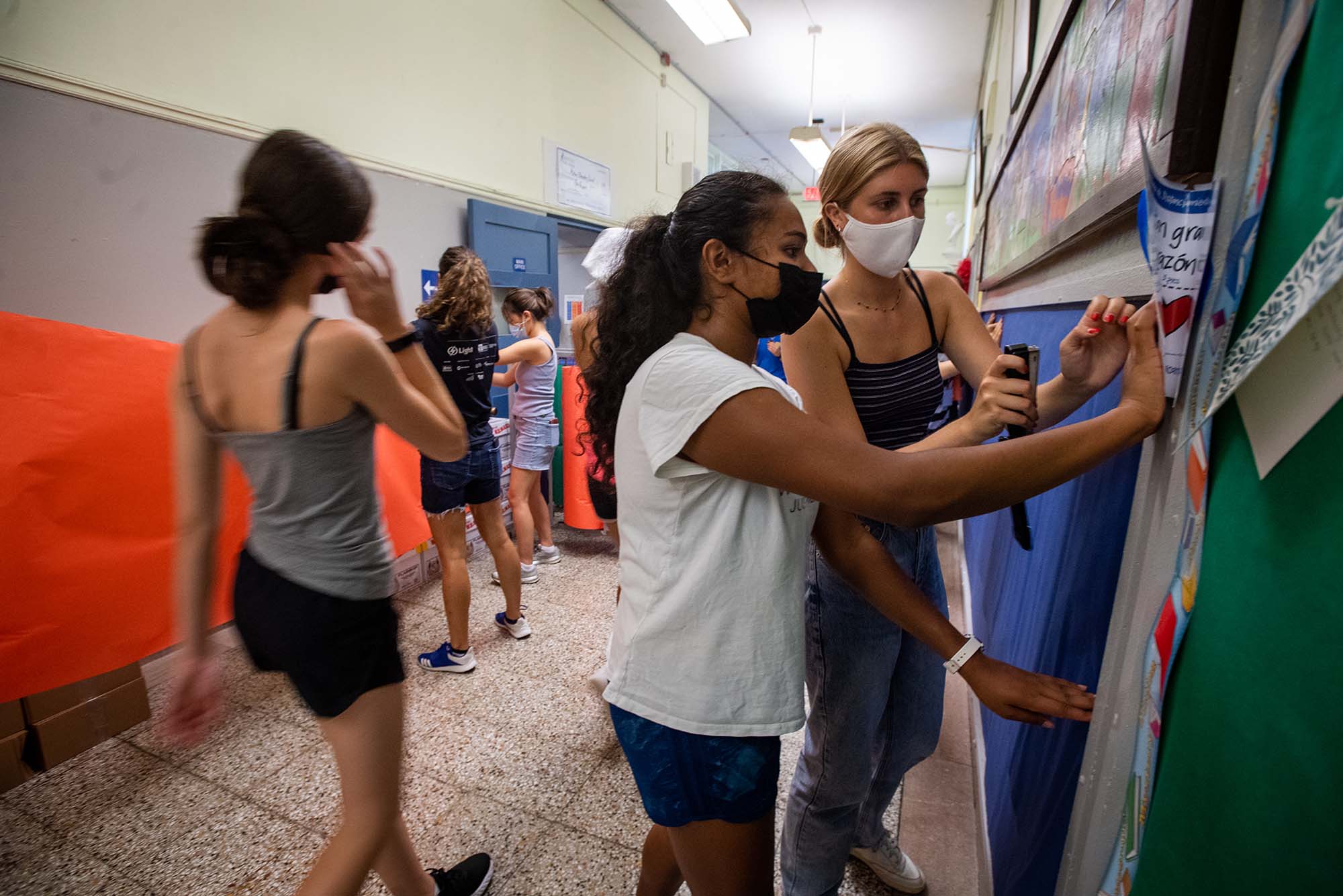 Student Life
FYSOP Returns in Person after Two Years of Virtual or Hybrid Programming
This year's volunteer service program offers first-year students a kaleidoscope of community service opportunities
Each fall for more than three decades, the start of BU's school year has kicked off with the early arrival of hundreds of first-year students to volunteer in the University's First-Year Student Outreach Project (FYSOP), a weeklong program of community service and reflection. For the first time in three years this year's program will be completely in person: 2020's FYSOP was virtual only and the ongoing COVID-19 pandemic made last year's a hybrid of virtual and in-person.
The virtual program "was very different from the FYSOP I experienced as a first year," says Jacob Nesson (CAS'23), one of the two 2022 program managers. "Overall it's not the same as being there in person, doing direct service, getting to talk to people, and having that community feeling."
While the past two years leaned heavily on educational Zoom seminars and solo activities—like writing cards for veterans and making virtual coloring books for kids—Nesson and fellow program manager Emma Neary (Wheelock'23) say this year's FYSOPers will be able to fully immerse themselves in onsite projects.
Run by BU's Community Service Center (CSC), FYSOP has had more than 12,000 participants since its inception in 1989. This year's cohort of 350 students, who arrive on campus today, August 29, will work in one of seven focus areas: community education, food justice, education, human rights, public health, sustainability, and youth and family advocacy.
Under the oversight of 14 program coordinators and 120 staff leaders—most FYSOP veterans themselves—this year's volunteers will work with 45 community partners, ranging from longtime collaborators like Cradles to Crayons and Roxbury's Hattie B. Cooper Community Center to new additions like Fresh Truck and Speak for the Trees, Boston. Students will also be able to visit elementary schools to help teachers set up their classrooms, volunteer at food banks, maintain local parks and conservation areas, and visit day-care centers and assisted-living facilities.
Nesson and Neary say that giving FYSOPers the opportunity to connect with Greater Boston is integral to the program experience. "There are 23 distinct large neighborhoods in Boston, not to mention all the nearby communities; sometimes the variations are really hard to look at, but it's still all Boston," Neary says, noting that the theme of this year's program—Kaleidoscope—is meant to emphasize one of of FYSOP's goals: providing first-year students a chance to learn about and explore Boston. "I feel like the theme identifies how Boston comes together, how we help each other in Boston, and how one community affects another."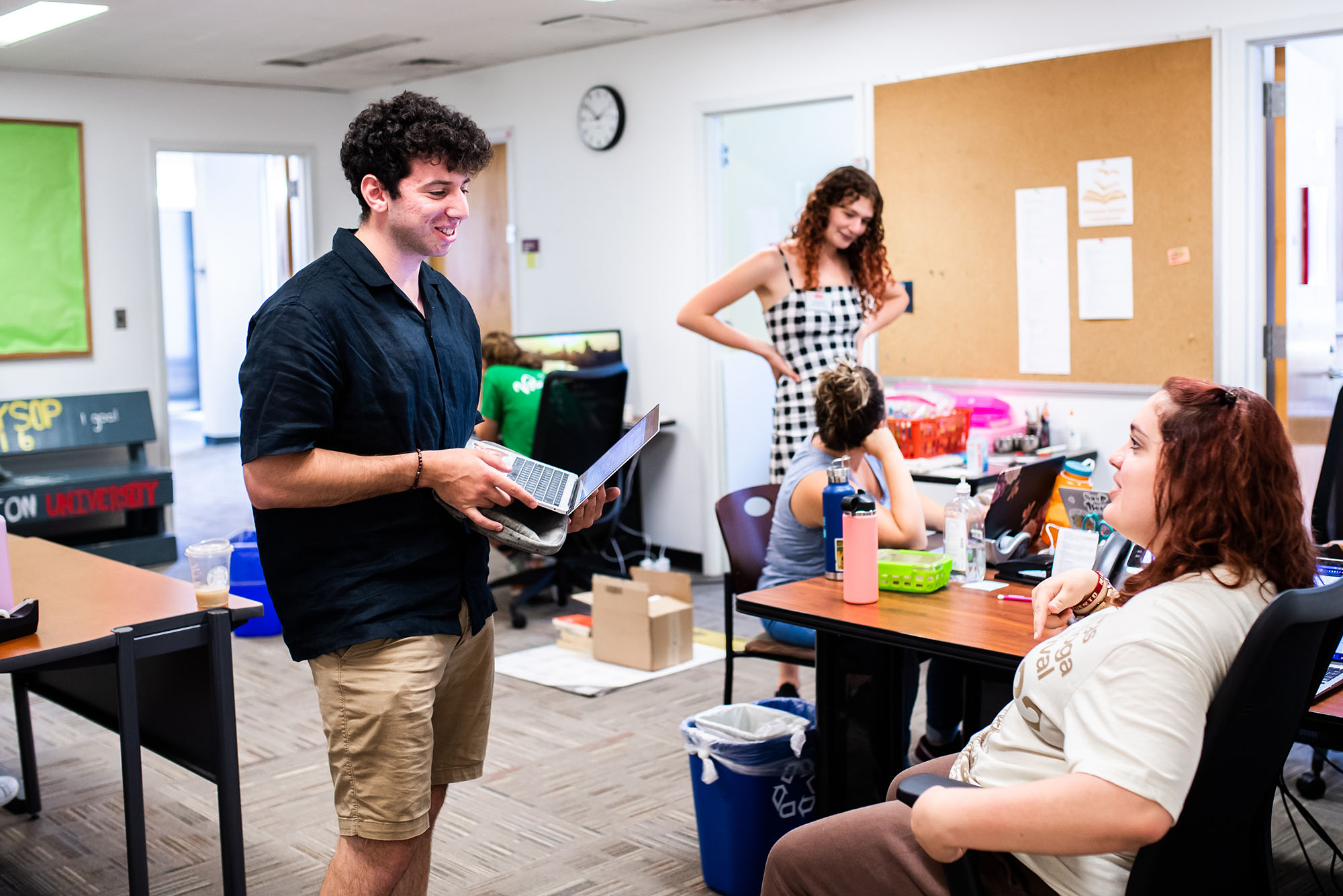 FYSOP also serves as an unofficial college orientation. A portion of the program's first day is dedicated to icebreaker activities and team building, and outings to the Museum of Fine Arts and other local haunts reinforce bonds forged among BU newcomers. Of course, there's also the ubiquitous FYSOP cheers that echo throughout campus in the final days of August—Neary recalls her freshman-year friends would repeat them well into September.
"I think what brings people back is that sense of community and camaraderie," Nesson says.
Following tonight's opening ceremony, featuring speeches by faculty and community leaders, students will spend time getting to know one another through icebreaker activities and other group events. Tuesday is Foundation Day, where FYSOPers get an overview of this year's focus areas before doing a deeper dive into their respective areas of interest. Nesson says it's important for participants to learn how their chosen area relates to the others—another element reinforced by this year's kaleidoscope theme.
"Since these focus areas are about social justice topics, they all tend to intersect," Nesson says. "During Foundation Day, we emphasize that yes, you're in this focus area, and you'll probably be doing community service related to this, but here's how it relates to every single focus area."
Tuesday's activities will include a keynote speech by multi-hyphenate author Deanna Zandt, whose work explores the relationships between social justice and self-care. Students will be able to reflect on the work they'll be doing in the coming days, as well as the work from prior years. This is where another yearly tradition comes in: the FYSOP Museum.
Neary, Nesson, and other FYSOP staff spent a portion of the summer transforming the CSC FYSOP office into a makeshift museum, with information about the history of Boston and its demographics and about BU.
"On Foundation Day, students spend at least one hour in the museum, and it's really exciting to watch them learn about Boston on their own time," Neary says. "We value our museum being a very reflective space—it's crafted by college students for college students."
After Foundation Day, when FYSOPers, with newly formed bonds and some understanding of their focus areas, spend the next three days performing onsite community service in and around the city. FYSOP concludes with a closing ceremony Friday evening in the GSU Ballroom, with speakers, including President Robert A. Brown, BU president, and David J. Chard, dean of Wheelock College of Education & Human Development.
While most students' FYSOP experience ends at the end of the week, many will remain involved in the program as staff leaders and coordinators. "FYSOP is definitely a big part of people's college experience, especially for Emma and me," Nesson says. "I think we're extreme examples, but I think a lot of people will keep returning if they're able to. It's a time where they can just focus on community—they don't have to think about school, they don't think about family. It's just fun and service."