Food@BU's Idea to Solve Campus Hunger Wins $10,000 Prize at Innovate@BU Event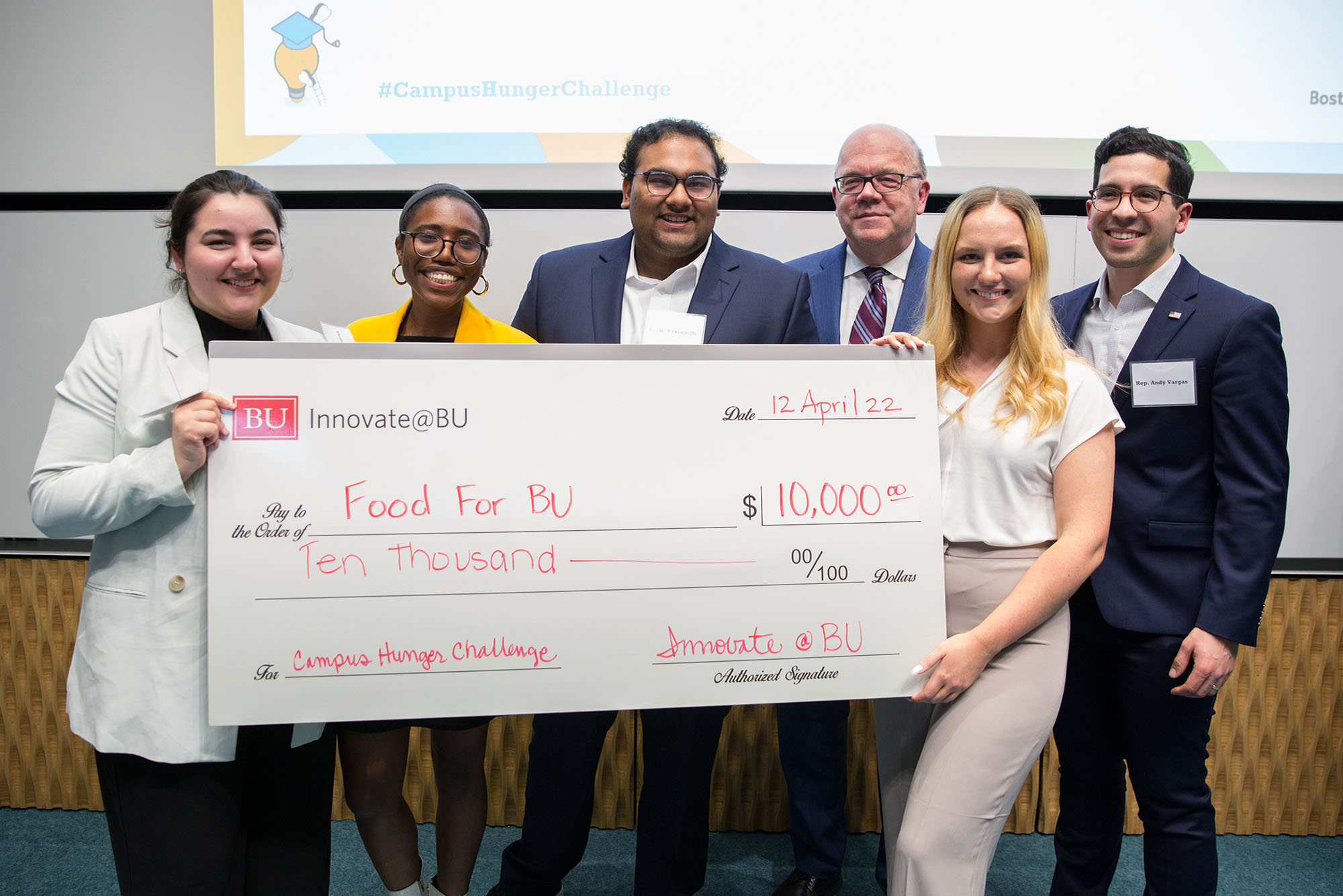 Innovation
Food@BU's Idea to Solve Campus Hunger Wins $10,000 Prize at Innovate@BU Event
Students pitched to US Rep. Jim McGovern (D-Mass.) and YMCA Boston CEO at Tuesday night's Campus Hunger Challenge
An idea for a campus-wide initiative that would make affordable or free food easily available to all BU students won $10,000 on Tuesday at Innovate@BU's Campus Hunger Challenge.
"We're all volunteers with BU's Student Food Rescue, and through our work we've learned the best thing to solve hunger is infrastructure," said Mary Campion (CAS'22), a team member of winner Food@BU. "There's significantly more food grown than people are eating; it's getting it in people's hands that is so challenging." Food@BU proposed creating a guide with information on local food pantries and federal food access programs. They also plan to partner with Student Wellbeing and become the one-stop shop on campus to find information about SNAP, leftover food alerts, the Wheelock Community Cares food pantry, and more.
Cohosted by Innovate@BU and the YMCA of Greater Boston, the monthlong Campus Hunger Challenge sought inventive ideas from BU students and alumni to help local food-insecure 19- to 26-year-olds gain access to fresh produce and other food products. Approximately one-third of young adults in the United States go hungry every day, and hunger on college campuses has become a growing issue. In 2019, Temple University's Hope Center for College, Community, and Justice, which studies college students' economic challenges, surveyed nearly 167,000 college students nationwide and found that during the past month, 39 percent of respondents had experienced food insecurity—defined by the US Department of Agriculture as a lack of consistent access to enough food to maintain a healthy, active lifestyle.
The Campus Hunger Challenge teams were judged on how well their proposed solution could impact the Greater Boston area, with extra points given if the solution can be replicated elsewhere.
On Tuesday night, a crowd of about 50 students, staff, government officials, and community leaders at the Kilachand Center for Life Sciences & Engineering heard one-minute pitches from the four finalist teams, along with remarks from local leaders working to combat hunger in Massachusetts communities. "If I can speak on behalf of all the judges, you gave us hope and joy for the future," said James Morton, president and CEO of the YMCA of Greater Boston, who spoke of his own experience growing up relying on government food assistance. He said he was impressed with how the finalists' pitches kept in mind the dignity of those who would be served, as well as listening to the subject matter experts and then coming up with solutions.
The audience next heard from State Representative Andy Vargas (Pardee'15) (D-3rd Essex), lead sponsor of a bill that would establish a statewide hunger-free campus initiative to address college student food insecurity. Vargas made the crowd laugh when he sang "The Bare Necessities" from Disney's The Jungle Book, explaining that people can't take advantage of opportunities if they don't have basic necessities, like food.
Vargas then introduced the keynote speaker, US Representative Jim McGovern (D-Mass.), House Rules Committee chair, who has worked to end food insecurity in the country since being elected to Congress in 1997. McGovern noted that food assistance programs exist for students in kindergarten through high school, but there is a lack of assistance for college students. When you go on to college, "do you magically have food?" he asked. Last semester, the House Rules Committee held a hearing on hunger on college campuses, and McGovern said he was frustrated hearing anecdotes from students about expensive college meal plans, being forced to choose between paying for books or buying food, and the number of students relying on campus food pantries, if they even existed.
"There are close to 40 million Americans who don't know where their next meal is coming from, and I'm ashamed of that," he said. "We have the food, we have the money. When it comes to the defense budget, people are tripping over themselves to build another nuclear missile at a cost of trillions of dollars. So if we can do that, why can't we make sure that everyone has enough to eat?"
Aiding in the challenge as subject matter experts were local community partners like BU Wheelock Community Cares, Children's Health Watch, the City of Boston Office of Food Justice, BU's Initiative on Cities, the Greater Boston Food Bank, Project Bread, BU Auxiliary Services, and more. In addition to the top prize of $10,000, 10 semifinalists each received $500, with the prize money to be used to implement the teams' ideas. Four finalists had advanced to compete for the $10,000.
Student teams were tasked with focusing on one specific aspect of food insecurity affecting 19- to 26-year-olds, "anything from a policy recommendation to a tech-driven solution to marketing, media, or art," said Micaelah Morrill, Innovate@BU director of external relations, who came up with the idea of having the incubator "hack" this semester address hunger. "We wanted things that start in the Boston area and can then be scaled to other communities," she said.
The community challenge, which has a different theme every year, was originally designed by Gerry Fine, former executive director of Innovate@BU and a College of Engineering professor of the practice, who recently retired.
During spring break, students had the opportunity to visit food pantries and distribution centers, such as Wheelock's Community Cares, a service open to the entire BU community that provides free food and hygiene products, and About Fresh, a nonprofit where they help pack trucks with fresh, affordable food that is then distributed in neighborhoods throughout Boston. They also met with staff from the Greater Boston Food Bank, the American Red Cross, and BU's Terrier Meal Share, a program that allows students to donate their extra guest dining hall meals to students in need. Auxiliary Services matches the students' donations and Terriers can request assistance confidentially.
In their one-minute pitch, Food@BU team members Campion, Alexia Lancea (CAS'22), Eunice Lamothe (CAS'22, SPH'23), and Saahil Adusumilli (Sargent'22) talked about how food is an integral part of students' experience at BU. "From our very first Lobster Night to our Senior Breakfast, food unites our community," Campion said. "However, food insecurity is a pervasive issue on every college campus. Through our research, we've identified that infrastructure and university-level solutions are key to reducing food insecurity."
The three other finalist teams at the Kilachand Center event were Team Rightovers, whose proposal was to connect food-insecure students with surplus food from catered events; FEAST, which proposed adding a food insecurity screener to college applications for colleges to better connect students experiencing food insecurity with available resources; and Fostered Food, which advocated for creating a more cohesive way to find information about community fridges.
"All the ideas were phenomenal," said judge Erin McAleer, CEO of Project Bread.
"I thought Food@BU had the best data and was well-rounded, and their plan was extremely thorough," added judge Irene Li, owner of Mei Mei Dumplings.
Are you a BU student experiencing food insecurity? Check out this list of resources compiled by Innovate@BU for help.
BU students in need of short-term food assistance can also request assistance through the Dean of Students office, using this form, and a University staff member will be in touch within one business day. If there is an immediate need, students are advised to contact the Dean of Students office in person. Students in need of continuing support should contact Financial Assistance, the University Service Center, or the Dean of Students office.