Community Cares
A Food & Essentials Pantry
Welcome to the Community Cares page!  We have resumed operations. Please note in the "How Does It Work?" section our modified offerings and pick-up protocol and schedule.
If you're familiar with our program, please feel free to navigate directly to our Shopping or Resources sections. If this is your first visit, please take a moment to read the Overview, Vision, and Community Cares Charter to learn about what we do and why it matters.
What is Community Cares?
This pantry was established thanks in part to the BU Wellbeing Project, the BU Wheelock Equity, Diversity, and Inclusion Committee, one of Boston University's first college-based EDI committees, and is supported by the Wheelock community and our friends as Marsh Chapel.
Community Cares endeavors to end food insecurity for BU Wheelock students, but its doors are open to the entire community of BU students who are in need of support. Community Cares will also help students in need of essentials like toiletries and feminine hygiene products.
At this time, Community Cares can only support BU community students. To verify your current affiliation with Boston University, a log in will be required. We also need your name so that we know who will be picking up the items ordered. We are not tracking or turning over names of students who complete the form. With our current resources, a BU student can access the pantry up to 3 times in each 30-day period. Please review the Additional Resources section below for a list of other food resources in our community that students may wish to access.
If you have questions, concerns, or comments about Community Cares or special requests or recommendations about how we can better support you and other students, please email us at whestu@bu.edu.
How Does it Work?
For the foreseeable future, there is one option to shop the Community Cares pantry.
Order Ahead, Pick Up In Person
Pickup Hours of Operation
For the foreseeable future, shoppers can pick up their orders on Tuesdays and Thursdays between 9 am and 7 pm.  Please contact whestu@bu.edu to inquire about special arrangements. 
Please note: Same-day fulfillment is not possible at this time.  Orders placed after noon on Monday will be ready by the following Thursday. Orders placed after noon on Wednesday will be ready by the following Monday. Instructions to pick up your order will be emailed to you upon completion of the shopping form. If you need immediate assistance Mon – Fri, please contact BU Wheelock Student Services (whestu@bu.edu).
How to order:
Log-in to the shopping form using your Kerberos*
Choose one of the two food Pantry Kits and/or one of the two toiletries Pantry Kits.
Stop by 2 Silber Way lobby near Room 113 during your scheduled pick-up. Socially distant protocol will be emailed to you once your order has been placed.
Click here to access shopping form.
*Why are we asking for students to log in with their Keberos?
At this time, Community Cares can only support BU community students and requiring a Kerberos for log-in helps us to ensure that.  We also need your name so that we know who will be picking up the items ordered. Lastly, some of you may have specific questions or needs that cannot be addressed by the regular options in the form. In those cases, you'll ask questions or make special requests. This means we'll need your name and email address to contact you so we can work on solutions together. Please know that your privacy and security is important to us and we strive to keep your information safe.
Alternative Access
How are we helping students whose needs are not met by our pantry stock?
If you are unable to access the pantry at 2 Silber Way or if the items in the pantry do not meet your needs due to dietary restrictions (ie. kosher, vegan, allergies, etc.) please use the Alternative Access section in our online form to make a recommendation or special request. A staff member will reply to you from the BU Wheelock Student Services (whestu@bu.edu) email account to share information about an e-gift card.
In order to inform our future pantry stock and gauge students' needs or preferences, we kindly ask that you send a picture or screenshot of the receipt of your purchased food and essential items to whestu@bu.edu.
Additional Resources
University-wide support
Terrier Meal Share – Terrier Meal Share is an initiative that gives students the opportunity to donate their unused guest meal swipes online to any undergraduate, graduate, or professional student in need at Boston University. Students experiencing food insecurity will be able to receive meals by contacting the Dean of Students' office, University Service Center, or the Office of Financial Assistance.
Marsh Chapel's Ministry of Food Program– All are welcome to join the fellowship events and meals hosted by Marsh Chapel.
Sargent Choice Nutrition Center offers expert consultations for meal planning that can help people with food intolerances or restrictions, athletes in training, and people who are looking to create healthier eating habits. Students qualify for a limited number of free consultations, but insurance may cover the cost of others. They also have free recipes and videos.
External Resources
Supplemental Nutrition Assistance Program (SNAP)
If your food insecurity is persistent, you may consider seeing if you qualify for SNAP benefits.
Learn about college students' eligibility and benefits during COVID
The Food Bank of Western MA can help you enroll in SNAP. The fastest way to apply is by phone. Call 413-247-9738 and ask for a SNAP representative, or visit Getting Food Stamps for information and an application.
Project Bread connects people and communities in Massachusetts to reliable sources of food while advocating for policies that make food more accessible—so that no one goes hungry.
Brandless is an online shop where you can find good quality, healthy food and household products. It even has selections of certified Kosher, gluten-free, and vegan foods for $3 or less.
Brookline Food Pantry offers pantry hours at two locations: 55A Egmont St. and 15 St. Paul St.
Good and Cheap is a free, downloadable cookbook with recipes aimed at helping people prepare great meals on $4/day.
Food Source Hotline  1-800-645-8333
Why Community Cares?
Some people may wonder why a large, top-ranked, research 1 institution needs to have this kind of initiative on its campus. The simple truth is that food insecurity impacts millions of people across the United States, and today's college students are no exception. Just look at the data from the College and University Food Bank Alliance (CUFBA), which culled research from 2018 GAO Report and the 2018 Hunger on Campus Report.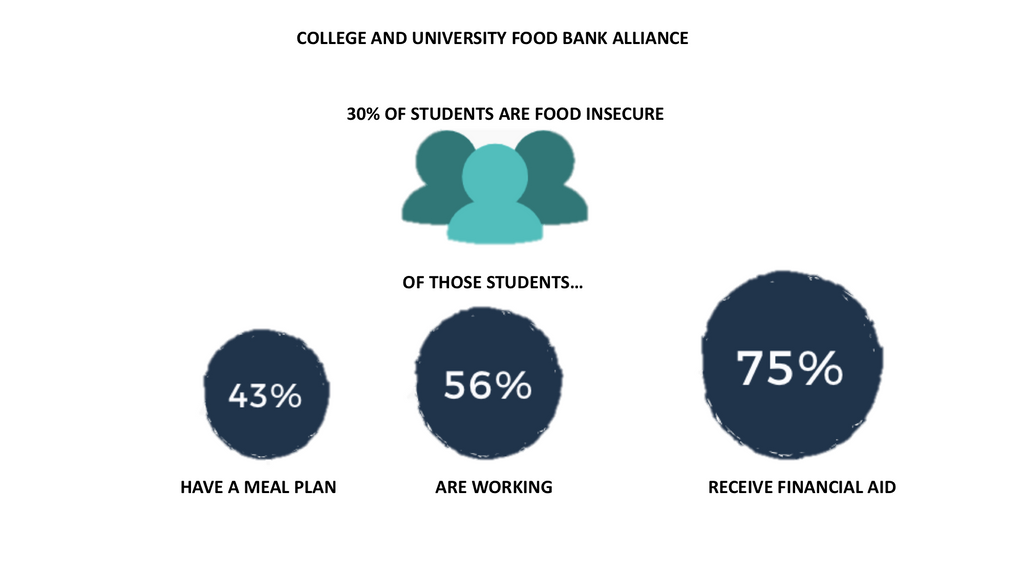 Some put these stats as being lower than what is happening in reality. This means that food insecurity is happening all around us, to our friends, peers, and roommates. It's happening to people who are working hard or who did their part to apply for financial aid or pay for a campus meal plan to meet minimum requirements set by the university but can't afford one that gives them enough food each week. It happens on a persistent basis and it happens on an occasional basis.
There's no shame in being food insecure. But there is help.
Community Cares Community Charter
Beliefs & Values
Our beliefs and values inform not only why but also how we do this work and engage with the BU student community. 
We believe that education professionals, such as those in student services, should support and uplift students with a humanistic approach.
We believe that in acknowledging basic needs of students and is a critical step in helping them to fulfill their potential.
We believe that our experiences within our community compounded with relevant research calls for us to address food insecurity.
We believe that not being able to help everyone should not be a barrier to helping anyone.
We believe that our entire community can and should contribute its individual and collective talents to solve problems relevant to us.
We believe it is our role to model good professional and civic behavior.
Community Cares Volunteer and Shopper Compact
Although there is no shame in seeking assistance and while we cannot guarantee total anonymity at this time, volunteers and shoppers will work together to facilitate an experience that is as discreet and private as possible so people can feel safe and comfortable.
Volunteers will engage with one another with respect, fairness, and kindness.
The pantry, and by extension its website, form, and communications, is a judgment-free zone.
Shoppers may make requests of Community Cares and its volunteers to ask for special considerations with the expectation that they will be taken seriously and reviewed fairly.
Shoppers may expect assistance with basic needs for food supplies and some other lifestyle essentials (i.e. notebooks, bathroom, feminine hygiene products), but will respect decisions made by Community Cares to not fulfill a request.
Community Cares volunteers will not discriminate against any students seeking assistance.
Community Cares volunteers will carefully review special requests made by shoppers and will make efforts to accommodate reasonable requests.
Supporting Community Cares
Consider supporting us in these ways :
Buy items from our Amazon Wishlist to stock our pantry.
Purchase a tote bag at bonfire.com/communitycares.
Follow us @buwheelock_studentservices and LIKE and SHARE our posts.
Spread the word! Tell your friends, family, and students about us so they can help support our efforts, learn more about food insecurity among college students, or help themselves to our services.
Email BU Wheelock Student Services if you would like to make a donation in another form.
Gratitude
Community Cares is grateful for the generous financial support of the Wellbeing Project, the BU Wheelock Equity, Diversity and Inclusion Committee, the community at Marsh Chapel, and individual donors from the BU Wheelock community.